How to host an AFL Grand Final Norm Smith & goalscorer sweep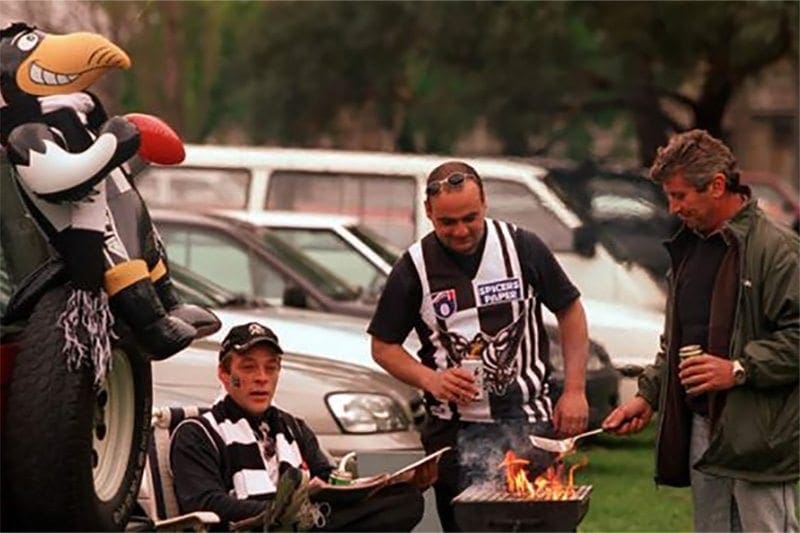 ONE of the great joys of being an Australian and a footy fan is the yearly barbecue for the AFL Grand Final.
Only one thing beats it – being at the MCG yourself, watching your team fight it out for football immortality.
The Grand Final barbecue is a work of art. A tradition passed down through the generations, perfected over time.
Australians have been beside a barbecue for the greatest moments in VFL/AFL Grand Final history.
They had a snag when Alex Jesaulenko took mark of the century in 1970.
They could still smell the charcoal burning when Darren Jarman and the Crows tore the Saints apart in 1997.
They had to host TWO barbecues in 2010, when Collingwood and St. Kilda famously drew and had to play a replay the week after.
With every Grand Final barbecue there are some key hosting responsibilities including:
The Norm Smith Medal sweep
The first goal-scorer sweep
Making sure the beer stays cold
Finding a place to have a kick-to-kick session at half time
For the purposes of this guide, we're going to focus on hosting the sweeps.
Are they legal? What is the best way to host? How do you make it fair to everyone?
Is it legal to host a gambling sweep at my house?
It certainly is legal to host a sweep at your house, sporting club or workplace.
If you're in Victoria (Victoria betting) you can host a sweep with a pot up to $5,000. In NSW and other states, you can go all the way to $20,000 – if you have that many friends willing to shell out.
If you're hosting a barbecue at home, there's a pretty good chance you won't get near those figures – unless you're James Packer.
Just in case you have some police or lawyers attending your barbecue, there are some pretty simple rules you should abide by:
You can't take any 'organisation fees' – you can't take ANY money out of the overall pot for your own profit. Don't be that guy.
You can't include certain prizes in your sweep that are generally not allowed to be won or gambled on, like tobacco products, guns, ammunition, weapons and cosmetic surgery. You should also not gamble on your children or pets.
How should I run an AFL Grand Final sweep?
A sweep is a gambling competition between friends and colleagues – it is set up when tickets are sold that represent players in the game that will be competing for the Norm Smith Medal and goal-scoring markets.
Tickets are drawn randomly from a hat and each ticket costs the same amount.
The two most popular options for AFL Grand Final sweeps are the Norm Smith Medal and first goal-scorer.
There are three simple steps to hosting the sweep:
Prepare the tickets and money:
Using a newspaper lift-out with all 44 players that will take the field in the Grand Final (or a list you make yourself), cut out all the tickets and place them into a hat. Make sure that all 44 players are included.
What you can charge for a sweep ticket varies. Most people will charge anywhere from $1 to $50 for each of the 44 tickets.
If you charge $5 per ticket you will have a prize pool of $220.
Recommended!
If like most people around Australia you don't quite have 44 people show up to your barbecue, you may have to sell the tickets in bundles.
For example, if you have 20 people show up to your barbecue, one of your options is to sell two tickets for every person at an agreed-upon amount.
What do you do with leftover tickets when everyone has an even amount?
Auction.
To sell the remaining odd number of tickets you have left, it is common practice to let your guests haggle over the opportunity to buy the remaining players.
Note: To maintain fairness – those participating in auctions should only be allowed to pay for a chance to dip their hand back in the hat and choose at random, NOT hand-select a superior leftover player that gives them an advantage.
After the tickets have been sold and all 44 players are accounted for among your guests, you can bank the winnings somewhere safe (keeping it away from your less trust-worthy guests) and if you like to be organised, write down which guests have which players – so you have a record when your guests inevitably lose their tickets after one too many drinks.
The tickets and players each guest has should work for BOTH the first goal-scorer and Norm Smith Medal markets.
So, the only thing left to do is work out how you will split the winnings.
If you have charge $5 per player, you will have $220 in prize money.
Seemingly, the easiest equation in this is to award $110 to the first goal-scorer and $110 to the Norm Smith medalist – but sometimes hosts will weight the winnings further for the Norm Smith Medal, given it will take four quarters to decide, rather than a couple of minutes.