2016/17 A-League season preview, bookie bonuses and best bets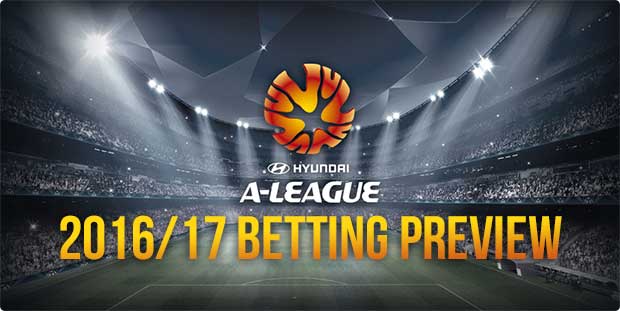 THE A-League season kicks off again this Friday night.
So it's time to take a look ahead to the end of the season and a few futures bets.
The two Melbourne clubs are battling it out for favouritism, with the Victory just edging out City, which is equal on the second line of betting.
This season is going to be seriously hot.
But, we've run our eyes over the fixture, dotted our I's and crossed our T's and come up with a tip for each club that should hopefully see you rolling in the dough by the end of the season.
Good luck.
Melbourne Victory
Title odds: $5
Minor premiership odds: $4.33
Feel the love. Archie Thompson might be gone, but prodigal sons Marco Rojas and James Troisi have added some serious pace and talent to the Victory. Getting Carl Valeri back after he missed most of last season with illness is as good as a new recruit and the usual suspects like Besart Berisha and company, they will be thereabouts when the whips are cracking.
Our tip: Melbourne Victory to win the Minor Premiership ($5 with CrownBet.com.au)
Melbourne City
Title odds: $6
Minor premiership odds: $5.50
Two words: TIM CAHILL. Australia's greatest goal scorer has returned to the A-League, and it has City buzzing. With the largely unknown, but very impressive Nicolas Colazo also joining a squad the features record-breaking goal scorer Bruno Fornaroli, you feel like they will go close. There are question marks on just what they do to replace Aaron Mooy, but there is so much firepower, they just have to get it forward and let the strikers do the business.
Our tip: Tim Cahill to score five or more headers this A-League season ($2.75 with WilliamHill.com.au)
Perth Glory
Title odds: $6
Minor premiership odds: $5.50
Always thereabouts, but always falling short. They made the finals last year, but again fell short. It's their 20th season and they still have nothing special to show for it in the A-League. Adam Taggart, Rhys Williams and Rostyn Griffiths are a superb trio of signings and, with no FFA Cup commitments or Asian Champions League, they are primed for an assault on the title.
Our tip: Diego Castro to win the Johnny Warren Medal ($10 with WilliamHill.com.au)
Sydney FC
Title odds: $6.50
Minor premiership odds: $6
Sydney FC not making the finals is unheard of, but they fell apart last season and they will be keen to avoid a repeat. Word out of the club is that the block of training in the lead up to the season has been monstrous and, with the likes of Bobo on track to score plenty in that uber talented front line of Ibini, Brosque, Ninkovic, Holosko, Simon and Blackwood. Hard to say if they can make the finals this year, they've got better, but so have several other clubs.
Our tip: Sydney FC to miss the finals and finish bottom four ($3.60 with WilliamHill.com.au)
Brisbane Roar
Title odds: $8
Minor premiership odds: $8
The Roar downed a Corona, but they now have a Kristensen. The big question, though, is can they win a game on the road? They made the finals on the strength of a home record that saw them win 12 of 15 games at Suncorp, losing just once. But they only won three games on the road all season. Dane Kristensen is the man for them now and, with the ageing Thomas Broich and Socceroo Tommy Oar, they have enough talent to trouble the best again.
Our tip: Jamie McLaren to be the highest Aussie scorer in the A-League ($3.60 with WilliamHill.com.au)
Western Sydney Wanderers
Title odds: $9
Minor premiership odds: $8.50
Pen the Wanderers in for finals right now. And pencil them in for a grand final loss… kidding. But the poor Wanderers have lost three grand finals in their short history and have become the A-League's great bridesmaids. Nikolai Topor-Stanley leads the way again in the heart of defence and they have plenty of talent through the midfield and forward line. At $9, they are worth a bite.
Our tip: Western Sydney Wanderers to win the A-League title ($9 with Sportsbet.com.au)

Adelaide United
Title odds: $10
Minor premiership odds: $13
Ten bucks for the reigning champs? They must be kidding? A pig of a start in the FFA Cup hasn't helped and the loss of key premiership men Bruce Djite, Craig Goodwin, Stefan Mauk and Pablo Sanchez was dire. To compound that, star playmaker Marcello Carrusca has gone down with an injury and will miss two months of football. We're not writing them off and, at $10, you could do worse.
Our tip: Sergi Guardiola to win the A-League Golden Boot ($10 with CrownBet.com.au)
Wellington Phoenix
Title odds: $13
Minor premiership odds: $15
Victory mates Kosta Barbarouses and Gui Finkler are flat out jets that have added fortitude to a club that really struggled last year. The club has put its faith in several talented, but untried youngsters and, while they have bright futures, it could be another tough season for the Nix.
Our tip: Wellington Phoenix to finish exactly eighth on the A-League ladder ($5 with WilliamHill.com.au)
Newcastle Jets
Title odds: $26
Minor premiership odds: $34
It wouldn't be an A-League off-season without the Newcastle Jets being in turmoil. It's their modus operandi to sack a coach, player, or boot studder at the end of each underwhelming season. They have new Chinese owners with deep pockets, but they are a while away from even thinking about winning anything. They'll be hoping Andrew Hoole can fulfil his promise and striker Morten Nordstrand can find the back of the net plenty.
Our tip: Newcastle Jets to miss the A-League finals ($1.20 with WilliamHill.com.au)
Central Coast Mariners
Title odds: $34
Minor premiership odds: $41
Sacked the coach in the off-season and replaced him with former Socceroos hard man Paul Okon they do have a fresh perspective on things from a coaching standpoint, but the Mariners' cattle just doesn't stand up. Expect tough times on the Central Coast. They are the front runners to win the wooden spoon.
Our tip: Central Coast Mariners to finish on the bottom of the A-League table ($2.30 with CrownBet.com.au)
More News

Deprecated: WP_Query was called with an argument that is deprecated since version 3.1.0! caller_get_posts is deprecated. Use ignore_sticky_posts instead. in /home/bettingsite/public_html/wp-includes/functions.php on line 5145

All Recent News