Xenophon to put his gambling reform case to Parliament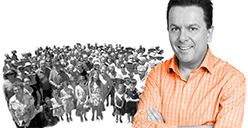 UNDER an audacious plan being pushed by a South Australian politician the maximum betting limits on pokies would be drastically reduced and banking transactions to offshore gambling websites will be blocked.
Senator Nick Xenophon, a long time anti-pokies campaigner, is pushing for the measures in the wake of new statistics showing Australians lost $23 billion on the punt last year.
Xenophon will put the proposed legislation before Federal Parliament where he is expected to call for national reform of the gambling industry.
He is calling for immediate action and said it was "alarming, and indictment on state and federal governments that have failed to act on the urgent need for gambling reform".
Key planks of Xenophon's latest pitch include the fact poker machines were still the biggest cause of losses and had increased by 4.9 per cent on the previous 12 month. He also highlighted the 30 per cent growth in the in sports betting in the same time frame and described it as "the major failure by the major parties on predatory gambling".
Xenophon's plan includes banning credit and in-play betting, outlawing sports ads during games and particularly during peak times when kids could be watching and a national register which would allow problem gamblers to be banned from all betting sites.
But despite Xenophon's new position as a 'Kingmaker' in Australian politics, courtesy of the closeness of the July 2 election, and his party's strong showing, he admits it will be tough to push these modifications of gambling legislation through Parliament.
"I will be re-introducing my Interactive Gambling Amendment (Sports Betting Reform) Bill and with these figures it deserves bi-partisan support, but I won't hold my breath given the power of the gambling lobby," he said.
"Governments can no longer ignore not only the huge amount of money lost on gambling, but the harm gambling causes to our communities."
Xenophon is pushing for:
 $1 maximum bets per spin and $120 per hour maximum losses compared to the $1200 per hour that can be lost now.
Making machines 'con free' by outlawing addictive features such as 'near misses' and 'free spins'.
Challenging the major parties to change technical standards for machines immediately so they can be '$1 bet ready' given the lead time needed for these changes.
And with online gambling:
Banning credit and in-play betting which both fuel gambling addiction.
Outlawing the broadcast of sports betting ads during games, especially during G-rated periods and when children are likely to be watching sport on TV.
An end to 'ball by ball' micro-betting which carries both macro opportunities for gambling addiction and corruption in sport.
A clamp down on illegal offshore online casinos and betting sites by targeted disruption of their financial transactions.
'one-stop-shop' registration to allow online problem gamblers to be barred from betting sites.