Why are punters leaving their winnings at the casino?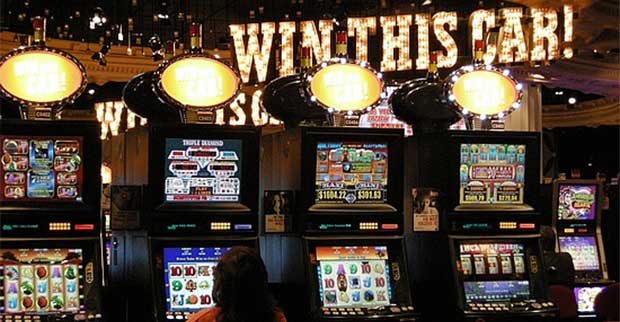 HERE'S a free lesson.
News out of the US reveals gamblers have fed the Nevada casino coffers in the worst way possible – by not collecting their winnings.
A report by the Las Vegas Sun shows punters who attended casinos in the state – chiefly Las Vegas – left some US $35 million in winnings unclaimed over the past five years.
Your read that right.
Instead of collecting their winnings, for whatever reason – too drunk, too stupid, couldn't be bothered, lost their ticket – punters left money they were entitled to with the casino, bulking up their already gaudy bottom lines.
In Vegas, the age of the slot has become nothing more than a novelty, the gaming machines producing tickets that need to be either cashed at the casino cage or in one of the electronic machines within the casino.
That is obviously a bridge too far for more punters than we could imagine, given the remarkable amount of money that has reportedly gone unclaimed. The tickets expire after a certain period of time – set by the casino, but no longer than 180 days.
And hey, its the Nevada state government that is benefitting from players' tardiness.
The government reels in 75 per cent of the revenue generated by expired casino tickets, with the casinos keeping 25 per cent – giving back to the people, hey?
That law was put in place in 2011, and the government has benefitted to the tune of about $8 million per year in unclaimed ticket revenue.
In 2016, the Sun reports there were almost $12 million worth of abandoned tickets – $7 million of that coming from casinos on the Vegas Strip. From that, the state received $8.78 million. The rest went back to the casinos.
The paper spoke to a number of casinos in its report, after it was revealed that many people though their lost or damaged tickets were not claimable.
That's not the case, according to MGM Resorts International director Mary Hynes.
She says that loyalty cards are very important, because they can connect tickets with the player.
"If the guest has a loyalty card, then we can trace it," Hynes said.
"If they don't have a card, it becomes more complicated."
And, while the casinos are always worried about their bottom line, they will help players who lose or damage their vouchers.
The Sun reports Station, Boyd, MGM and Caesars all told the paper if a ticket is legible, they'll honour it. If it's not, they can use the loyalty cards or other records to figure out the correct amount.
In some cases, even if the player completely forgets he or she lost a ticket, the casinos will try to return the money.
"If we find a voucher, we will try to reconnect with its rightful owner — typically if it's at least $10 or more," Hynes said.
"Sometimes people leave them in the machine, and we find them and we do try to send it to them.
"If they are a loyalty card holder, we can find that person more easily.
"If they are still staying with us, we'll get it to their rooms.
"If they left town and we know who it is, we'll mail it to them."
Be careful, though, if you are in Vegas and you find someone's lost ticket.
While it is, essentially, lost money, the Gaming Control board over there does see it as belonging to the person who won the money.
"In a perfect world, someone who found chips or cash or tickets would turn them into security who may have a policy in place where if no one claims the property in XX days, you may claim it," a control board spokesperson told the Sun.
"The district attorney seems to agree as far as going forward with criminal cases we submit based on the 'theft' of slot vouchers.
"The actual value of the voucher or item would determine the penalty, i.e., whether it's considered a misdemeanor or felony … basically, taking something from a gambling game without having made a wager.
"This often times applies to lost or stolen race and sports tickets.
"Keep in mind, too, that employees could be charged as well if they found a voucher, cashed it or did not turn it in."
Our take
COME ON PEOPLE.
Whether you are in Australia or the USA, if you are a punter, you are guaranteed to have taken some Ls in your time having a flutter.
And that means the gambling companies or casinos have benefitted.
At the very first step, protect your tickets. They are your money. Don't lose them. Don't wreck them.
But, if you do happen to ruin or lose them, don't give up either.
You are entitled to that money and you should do what you can to get it.
The casinos have a duty to try and reunite you with it and that means you should be proactive in your approach.
Don't you think they make enough money from punters pouring their hard earned dough down the slot machines or on their sports betting?
So, even if your vouchers says 50 cents, go and claim the bloody thing.
It is better in your pocket than their's and just remember, all those little 50 cent bets that go unclaimed make for a very big number at the end of the day.
Oh, and if you're notorious for not looking after your vouchers, collect them immediately after you print them out or be more conscious of it!
There's a good punter.