Weekend sports multi tips for December 3-4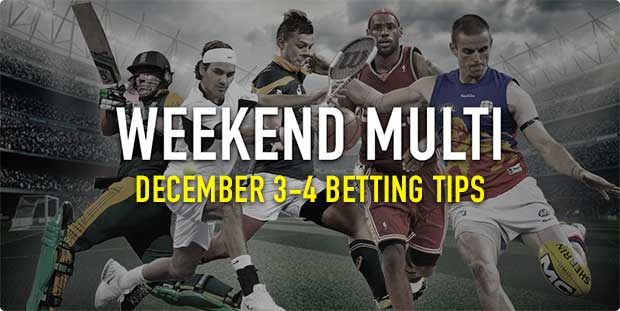 IT'S officially summer in Australia and if there is two things that Aussies love doing, it's enjoying the warmer weather and having a good old fashioned punt.
Luckily this weekend around the country we will have the opportunity to do both.
The last of the group 1 races from Ascot takes place in Western Australia, the A-League continues while the cricket in both the domestic and international formats begins to transform from the longer forms into the shorter, more condensed variety.
We are in for a treat this weekend sports fans – which is why we have pieced together a juicy little multi to help enhance the spectacle of what should be an entertaining few days of action.

Selections for the December 3-4 weekend multi:
Perfect Reflection to place in the Kingston Town Classic ($1.65)
Arsenal to beat West Ham ($1.75)
Sydney FC to beat Newcastle Jets ($1.75)
Seattle Seahawks to defeat the Carolina Panthers ($1.28)
Combined multi value: $6.46 @ Sportsbet.com.au
Kingston Town Classic
Saturday, December 3 from 8pm AEDST Ascot racecourse, Perth
The final $1 million group 1 race of the Perth summer racing carnival takes place this Saturday in the form of the Kingston Town Classic at Ascot racecourse.
We are looking at Perth superstar Perfect Reflection to make a big impact on Saturday.
Last year's Kingston Town Classic winner raced fantastically well a fortnight ago in the Railway Stakes to finish third and looks well poised to defend her crown in 2016.
West Aussie superstar jockey William Pyke takes the ride, she has bottom weight and jumps from a reasonably positioned gate. Hard to see her not placing in this one and the odds are too good to pass up.
After two straight weeks of our weekend multis failing in the West we are supremely confident Perfect Reflection gets us off to the ideal start.
Perfect Reflection to place in the Kingston Town Classic – $1.65
West Ham vs. Arsenal
Sunday, December 4 from 4.30am AEDST London Stadium, London
An English capital clash greets punters for the second leg of the weekend sporting multi as West Ham and Arsenal meet at the Olympic Stadium.
Arsenal is in their 'favoured' position of fourth on the Premier League table, but Arsene Wenger's team look to have a dynamic edge to them this campaign. The Gunners are just three points shy of top placed Chelsea and look capable of winning the title this season.
After promising so much last year West Ham has been horrendous. The Hammers are just one point clear of the relegation zone.
Out of all the Premier League games this weekend we think this is the easiest to predict. Arsenal should dismantle the Hammers to keep the pressure on the top three sides in the league.
Arsenal to win – $1.75
Newcastle Jets vs. Sydney FC
Sunday, December 4 from 5pm AEDST, McDonald Jones Stadium, Newcastle
Top of the table Sydney FC travel up the highway to face Newcastle in a match that looks like a blowout on paper.
The Sky Blues have not lost a game this season. They are taking all before them and are deservedly the $4 favourites for the title at Sportsbet.com.au.
Newcastle have been better this season after a dismal 2015/16 showing, but their performances are not yielding wins. If they want to compete alongside the best they need an across the board improvement.
This one looks very straight forward to us. Sydney FC should keep their undefeated streak alive in emphatic style.
Sydney FC to win – $1.75

Seattle Seahawks vs. Carolina Panthers
Monday, December 5 from 12.30pm AEDST, CenturyLink Field, Seattle, Washington
Two of the teams that were favoured to be competing for a spot in next year's super bowl round out our multi this weekend as the Seahawks host the Panthers on Monday afternoon.
The NFC West leading Seattle is unbeaten at home this season. They may have had their three game winning streak snapped last week by Tampa, but we are looking at that as an aberration.
The Seahawks ($7 to win the super bowl at Sportsbet.com.au) are major contenders this year, and remain as one of only three teams in single figures for the NFL title.
The Panthers' heartbreaking loss last week to the Raiders may have been their last chance to salvage something from their wreck of a season. Carolina is now in triple figures at Sportsbet.com.au to win the super bowl.
One team has everything to play for while the other is just killing time until the end of the season. Seems like a foregone conclusion to us.
Seattle should smash Carolina to round out the weekend multi in the right fashion.
Seattle Seahawks to win – $1.28