Weekend multi selections for UFC 205, NFL and Sandown races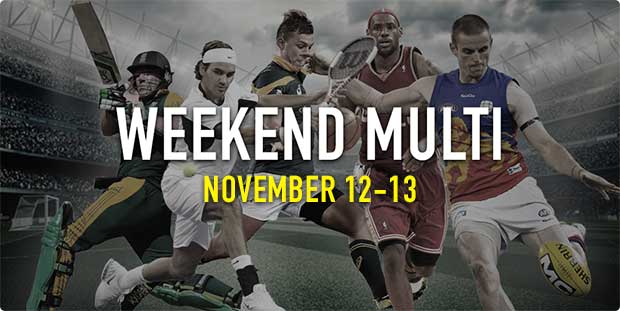 AFTER a hectic fortnight of action from across the globe, sporting fans could be forgiven for thinking the international soccer break will give them time to breathe – but it's quite the contrary.
Group racing continues across Australia, the A-League enters its sixth week, while the NFL and NBA keep the American cycle of sports ticking along. There's also the small matter of the biggest MMA event of all-time taking place at Madison Square Garden in New York City.
See what we mean? If you thought the last month of action was intense, you haven't seen anything yet.
We have gone through every sport that's taking place this weekend and put together our four most likely outcomes that will generate some serious cash for our readers.
All odds for our multi this week were provided by Sportsbet.com.au.

Selections for the November 12-13 weekend multi:
So Si Bon to place in the Zipping Classic ($1.60)
Melbourne Victory to beat Western Sydney Wanderers ($2)
Eddie Alvarez to beat Conor McGregor ($2.30)
Green Bay Packers to beat the Tennessee Titans ($1.68)
Combined multi value: $12.36 @ Sportsbet.com.au
Group 2 Zipping Classic
Saturday, November 12 from 4 pm AEDST Sandown racetrack, Melbourne
First leg of the multi takes us to the outer suburbs of Melbourne for the Group 2 Zipping Classic at Sandown.
A lot of horses are backing up here after last week's Melbourne Cup, but one runner caught our eye that did not run in the big race was three-year-old So Si Bon.
So Si Bon got caught back early and had to pierce his way through the field in the Emirates, but hit the line incredibly strongly to just get edged out for a placing. In a much smaller field and with a bit of luck we could see him torching this field.
We are going the safe option given the place is paying so well, but do not be surprised if So Si Bon breaks through for his first career Group 2 victory.
So Si Bon to place in the Zipping Classic – $1.60
Melbourne Victory vs. Western Sydney Wanderers
Saturday, November 12 from 7.50pm AEDST, Etihad Stadium, Melbourne
The two best supported clubs in the A-League clash in the second leg of our multi as the Wanderers travel to Melbourne to face the Victory under the Etihad roof.
The Victory were unlucky to go down last week after a clear handball against David Carney was not given which resulted in the winning goal to the Sky Blues.
The Wanderers may have salvaged three points from their last three outings but Tony Popovic would not be happy that his men have given up winning leads in two of those games against opposition they should be beating.
Victory have dropped points just twice in the last five meetings between the two sides and have only lost once in that time, and we are favouring Kevin Muscat's men to get the win at home.
Melbourne Victory to win – $2
UFC 205 main event – Eddie Alvarez vs Conor McGregor
Sunday, November 13 from 3pm AEDST, Madison Square Garden, New York
Third leg of the multi is inarguably the biggest MMA event in the history of the sport.
Featherweight champion and ubiquitous superstar Conor McGregor is attempting to become the first fighter in UFC history to hold two belts at the same time. A victory would cement his legacy as the sport's biggest star.
In McGregor's way is Eddie Alvarez, the current lightweight champion who earned his belt after stunning the then red-hot Rafael Dos Santos in an upset victory no one saw coming.
However, Alvarez's credentials spoke for themselves. The man was a wrecking ball in Bellator prior to making the shift, and while it took some time to truly find his feet in the UFC, he now he looks every bit the world champion he currently is.
We have never truly seen McGregor outlast a wrestler at a heavier weight, and Alvarez has the ability to grind the Irishman down and empty his gas tank – a problem he had across both Nate Diaz fights.
We are favouring Alvarez to retain.
Eddie Alvarez to win – $2.30
Tennessee Titans vs. Green Bay Packers
Monday, November 13 from 5:00 am AEDST LP Field, Nashville, Tennessee
Last leg of the multi sees the Green Bay Packers travelling to America's south to face the Titans in a must-win match up for both teams.
After an impressive start to the season the Packers sit at 4-4. They have dropped the last two matches and are in dire need of a momentum building win to get their season back on track.
The Titans have been brilliant at times this season and horrendous at others. Their 4-5 record is respectable but they need to register a home win here to the hope of a playoff berth alive.
In our eyes it comes down to which quarterback can protect the ball and limit turnovers. Aaron Rodgers is a certified star and Marcus Mariota is well on his way to being a pro bowl performer, so it stands to reason that the battle will be won and lost on the shoulders of the key QBs.
At this stage in the career if we are backing a quarterback on their game management skills and accountability, we are taking Rodgers every time. He should be able to guide his Packers to a road win.
Green Bay Packers to win – $1.68