2016 Australian Open betting guide, exotic tips and form guide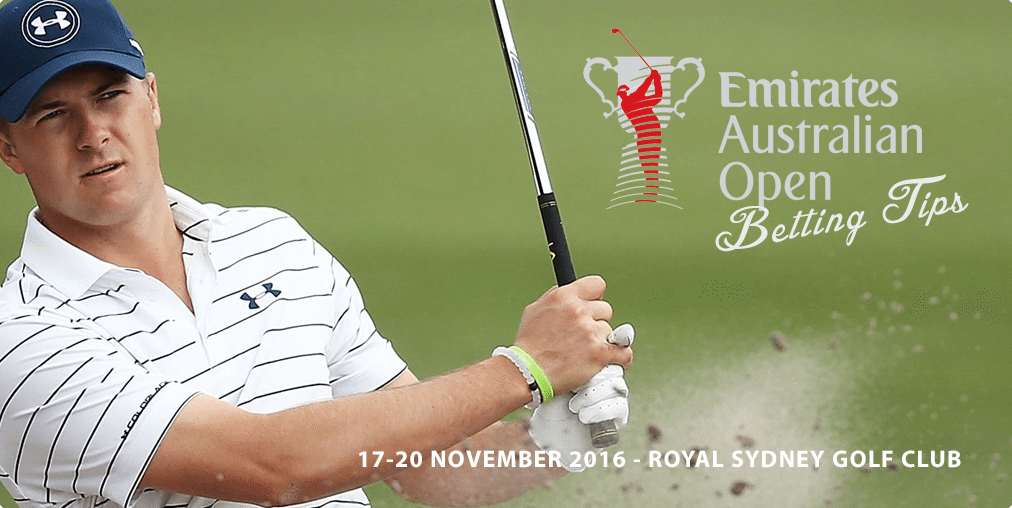 101st Emirates Australian Golf Open. 17-20th November. Royal Sydney Golf Club
THE Australian golfing summer is about to tee off as some of the world's best players hit the links at Royal Sydney Golf Club this week.
The 2016 Emirates Australian Open has attracted two headline players which will not only draw the attention of the crowds, but also the attention of punters.
2014 Australian Open champion Jordan Spieth is back to reclaim his title after finishing third last year. The young American had an incredible season last year, but his 2016 form has been below par, so he's looking to start the summer in style.
Local hope Adam Scott has been in good form and he has attracted plenty support from punters in the early going.
There are hundreds of golfers to choose from this week, but we've selected our best tournament winner bets as well as our best value exotic bets.
Place your Australian Open bet with CrownBet and if your player leads at the end of any round but loses, CrownBet will give up to $50 in rewards points.
Australian Open tournament winner tips
Jordan Spieth – $4
It comes as no surprise that Jordan Spieth is a top winning hope, despite the multiple major winning struggling to find his best swing.
The 23-year-old has won and finished third in his two previous Australian Opens and his form in Australia as a whole is outstanding.
Spieth has taken a six-week break following the the Ryder Cup and during that time he has made some adjustments to his swing.
"I want to clarify, it's not a new swing whatsoever," Spieth said on Tuesday. "It's just process through the backswing. I'm working on the same things I was doing the second half of 2015. Those were my best ball striking weeks, the second half of 2015, which was after the Masters and US Open. I hit the ball much better the second half of the year."
Spieth was quick to point out that the media makes his apparent drop in form seem much worse than it is.
"Everyone goes through peaks and valleys," Spieth said. "I've still won twice and finished second in a major. If that's a valley, then it's going to be a lot of fun when we get back up to a peak.
"No offence, but you guys (the media) have made me feel like it's a valley."
Spieth has been well-backed with bookmakers, but the largest bet taken with Sportsbet.com.au was only $100.
Expect more support to come for Jordan Spieth at $4 with Sportsbet who looks a top winning hope.
Adam Scott – $4.50
Adam Scott is one of the greatest Australian golfers of all time and he's eager to go one better this time around.
The 36-year-old is a five-time winner on the Australasian PGA and after finishing second behind Matt Jones last year, Scott looks a great chance at $4.50 with CrownBet to go one better.
Scott looked gone in 2015 after entering the day nine shots behind Jones, but with a closing round of six under par, Scott closed the gap to finish only one shot behind the winner.
He has been in solid form on the PGA Tour this season with a T-10 in the CIMB Classic followed by a T-14 in the HSBC World Golf Championship late last month.
He knows Royal Sydney well and his ability to play out of bunkers will come in handy this week. Royal Sydney is known for its links-styled bunkers and given Scott's great record in the Open Championship, he shouldn't have any problems navigating the sand.
There's no guarantees in betting and certainly not in golf, but Adam Scott usually gives his supporters a good run for their money.

Rod Pampling – $21
Pampling has been one of the best-backed runners in the field according to Sportsbet's Christian Jantzen.
"Rod Pampling turned back the clock in Vegas and it seems punters have become caught up in the fairytale," Jantzen said.
Pampling was a surprise winner of the Shriners Hospital Open earlier this month in Las Vegas and he managed to shoot 20 under par in doing so.
That birdie-making form is great for the Australian Open where low scores can be recorded when the conditions are good. Punters got a glimpse of his form in Australia when he closed the 2015 Australian Open with a 10 under par round to finish fourth.
Pampling is worth a punt at $21 with Sportsbet which is better than the $17 on offer with other bookmakers.
Top Amateur Player betting tips
Curtis Luck – $3.25
Brett Coletta – $3.25
Travis Smyth – $7.50
Conner Syme – $7.50
Harrison Endycott – $7.50
Kazuki Higa – $11
Min Woo Lee – $15
Zach Murray – $15
Austin Bautista – $19
Daniel Hillier – $29
Zhihong Zhang – $67
Zhengkai Bai – $67
Yuxin Lin – $67
Amateur players can make a tournament interesting, but it's not easy for punters to sort the best players.
Curtis Luck looks a top chance after finishing second in the Australian Amateur in 2014 and he has subsequently won the Western Australian Open at pro level and the highly-coveted US Amateur earlier this year.
Luck is currently at $3.25 at Sportsbet, which looks a good price.
On the same line is fellow Australian Brett Coletta who equalled the course record during the opening round of the NSW Open last week.
Many believed the Queensland Open winner would turn pro this season, but he has remained an amateur and punters should consider backing him at $3.25.
Where has the money gone?
The well-supported golfers have been Jordan Spieth, Adam Scott and Rod Pampling, but punters seeking a bigger return have also placed some long-shot bets.
$2 has been placed on Jin Jeong at $1001 and $20 has been placed on long driving champion Jamie Sadlowski at odds of $751.
It's unlikely either player will be winning at Royal Sydney, but dreams are free and the odds are appealing.
A $10 bet has also been placed on Australia's own headline grabber Robert Allenby.
One punter is confident the troubled golfer can rebound after an embarrassing 2015 with a win at $151 at Sportsbet.