UFC Melbourne: Fight Night 101 previews and predictions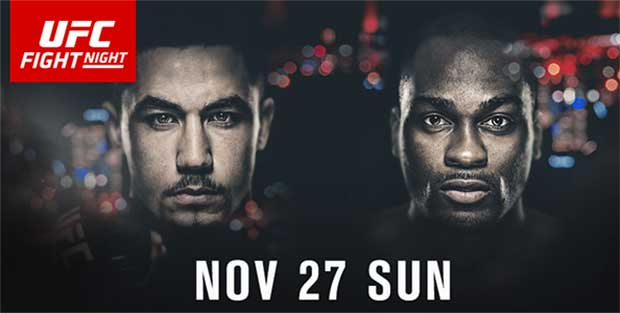 Fights from 10.30am AEDT, Rod Laver Arena, Melbourne, Watch on Fox Sports 5
First Bout: 10.30am (three fights)
Prelims: 12pm (four fights)
Main Card: 2pm (six fights)
Concludes: 5pm
Head-to-head odds:
Marlon Vera ($2.28) vs. Ning Guangyou ($1.63)
Khalil Rountree ($1.63) vs. Tyson Pedro ($2.29)
Danielle Taylor (-105.26) vs. Seo Hee Ham ($1.86)
Jenel Lausa ($1.71) vs. Yao Zhikui ($2.14)
Dan Hooker ($1.63) vs. Jason Knight ($2.29)
Ben Nguyen ($2) vs. Geane Herrera ($1.81)
Jonathan Meunier ($1.81) vs. Richard Walsh ($2)
Damien Brown ($2.14) vs. Jon Tuck (-140.85)
Chris Camozzi ($1.43) vs. Daniel Kelly ($2.86)
Alex Volkanovski ($1.67) vs. Yusuke Kasuya ($2.22)
Kyle Noke ($2.61) vs. Omari Akhmedov ($1.50)
Jake Matthews ($1.33) vs. Andrew Holbrook ($2.86)
Robert Whittaker ($2.08) vs. Derek Brunson (-135.14)

FINALLY, it's back.
And while there will be no figurehead like Ronda Rousey to lead the charge, the Ultimate Fighting Championship's latest foray down under promises a youthful look.
Fight Night 101 has been dealt a cruel blow, with injury forcing star Luke Rockhold to withdraw from his fight with Ronald 'Jacare' Souza and it has left some fans with a bitter taste in their mouth.
While it certainly does not have the star power, the purists – and the patriots – will enjoy a fight night packed with generation next – and plenty of Aussie and New Zealand talent.
Melbourne's Rod Laver Arena will host a fight night with low expectations, but huge potential.
We've run the rule over the 12 fight card to come up with our favourite picks and maybe a little multi to help you enjoy the day on the punt.
Buckle up… IT'S TIME!

Suggested UFC Melbourne multi:
Jon Tuck to defeat Damien Brown at $1.71
Kahlil Rountree to defeat Tyson Pedro at $1.63
Jake Matthews to defeat Andrew Holbrook at $1.33
Derek Brunson to defeat Robert Whittaker at $1.74
Four leg multi bet pays $6.45 with Sportsbet.com.au
Jon Tuck to defeat Damien Brown at $1.71
We don't get these odds. While neither fighter has set the world on fire, Tuck is a serviceable pro who has fallen to the likes of Kevin Lee and Norman Parke – two men not to be messed with. Meanwhile, Brown has had two fights in the UFC – in one he was smoked by Alan Patrick (who?) and in the other he knocked out Cesar Arzamendia, who would have to be one of the weakest defenders in UFC history. Brown is the Aussie, but surely Tuck claims this one – and easily. $1.71 is the juice.
Kahlil Rountree to defeat Tyson Pedro at $1.63
In all seriousness, this bout has the potential to be fight of the night. Two monstrous men go head to head in an epic battle in the octagon. Aussie Tyson Pedro does not even have all of his details filled out on the UFC website, showing how little known he is in MMA circles. But that won't stop him from giving bruising American Khalil Rountree every thing he has got. But Pedro gets his UFC gig after just four professional fights under his belt, while Rountree is a striking force that has spent time in training against the likes of UFC superstars Wanderlei and Anderson Silva. We're hoping Pedro shows plenty of fight, but the TUF 23 finalist Rountree has a point to prove and could end this quickly.
Jake Matthews to defeat Andrew Holbrook at $1.43
At just 22, it feels like Jake Matthews has been around the Octagon for a very long time. But that is because the Victorian is the name on every body's lips as the next big thing in Aussie MMA. Young, chiselled and powerful, Matthews has all the tools to be successful. But he has had a bit of a stop start beginning to his career in the Octagon, sputtering to a 2-2 record. He was a soundly beaten favourite at his last try at TUF 23, with Kevin Lee mopping the floor with the young buck, but he gets another chance to underline his potential against American Andrew Holbrook. Holbrook, too, was absolutely slaughtered at TUF 23, Joaquim Silva keeping his unbeaten record in tact by flattening the American and then assaulting him on the mat, leaving the referee no choice but to call the fight. Caged and wounded, Holbrook will not be an easy beat, but we are backing the Celtic Kid to do the job in front of his home crowd.
Derek Brunson to defeat Robert Whittaker at $1.74
I know we said Rountree vs. Pedro could be fight of the night, but at the other end of the spectrum there is this absolute ripper. Aussie monster Robert Whittaker faces a brutal task against Derek Brunson. While everyone is disappointed there will be no Rockhold or Jacare in Melbourne, they shouldn't be. Their careers, on paper, are nearly a carbon copy. Both fighters are listed at 185 pounds, Whittaker is an inch shorter at 72 inches, with Brunson standing 73. The Kiwi sports a 17-4-0 record and is ranked number seven in the division, compared to Brunson's 16-3-0 and ranking of eighth. Both men have won five straight fights, but Brunson is on a tear having stopped four of his in the first round. "I finish fights," Brunson said this week – and we think, while it won't be a walk in the park, he will finish this one, too.