Travis Cloke betting for AFL Sunday Collingwood vs. Port Adelaide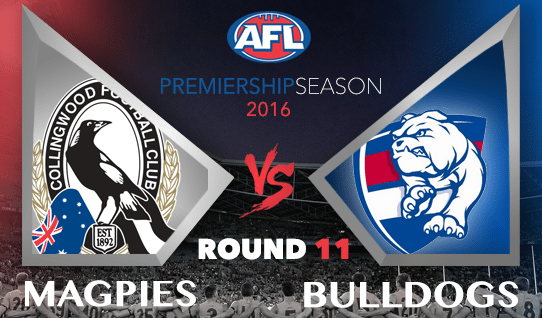 Sunday, June 5, 2016, 1.10pm AEST, Melbourne Cricket Ground, Watch on Fox Footy
Ladder position:
Collingwood Magpies: 12th
Port Adelaide Power: 10th
Season record:
Collingwood Magpies: 4-6
Port Adelaide Power: 5-5
Last five match results:
Collingwood Magpies: LLWWL
Port Adelaide Power: WWLLW
Head-to-head odds:
Collingwood Magpies: $2.02 with CrownBet.com.au
Port Adelaide Power: $1.80 with CrownBet.com.au
Line betting:
Collingwood Magpies: +1.5 ($1.92 with Sportsbet.com.au)
Port Adelaide Power: -1.5 ($1.92 with Sportsbet.com.au)

THE return of monster Collingwood power forward Travis Cloke from his banishment to the VFL looms large over this clash between two of sides that are on the up in the AFL.
Big Cloke, who appeared to have lost his way when he was sent back to the twos six weeks ago, makes his long awaited return and will be eager to prove to coach Nathan Buckley and the Collingwood faithful that he still has something left to give.
Amid calls for Cloke to consider a move to Hawthorn, where his talents might be better appreciated, he has won a reprieve from his VFL sabbatical against Port Adelaide this weekend.
You get the sense the Pies would have liked to have left him in the VFL for a while longer, but injury has forced their hand.
Looking a good chance to knock off the Western Bulldogs on the weekend, the Pies hopes were dashed as Alex Fasolo, Darcy Moore and Taylor Adams all went down with injury, leaving them with no bench cover and allowing the Doggies to run over the top.
With Adams wrecking his hamstring, Moore fracturing his collarbone and Fasolo busting his scapula, coupled with the absence of possum eyes Alan Toovey due to concussion, the Pies simply had to turn back to their out of sorts champion forward.
Cloke is back in form, booting four goals in the VFL last week and the Magpies will need him to stand up – Moore and Fasolo have combined for 36 goals between them this year.
Add to those injuries the absence of both Dane Swan and Jamie Elliott and the Pies have an injury crisis like never before.
But is Cloke the tonic they need?
We reckon so – provided he has hit kicking boots on.
Never a strong suit, Cloke has always struggled with the little voice in his head when in front of goal.
But we're going to back him in to get the job done and show the AFL he is not a spent force.
We think a big bag is on the way in a fighting Pies victory on the hallowed turf and he will kick it off by booting the first goal of the match.
He is $10 to do so, surprisingly shaded by inexperienced, but boom, team mate Mason Cox and Port Adelaide goal machines Chad Winged and Charlie Dixon.
Match predictions
Match result: Collingwood Magpies to win ($2.02 with CrownBet.com.au)
Line betting: Collingwood Magpies +1.5 ($1.92 with Sportsbet.com.au)
If you asked us a few weeks ago, we would have told you this one had all the hallmarks of a stinker. But, flash forward to now and, ladies and gentlemen, we have a contest.
Injuries have absolutely ravaged the black and white, but we still think they are good enough to beat Port Adelaide on their home deck. Port have been nothing short of lacklustre for most of the season, while the Pies started poorly, but have gradually eased into it across their last three games.
The Maggies had two big wins in a row, before their gallant loss to the Doggies, while Port got itself back on the winners' list by heading north and knocking over Melbourne. This match-up feels very even and the bookies have found it just as hard to split them as us. But, backs against the wall, we reckon the Magpies can get the job done. The line is almost non existent but, considering we think the pies are going to win this one, then the +1.5 is just natural progression. May as well take the better than even money on a Magpies win.
Look for the likes of Scott Pendlebury and gun recruit Adam Treloar to wreak havoc in the midfield and our man Cloke to get on the end of their good work. Robbie Gray looms as the danger man for the Pies. Stop him and you stop the Power – a tough task.