Tomic tipped for commentary after 'boring' tennis career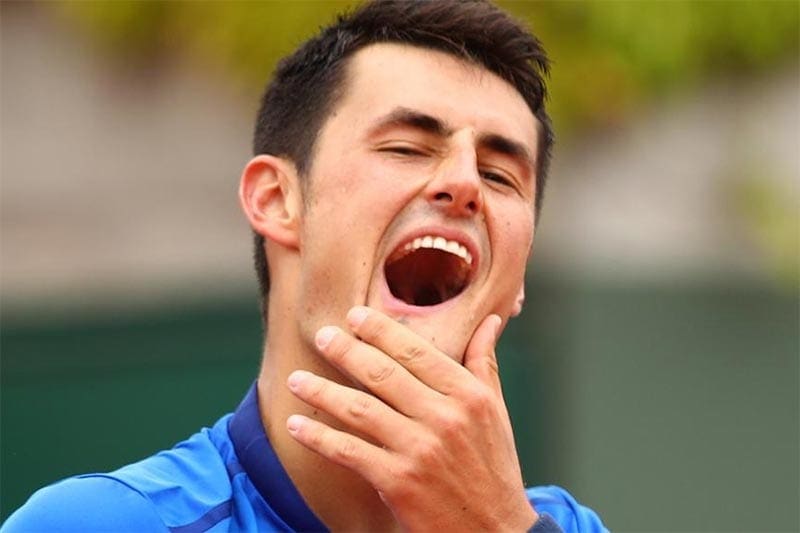 ONLINE bookmaker Sportsbet.com.au has opened betting for what Bernard Tomic will do with his life after tennis.
The Australian courted controversy at Wimbledon this week when he declared his lucrative career was "boring" and that he "couldn't care less" about winning.
Nevertheless, he is priced short at -200 to transition into the commentary booth once he hangs up the racquet.
That may not be for a little while yet, however, as the 24-year-old is paying big odds of +6600 to call it quits this year.
"So Tomic is bored with playing tennis, well we could say the same about watching him play, on the rare occasion when he does," said Sportsbet's Christian Jantzen.
"Who knows what he'll do when he retires and I'm not sure anyone really cares."
Bernard Tomic to retire?
+6600 – Tomic to retire this year
First to retire
-303.03 – Bernard Tomic
+250 – Nick Kyrgios
What will Tomic do after retirement?
-200 – TV Commentator
+400 – Tennis Coach
+800 – Motivational Speaker
+1000 – Barman
+1200 – Schoolies Guide
+1400 – Sell The Big Issue
+2000 – Bouncer
+2500 – Politician
+3300 – Comedian
+4000 – Nightclub Owner
+5000 – Lifeguard
+8000 – V8 Supercars Driver
+10000 – Meter Maid
Markets courtesy of Sportsbet.com.au
Immunity sees Sarah shorten for MasterChef gong
Will she or won't she?
That is question surrounding Sarah and her immunity pin ahead of Thursday night's MasterChef elimination challenge.
She has firmed from +600 into +400 on the back of strong individual efforts during the Japanese leg of the show.
Ben (+125) and Diana (+150) remain the cooks to beat.
"The immunity pin is worth its weight in gold for Sarah at this stage of the competition, and she's definitely been the contestant punters have backed this week," said Jantzen.
2017 MasterChef outright winner
+125 – Ben Ungermann
+150 – Diana Chan
+400 – Sarah Tiong
+1000 – Eliza Wilson
+1200 – Karlie Verkerk
+2500 – Tamara Griffen, Eloise Praino
+4000 – Callan Smith
+5000 – Arum Nixon
Markets courtesy of Sportsbet.com.au
Fifita or Peats: whose baby will come first?
Both Andrew Fifita and Nathan Peats are up the duff, and online bookies are taking bets on the New South Wales stars' soon-to-be bundles of joy.
Baby Peats is tipped as a -1000 certainty to arrive first, while Sportsbet reckons Fifita's child will top the weigh-in.
Punters can even score +900 odds on either bub to be named after Blues coach Laurie Daley.
There has also been a swell of support for NSW in the betting for next Wednesday's State of Origin decider at Lang Park.
"Both Fifita and Peats are set to be fathers again and judging by the money we're taking for NSW, they'll have double the reasons to celebrate," said Jantzen.
QLD vs. NSW
+105 – Queensland
-125 – New South Wales
First baby born
-1000 – Baby Peats
+500 – Baby Fifita
Which baby will weigh the most?
-133.33 – Baby Fifita
+100 – Baby Peats
Baby specials
+800 – Either Baby to be born on Origin game day
+900 – Either Baby to be called Laurie
+2500 – Both Babies to be born on Origin game day
+5000 – Both Babies to be called Laurie