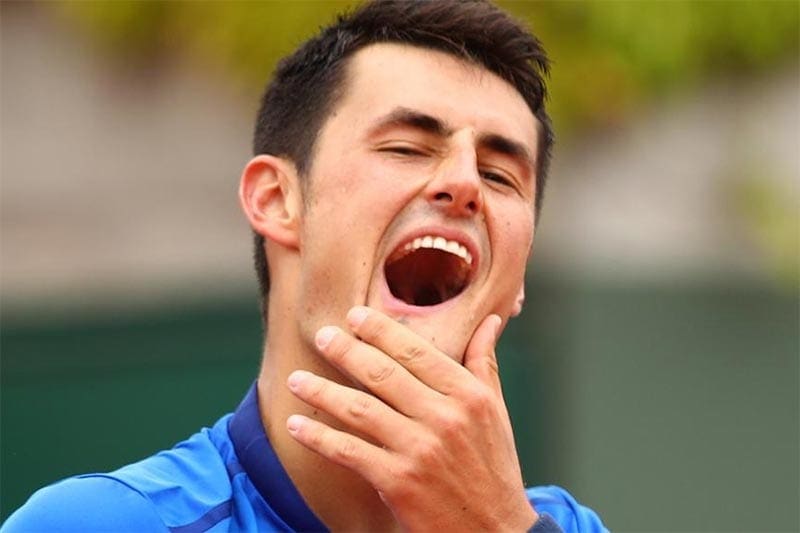 Is Bernard Tomic a lost cause?
Welcome to BettingSite.com.au's guide to Bernard Tomic, including his latest grand slam odds, match tips and highlights. Tomic is one of Australia's top tennis players, although his star has somewhat faded in 2022. Here is everything you never needed to know about Bernard Tomic.
Is Bernard Tomic worth betting on?
Is he a wasted talent?
Is he spoilt? Is he disrespectful?
Every fan who has watched the 25-year-old play will tell you it's a little bit of everything.
But yet, there's still something intriguing about him. There's still talent there that could be harnessed and turned into success for those who have more patience than others.
When Tomic burst on to the professional scene last decade as a skinny teenager, he looked like a future major championship winner. Despite his lack of power, his court awareness and tennis IQ was impressive, as was his ability to find a way to maintain his style against veteran opponents.
But eventually, an unprofessional attitude, wrong advice from friends and coaches and general petulant behaviour has seen him slide in the rankings and in the hearts and minds of Aussies who once hoped for great things from him.
Tomic is responsible for some of the most embarrassing professional displays in Australian tennis history, having officially surrendered the fastest loss on the world tour on one of the many occasions he gave up mid-match.
Tomic has stated publicly that he has fallen out of love with the game and is more interested in other pursuits, but continues to play to pay the bills and live a lavish lifestyle – hardly inspiring.
But here we are, every year, hoping he decides to turn it around.
Could he be a factor in the Australian Open and the other majors this year?
Compare the odds, browse the markets and find out everything you need to know about betting on Bernard Tomic, who has represented Australia at Davis Cup and the Hopman Cup in the past.
Is Bernard Tomic good enough to win the Australian Open?
Even if everything clicked for Tomic and he played to his best, winning the Australian Open may be beyond him.
Unlike fellow petulant countryman Nick Kyrgios, Tomic's game never evolved to include power or any new weapons, meaning he stagnated in rankings and never got near his highest career ranking again (no.17 in 2015).
If Tomic were to approach the game professionally and improve his inadequate fitness base, he'd be a real factor in every major tournament, but we can't see it happening any time soon.
Best bookies for Bernard Tomic betting
All leading tennis bookmakers run odds for futures markets and individual matches. You can also lay exotic and novelty bets for players such as Bernard Tomic. We recommend signing up at each of the online bookies below to ensure you always enjoy the best prices and the latest bonus offers.

This is my table
More about Bernard Tomic
Bernard Tomic is a name that brings ire with it in Australian tennis.

His attitude, unlike other Aussie tennis players such as Lleyton Hewitt and Alex De Minaur, towards the game and representing his country has set a brief, unwanted standard down under with the likes of Nick Kyrgios following suit.

While Tomic may never have been a consistent threat to win major tournaments, it's clear that he had the talent to do much better than what he has.

Tomic was a phenom as a junior, winning three prestigious Orange Bowl titles, as well as two junior grand slam titles. Since turning pro he has won $5,293,195 in prize money – not bad coin considering his highest ever placing in a professional grand slam was a quarter final at Wimbledon.

The story of Tomic will make for interesting viewing, but given what we've seen to date, a resurgence up the rankings (currently sitting no.141 in the world) seems more than unlikely.

| | |
| --- | --- |
| Name | Bernard Tomic |
| Born | 21 October 1992 in Stuttgart, Germany |
| Height | 196cm |
| Turned pro | 2007 |
| Style | Right-handed, two-hand backhand |
| Career singles titles: | 4 |
| Best grand slam result | Quarter-finals (Wimbledon 2011) |

| | 2009 | 2010 | 2011 | 2012 | 2013 | 2014 | 2015 | 2016 | 2017 | 2018 | 2019 |
| --- | --- | --- | --- | --- | --- | --- | --- | --- | --- | --- | --- |
| Australian Open | R2 | R2 | R3 | R4 | R3 | R1 | R4 | R4 | R1 | Q3 | R1 |
| French Open | R1 | – | R1 | R2 | R1 | R1 | R2 | R2 | R1 | R1 | R1 |
| Wimbledon | Q3 | R1 | QF | R1 | R4 | R2 | R3 | R4 | R1 | R2 | R1 |
| US Open | – | Q2 | R2 | R2 | R2 | R2 | R3 | R1 | R1 | Q1 | – |
Latest tennis news and betting tips