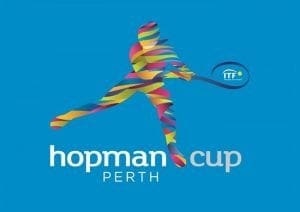 First played in 1989, the Hopman Cup has become a feature event on the Australian tennis calendar. A unique tournament, it features eight international teams of both men and women.
The Hopman Cup is named in honour of legendary Australian tennis coach Harry Hopman, who died in 1985 after leading the Aussies to a remarkable 15 Davis Cup titles. Hopman lost the Australian Open final three times as a player and never quite reached the elite level, but his legacy on the sport as a coach cannot be underestimated. And that is why, every year, the best players from all over the world converge on Perth to play for a title named in his honour.
The tournament is unique as it pits mixed teams against each other, unlike the Davis Cup, which is male only or the Fed Cup, which is limited to women. It is an important lead up event to the first grand slam of the year, Melbourne's Australian Open, and is often played in the height of summer, but the indoor nature of the event makes the oppressive heat less of a factor.
Here is our look at the Hopman Cup, its history and how to bet on it.
When is the Hopman Cup held?
The Hopman Cup is traditionally held in early January as a precursor to the Australian Open, but has at times started a little earlier in late December. The Hopman Cup is played indoors at the Perth Arena. It was played at the Burswood Dome from 1989 until 2012, before a change of venue in 2013.
How does the Hopman Cup work?
Eight teams featuring one male and one female from their country are selected to playoff for the Hopman Cup. They are divided up into two groups of four and play rubbers against opposing nations in a round robin format. The top team in each group then faces off in the final. Each match up features:
One women's singles match
One men's singles match
One mixed doubles match
Bookmakers for Hopman Cup betting
With thousands of online bookmakers on the world wide web, you want to know, first and foremost, that your Hopman Cup wagers are safe.
That's where we come in.
We've done our homework and recommend the following tennis bookmakers:

This is my table
How do you bet on the Hopman Cup and bet types?
Here's where it gets interesting. Like any other tennis tournament, the Hopman Cup has to have an overall winner – and a winner of each match. And that means there are several intricate bet types for punters to tackle. Before you even think about placing a bet on the Hopman Cup, though, make sure you are doing it responsibly. Get the bills out of the way, pay the mortgage, feed the family. And then, if you have a little crust left over, by all means have a little fun on the punt. Once you have that sorted, head on over to one of our recommended bookies and hunt down the Hopman Cup markets.
Here's a sample of what you might find.
Tournament winner
This bet type will generally be part of the futures market and odds tend to be framed once the tournament's participants are announced. It is as you would expect, you have to select which country's pair will win the Hopman Cup, then hope for the best.
To make the final
Another futures market bet type, if you choose this bet option, your pair does not have to take out the title, but it must at least be one of the last two teams standing, playing off in the final, for you to win your bet. They have to finish on top of their group to make it there.
Match up head to head
This involves selecting which country will win its individual match up. So say Australia is pitted against the United States, you have to correctly pick which team will emerge with more wins from their three matches.
Head to head match
Here the focus is on individual matches. Just like any other tennis match, the bet here is simply who will win. You have to decide who will take out the match and then ensure you bet on them and then ride them home.
Set betting
There are multiple types of set betting, but the most popular include set lines, correct match score and how many sets a particular player will take to win the game. You can also bet on how many sets the match will go too and bet on who will win each set.
Past Hopman Cup winners
Polarising Australian player Nick Kyrgios is perhaps the most high profile recent winner of the Hopman Cup, but there have been more than 20 former world number one players to take on the tournament over the years. Notable players include: John McEnroe, Ivan Lendl, Yannick Noah, Mats Wilander, Pat Cash, Boris Becker, Marat Safin, Lleyton Hewitt, Roger Federer, Novak Djokovic, Steffi Graf, Arantxa Sanchez Vicario, Monica Seles, Martina Hingis, Lindsay Davenport, Justine Henin, Kim Clijsters and Serena Williams. Take a look at the full history below.
| | |
| --- | --- |
| 1989 | Czechoslovakia defeated Australia |
| 1990 | Spain defeated United States |
| 1991 | Yugoslavia defeated United States |
| 1992 | Switzerland defeated Czechoslovakia |
| 1993 | Germany defeated Spain |
| 1994 | Czech Republic defeated Germany |
| 1995 | Germany defeated Ukraine |
| 1996 | Croatia defeated Switzerland |
| 1997 | United States defeated South Africa |
| 1998 | Slovakia defeated France |
| 1999 | Australia defeated Sweden |
| 2000 | South Africa defeated Thailand |
| 2001 | Switzerland defeated United States |
| 2002 | Spain defeated United States |
| 2003 | United States defeated Australia |
| 2004 | United States defeated Slovakia |
| 2005 | Slovakia defeated Argentina |
| 2006 | United States defeated Netherlands |
| 2007 | Russia defeated Spain |
| 2008 | United States defeated Serbia |
| 2009 | Slovakia defeated Russia |
| 2010 | Spain defeated Great Britain |
| 2011 | United States defeated Belgium |
| 2012 | Czech Republic defeated France |
| 2013 | Spain defeated Serbia |
| 2014 | France defeated Poland |
| 2015 | Poland defeated United States |
| 2016 | Australia defeated Ukraine |
| 2017 | France defeated United States |
| 2018 | Switzerland defeated Germany |
| 2019 | Switzerland defeated Germany |
Most Hopman Cup wins
Six: United States
Four: Spain, Switzerland
Three: Slovakia
Two: Australia, Germany, Czech Republic