The Sportsbet App is regarded as one of the best in the Australian online sports betting industry. This article will teach you how to download the Sportsbet App for Android mobiles and tablets as well as run you through the pros and cons of betting with this company.
The newest version of the Sportsbet Android App may have originally been released in May of 2017, but it is constantly being updated by the powers at the online gambling company.
What is different about the new Sportsbet Android app?

Sportsbet Australia
Sportsbet's primary focus with their Android App was to make things as fast and easy as possible. The new interface is slicker and quicker to load, offering instant access to upcoming events, sports and racing sections, touch-and-swipe category browsing and weekly specials.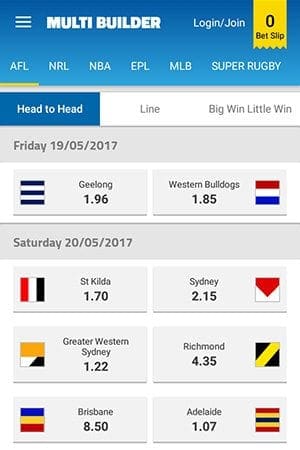 In essence, you get all the great features of Sportsbet's online betting setup in an attractive, efficient and highly functional package for smartphone and tablet devices. Better still, you also get access to a few goodies that are not always available on PC and Mac, such as:
Multi Builder
Never has it been easier to pick a sports multi bet on your Android mobile device. The Sportsbet Multi Builder allows to scroll through thousands of markets for dozens of different sports categories in a matter of moments. No more searching through a maze of menus and pages just to put together a simple cross-code parlay – just tap the sport, pick your bet and move on to the next leg.
Same Game Multi
For years, punters have been frustrated by online bookies refusing to take multi bets featuring several markets from the same match. The Sportsbet Same Game Multi feature has changed all that, allowing mobile app users to combine multiple bets from within any one AFL or NRL fixture. It has already proven a massive hit with footy fans, so expect it to be made available for more major sports in the near future.
How to use the Sportsbet mobile betting app
The beauty of Sportsbet's Android interface, much like the equivalent iPhone betting app, is how easy it is to use. From the homepage, you can get wherever you need to go in one or two taps – if you even need to leave it at all, that is.
The 'Racing' and 'Sports' tabs are the quickest way to find the hottest betting markets. Tap on 'Racing' to see the next races to jump and all upcoming meets for thoroughbreds, harness racing and greyhound racing. Move to the 'Sports' tab to view markets that are about to go live and browse upcoming matches in major leagues such as the AFL, NRL, NBA, EPL and more. You can also get quick access to live betting options and bookie specials through these sections.
For more specific searching, hit the icon in the top-left of screen to open up the full menu. From here you can access your account, the sports and racing sections, popular betting markets and Sportsbet features such as:
Multi Builder
Megabets
Specials
Results
Tipping
Punters Club
Sportsbet Blog
The menu also features links to the Sportsbet help desk and live chat for troubleshooting, enquiries and all-round customer support.
Download Sportsbet's free mobile app for Android
There are several quick and easy ways to install the Sportsbet mobile betting app on your Android smartphone or tablet, all of which are free of charge and take only a matter of seconds to complete.
Sportsbet mobile site
If you are reading this on your phone or Android tablet, tap any of the Sportsbet links on the page to visit the bookmaker's dedicated mobile website. Sign up if you have not already, then tap the download link on the homepage.
QR code scan
Those reading this on a desktop or laptop computer can also install the Sportsbet app by clicking any of the links on this page. Log in or sign up, scroll to the bottom of the homepage and hit the green button that says 'Available now on Android', then use your device's camera to scan the QR code and start the download.
Google Play –
pen the Play Store app on your device and type 'Sportsbet' into the search bar. You can also do this via the Play Store website on your PC, Mac, or mobile browser.
Putting the 'roid in Android
The obvious quality of Sportsbet's Android mobile app has been rather overshadowed by the marketing campaign that accompanied its release. Television viewers, media personalities and anti-gambling advocates alike have voiced disapproval of the 'Putting the 'roid in Android' adverts, which feature none other than Ben Johnson – the Canadian drug cheat stripped of his gold medal for the 100m sprint at the Seoul 1988 Olympic Games, now known as 'the dirtiest race in history'.
Canberra responded with outrage as several high-profile politicians called for the ad to be banned. Many in the media saw it for the light-hearted attempt at humour it was, however, instead raising questions as to why Johnson would involve himself in a promotion that shamelessly mocked him. Others were baffled as to why a leading bookmaker would pay a significant sum – reportedly $200,000 – to feature a disgraced Olympian from yesteryear that many in the coveted millennial demographic may never have heard of.
In any case, Sportsbet has refused to apologise for the tongue-in-cheek promo and does not look like changing its tune anytime soon. As we pointed out at the time the controversy broke, those who claim the ad glorifies drug use in sport are well wide of the mark.
Verdict on the Sportsbet Android App
The Sportsbet Android app, universally regarded as one of the best mobile bet apps down under, is one of the best betting options for those looking to wager on sports and racing in Australia. It's 100% free and easy to get started using the Sportsbet App, with it as simple as creating a new account and following the prompts to download the app.