Sportsbet ad featuring Ben Johnson sparks media roid rage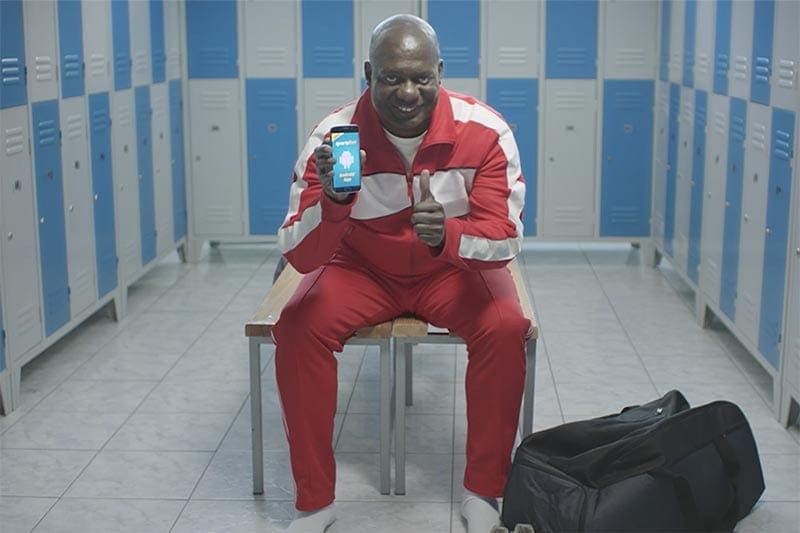 A CONTROVERSIAL gambling commercial starring drug cheat Ben Johnson has met with widespread condemnation from politicians, media figures and members of the public.
It is believed online bookmaker Sportsbet.com.au coughed up in the vicinity of $200,000 for the disgraced Canadian sprinter to promote its mobile betting app for Android devices.
Johnson gained worldwide notoriety at the Seoul 1988 Olympics, when he was stripped of his gold medal and world record in the 100m sprint after testing positive for performance-enhancing drugs.
The ad, which also takes aim at noted dopers such as Lance Armstrong, European weightlifters and the Chinese women's swim team, claims the new and improved mobile app will 'put the roid back in Android'.
But Sportsbet's bold attempt at levity has fallen flat with viewers and lawmakers alike.
Senator Nick Xenophon, who led the recent parliamentary push to restrict gambling commercials during live sports telecasts, called on the bookmaker to issue an official apology.
"It is just wrong on so many levels — glorifying a drug cheat, tying it in with gambling and promoting it to kids in a lighthearted way," Xenophon said.
Greg Hunt, the minister for sport, echoed those sentiments and urged Sportsbet to pull the ad altogether.

"To use a known drug cheat such as Ben Johnson to advertise their product is utterly inappropriate," he said.
Various media sources claim that both the Seven and Nine TV networks received a flurry of viewer complaints after airing the commercial during last weekend's AFL and NRL broadcasts.
Others were less concerned with the ad's content than with Sportsbet's decision to fork out hundreds of thousands of dollars for the services of such an obscure and unpopular figure.
"Personally I wouldn't pay Ben Johnson $1.50 for anything," said Dave Culbert, the athletics commentator and former Olympic long-jumper.
Neil Mitchell of 3AW radio was another who expressed confusion, but not anger, at Sportsbet's marketing strategy.
"It's not endorsing him," he said.
"The only problem I have is that I believe he was paid close to $200,000 to do it."
Despite the calls for retraction and repentance, Sportsbet has made no apologies for what it believes is nothing more than a bit of fun at the expense of a deserving source of ridicule.
Company spokesman Will Byrne said: "Sportsbet does not condone the use of performance-enhancing drugs … we make no apologies for injecting some humour into advertising."
What we think of Sportsbet's controversial ad
Both sides of this argument make solid points.
When there is so much scrutiny over gambling and its potential to degrade the integrity of Australian sport, the decision to use an infamous drug cheat for promotional purposes does not exactly ooze wisdom.
Those who think the ad is in poor taste, and there are many, have very strong grounds for that opinion.
But the notion that Sportsbet is glorifying drug use in sport is wide of the mark.
The ad rips the piss out of Johnson and mocks a number of other infamous dopers.
That is not glorification; it is exploitation.
What initially puzzled us was why Johnson agreed to star in a commercial that openly laughs in his face.
Then we heard about his pay cheque.
Now we are left wondering why Sportsbet, one of several bookies keen to cut advertising expenditure, would pay $200k for a bit that was always going to land them in hot water.
[interaction id="59192568e930ff213002ad80″]