Sportsbet opens markets on Usain Bolt conquering Melbourne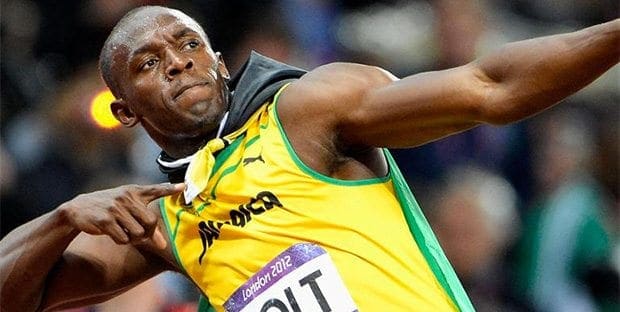 THE starter's gun on the biggest athletics show ever to hit Melbourne will be fired on Saturday night.
And one Usain St Leo Bolt is the star of the Nitro Athletics competition.
Our mates over at Sportsbet.com.au have released an absolute mountain of markets on the Jamaican superstar, who jetted into Melbourne yesterday.
Before we look at those junky markets, what we are really interested in is exactly how he will go on the track.
He is a fairly short +400 to break his own 100m record at the Lakeside track on one of the three nights of the competition.
And he is $11 to take a detour and compete in the Stawell Gift.
Off the track, the markets are open on just what he will get up to.
And Sportsbet.com.au's Will Byrne says he is tipped to visit Melbourne strip club Goldfingers while he is here.
He's $5 to choose the Lonsdale St club over the likes of Kittens ($6) and Showgirls Bar 20 ($7).
But the worry is Bolt has already said he won't have much time for "fun" while he is in Melbourne, saying that he was here to focus on "work".
"(Nitro Athletics) is something that I'm looking forward to," Bolt said.
"I've been training, I've been getting ready, so I'm excited to (do) something different.
"I don't think there will be any time for much fun this trip.
"I'm just here to run at Nitro and do my best and just continue to help athletics."
The legendary sprinter, who has one just about every available award on offer to athletes, added three gold medals at the Rio summer Olympics last year to his career haul of nine, but was this week stripped of one of those after one of his sprint teammates was slapped with a drug ban.

Teammate Nesta Carter was found guilty of doping at the 2008 Beijing Olympics.
But don't expect that bad news to interfere with his performances at Nitro, saying while he was not overly pleased, life goes on.
"It's heartbreaking (the positive test) because over the years you've worked hard to accumulate gold medals and work hard to be a champion … but it's just one of those things," Bolt said.
"Things happen in life, so when it's confirmed or whatever, if I need to give back my gold medal I'd have to give it back, it's not a problem for me."
One of Bolt's teammates in Beijing, Asafa Powell – who has, himself, served a drug ban int he past – will also lose his medal. He is in Melbourne with his superstar teammate.
He has run sub 10 seconds in the 100m sprint more times than any other man and expects Bolt to find a winning formula for their team.
"The captain will make a few jokes and try to get me to run the 300. We're going to have a tug of war or something like that about it out there," Powell said.
"But he will organise it quite well because we need to win. You know how he loves to win.
"It's going to be a team effort and he's put some good guys together so it should be good."
The Nitro Athletics competition runs over three days:
Round 1, February 4
Round 2, February 9
Grand Final, February 11
Six teams of 24 athletes (12 women and 12 men), including Australia, Bolt All-Stars, England, New Zealand, China and Japan will compete in the competition.
Anyway, back to the fun stuff, and Sportsbet reckons there will be plenty of sporting clubs hankering to get a piece of the Lightning Bolt.
The bookie's Will Byrne reckons he is an odds on chance to train with a cricket team, at -200.
"Having a beer with Shane Warne is a $5 shot while opening his own Tinder profile in Melbourne pays $21," Byrne said.
"There's value on the $21 to fire up his Tinder profile if he does meet up with Warnie, as who better to give advice on how to get the best results from that?"
We've listed the markets below.
Usain Bolt Melbourne markets

What sporting code will Usain Bolt be first seen training with?
$1.50 Any cricket team
$4 An A-League Team
$5 A NBL team
$7.50 An AFL team
$16 A NRL team
$34 A Super Rugby team
Usain Bolt Sporting futures:
$5 To be offered a BBL contract
$5 To break his own 100m world record at the Nitro Athletics
$11 To announce he is competing in the Stawell Gift in 2017
$11 To be offered an A-League Contract
$101 To be offered a NBL contract
First Strip Club Usain Bolt is seen at:
$5 Goldfingers
$6 Kittens
$7 Showgirls Bar 20
$7.50 Spearmint Rhino
+700 Centrefold
$9 Xplicit
$11 Larry Flynt's Hustler Club
$11 Pink Paradise
$16 Dallas Bar
Miscellaneous futures:
$5 To be seen at any bar with Shane Warne
$21 To have a Tinder profile active whilst in Melbourne
$101 To permanently join the AFL Footy Show commentary team
$101 To race a tram whilst in Melbourne
$101 To be romantically linked to Michelle Payne
$501 To have a race with Usain Dane down Flemington straight
$501 To be seen at strip club with Bruce McAvaney
Colour of Bolt's Spikes at the Nitro:
$2.50 Gold
$3.75 Orange
$6 Blue
$7.50 Green
$7.50 Black
$11 Yellow
$16 Red
$16 Purple
$16 Brown
Where will Usain Bolt be first seen doing the Bolt pose:
$1.22 Lakeside Stadium
$7.50 MCG
$7.50 Federation Square
$16 Etihad Stadium
$21 Chinatown
$26 Crown Casino
$26 Flemington Racecourse
$34 Brighton Beach
$34 Queen Victoria Market
$34 Old Melbourne Gaol