Sportsbet frames market for Boomer reaching 500 AFL games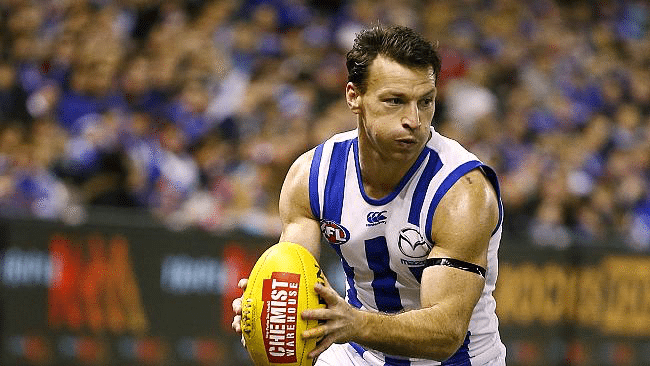 NORTH Melbourne star Brent Harvey is set to play his 427th game against St Kilda on the weekend, breaking the AFL games record.
Long-held by Hawthorn legend Michael Tuck, the record was thought to be unbreakable in the modern game.
But the little man at Arden St has been told for years he couldn't do things and he has never allowed that to stop him from achieving.
That is why we wouldn't put it past him to go on and reach the unthinkable 500 games.
Harvey is $21 with sportsbet.com.au to go on and play at least another four seasons in order to reach the unthinkable milestone.
And while it seems an unlikely stretch, the quality football that he is still playing, coupled with advances in modern recovery methods, he might just have a chance.

"He might only stand 5 foot 5 inches tall but Boomer Harvey will cement himself as a giant of the game on Saturday night when he plays his 427th senior game," the bookie's Ben Bulmer said.
"While the odds suggest Boomer reaching 500 games might be a stretch, we are not writing him off just yet."
The bookie has released a number of other milestone markets to honour the 167 centimetre star, affectionately known as Boomer.
The 38 year old is still a ball magnet, his past two weeks reaping 29 possessions against Adelaide and 25 in the club's pressure releasing win over Collingwood that ended a five match losing streak.
He is rated a $2.25 chance with sportsbet.com.au to emulate his past fortnight and gather at least 25 possessions in his milestone match.
The bookie reckons his chances of playing in the club's next premiership are remote. It is offering $51 for him to add a second flag to the one he secured way back in 1999 – his fourth season.
Now in his 21st, Boomer is priced at $4 to do the unthinkable and retire at the end of the season.
While a normal person might give up the goat and be satisfied with his career, Boomer is an iron man and a competitive beast. He might play until his 50.
Having played more AFL games than any other human on the planet, a career as a coach beckons.
Sportsbet is offering odds of $34 for him to reach 1000 games as a player and coach.
Harvey, born on May 14 in 1978, has forged a decorated career as a midfielder-cum-small forward with blistering pace and a nose for goal.
He is a four time All Australian and five time best and fairest winner at north, representing Victoria twice and Australia 11 times. He is in the North Melbourne Team of the Century and is a first ballot Hall of Famer when he becomes eligible.
He is the only player from North's 1999 flag still playing today.
He has kicked 511 goals across his career, including 29 this season, which puts him on track to surpass his best effort of 36 in 2007.
You could do worse than back him for the first goal in his milestone game. He will be decent odds when the markets are released and you would think he will open up the game in a fierce manner.
It's been a remarkable week for Boomer.
There has been much fanfare over his milestone game, but it has been slightly overshadowed by revelations he has published in his autobiography about North legend Wayne Carey and the fallout following the Anthony Stevens affair, which ripped apart the club.
Harvey back-pedalled on the issue, saying he wished he did not include the detail about Carey in his book.
North coach Brad Scott paid tribute to his star workhorse, saying the key to his longevity was that he was very hard to get a hold of for opposition players and that he was a more driven competitor than any other player he had seen.
"In terms of the player, he is not too different," Scott said.
"He is still that type who you think you can get a hold of, and when you see him and you look at the physical stature, you think, 'Yeah, I've got this bloke covered,' and then after about a quarter of footy, you think, 'Yeah, I'll get him eventually,' and you never do get him.

"And I think people have thought that for 426 games – that he is a player that just due to his physical stature, that he is not going to last or that he is not going to have the impact that he has, but he has just been an incredible footballer.
"As a person he has grown enormously.
"Just the most driven footballer I have ever seen in my time in footy, and that is saying saying a lot because I have seen some driven competitors, but he is like no other in the game."
The man himself has shown no signs of retiring and says he wants to play 450 games.
"I've always said if my mind and my body is good that I'd love to play football for as long as I can and I won't turn away from that," Harvey said.
"That's the truth, but unfortunately it doesn't just revolve around me.
"It's how the club's going, it's how the team's going, so there's a lot of stars that have to align for that to happen and if it happened it will be fantastic.
"If it (doesn't) happen I've had a decent career so I better not complain."
Over to the game itself, North Melbourne is the $1.57 favourite to defeat St Kilda, with 60 per cent of the money at sportsbet.com.au backing the Kangaroos.
North Melbourne Kangaroos vs St Kilda Saints: Brent Harvey milestone markets
North Melbourne v St Kilda:
North Melbourne ($1.57)
St Kilda ($2.42)
Boomer Harvey milestone match specials:
Boomer to have 25 disposals or more vs St Kilda ($2.25)
Boomer to retire at the end of the season ($4)
Boomer to get 3 Brownlow votes vs St Kilda ($10)
Boomer to play 500 games ($21)
Boomer to break 1,000 games as player and coach ($34)
Boomer to play in North Melbourne's next premiership ($51)
Odds provide by Sportsbet.com.au