Sportsbet ask the question: who will be Nick Kyrgios' next coach?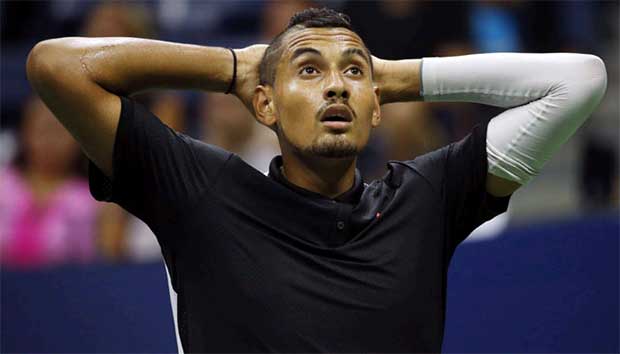 CONTROVERSIAL Aussie tennis star Nick Kyrgios says he is on the hunt for a new coach.
He has not had a coach since he split with Todd Markham just before Wimbledon in 2015.
But who would want to subject themselves to that?
The firebrand tennis star possesses all the skill in the world, but his attitude, frankly, stinks.
Aussie legend Lleyton Hewitt is the man most favoured to take on the task of channeling Kyrgios' attitude into a winning formula, at $2.75 with Sportsbet.com.au.

Hewitt knows a thing or two about reinvention.
He, too copped plenty of stick over his lack of maturity in his early years, before turning himself into a two-time grand slam champion and one of the most loved tennis figures in the nation.
Hewitt, Australia's current Davis Cup captain, says Kyrgios can be in the world top 10 by next year.
"I think he'll be thereabouts," Hewitt said.
"He doesn't have that many points to defend for the rest of the year.
"He played well in Shanghai last year, but the end of the year he didn't play that many events so he's got a good opportunity in the next couple of months.
"But sometimes it's hard to get up for as well because there's no grand slam kind of at the end of it.
"But if he knuckles down, he could have a really good finish to the year, which sort of springboards into the Hopman Cup and Aussie Open for him."
The key message there is knuckling down.
Kyrgios, at just 21, has plenty of growing to do, but he is starting from a low base and, whoever decides to take on the role as his coach will have a mountain of work to do – but they will be dealing with one of the most talented players in the world.
A physical beast with the skills to match, Kyrgios could benefit from a bit of tough love from Czech former world number eight Radek Stepanek.
He is the $3 second favourite with Sportsbet.com.au, but that could be interesting. Kyrgios beat Stepanek at Wimbledon this year and was also fined nearly $3500 for unsportsmanlike behaviour.
But he seems to like Stepanek.
"When he stops, he might step into a role where I might bring him along to tournaments," Kyrgios said.
"I don't know. I'm more than willing to give it a go with a guy like that, that has had such great success for a long time.
"I don't really know what I want yet with a coach.
"So for me, just to have him give me advice here and there, while his career is still going.
"You never know."
The issue with Stepanek is the 37-year-old has no plans to retire any time soon. He has a goal of beating Jimmy Connors record of being the oldest man to win a grand slam singles match – and that is at least three years away.
"Definitely, I'm not thinking about retiring but… Nick has a great potential," Stepanek said after his defeat at the hands of Kyrgios at Wimbledon earlier this year.
"He has everything for the game and we'll see where the life is gonna take us.
"If the day comes and he's gonna believe I can help him, then why not?

"He obviously has a great game for grass, based on an incredible serve he can get a lot of easy points."
Pat Rafter is at $4.50 and would seem the perfect personality to turn Kyrgios into a better bloke on the court.
But Kyrgios and Rafter have had their differences over the past 12 months, with the youngster firing back at Rafter over comments he made about he and fellow Aussie Bernard Tomic.
"They set a pretty low benchmark," Rafter said of the pair in reference to their standing as Australia's best male tennis players.
"I would say they're heading in the right direction but there's only one way to go for those guys.
"They're Australian, around the same age, around the same ranking, so I guess it's a natural thing to lump them in together."
But Rafter has also had praise, backing Kyrgios to be a world number one too.
"Nick doesn't play a lot of tournaments so he needs to get the ranking points along the way, but he's a good enough player to make the points when he gets the opportunity," Rafter said in February.
"The challenge is consistency, and that might come with maturity, but he will find that.
"Consistency will help him build points and towards a ranking that he's after because he's a potential No.1 player in the world so it's about how he applies himself to do that."
Darren Cahill is at $6.50 and has the runs on the board as an elite coach.
A recent social media spat between Roger Rasheed ($10) and Kyrgios looks to have ended his chances of teaming up with the world number 15.
"Position vacant – must have thick skin, patience and most importantly, be insane," said sportsbet.com.au's Christian Jantzen.
Nick Kyrgios next coach market
Lleyton Hewitt ($2.75)
Radek Stepanek ($3)
Pat Rafter ($4.50)
Darren Cahill ($6.50)
Roger Rasheed ($12)
Todd Larkham ($12)
Jim Courier ($21)
Mark Woodforde ($26)
Tony Roche ($34)
John McEnroe ($101)
Damir Dokic ($151)
Odds provided by Sportsbet.com.au