2023 Rugby World Cup betting
The Rugby World Cup was first played in 1987 has since become a highlight on the sporting calendar. Public interest in the tournament has grown since union football was opened to professional players in 1995, and online bookmakers do roaring trade when the RWC rolls around every four years. RWC 2023 betting sites will feature markets on everything from outright winner betting to match betting to top players betting. RWC '23 will run from September 8 and will crown the champion on October 28, with the tournament set to be played in France. Read on to find out more about betting on the Rugby World Cup, including the top Rugby World Cup betting sites, top Rugby World Cup betting apps and which brands have the top odds for the tournament.
Recommended!
---
RWC '23 news & betting tips
All RWC news
---
2023 Rugby World Cup in France
Dates: September 8 – October 28, 2023
Host country: France
Venues: Stade De Bordeaux, Stade Pierre Mauroy, Ol Stadium, Stade De Marseille, Stade De La Beaujoire, Stade De Nice, Stade De France, Stade Geoffroy-Guichard, Stadium De Toulouse.
The 2023 Rugby World Cup will head back to Europe, with France to have the honour of hosting the 10th edition of the Rugby Union showcase event. This will be the third time France has had the honour of hosting the Rugby World Cup.
RWC 2023 will feature 20 teams within four pools, placing five teams in each pool. Every team in the same group will play each other once and the two nations with the most points will advance to the quarter-finals. The top three teams in each pool automatically qualify for the 2023 Rugby World Cup.
Every win is worth four points, while a draw returns two points to each side.
---
RWC '23 Pools
| | |
| --- | --- |
| Pool A | New Zealand, France, Italy, Uruguay, Namibia |
| Pool B | South Africa, Ireland, Scotland, Tonga, Romania |
| Pool C | Wales, Australia, Fiji, Georgia, Portugal |
| Pool D | Englad, Japan, Argentina, Samoa, Chile |
The 2023 Rugby World Cup will begin on September 8, with the final scheduled to take place on September 28 at Stade de France, Saint-Denis.
---
2023 Rugby World Cup odds
It is no surprise to see the home soil team France to be the favourites to win the 2023 Rugby World Cup at $3.75. The third-placed team in 2019 New Zealand All Blacks are priced at $4 with the top bookmakers.
The 2023 Rugby Union World Cup odds as of September 5 look like this:
France – $3.75
New Zealand – $4
South Africa – $4.50
Ireland – $5.50
England – $13
Australia -$13
Full 2023 Rugby Union World Cup Odds at Neds.com.au
---
RWC 23 betting sites

This is my table
Rugby World Cup betting sites in Australia are among the best that are available, with these including big-name operators with overseas ownership and smaller local bookmakers, that provide more of a niche service.
The best RWC23 betting sites will feature many different types of bets on the rugby union event, with these including both outright odds on tournament winners and place-getters. These same Rugby World Cup betting sites will also have odds on every match throughout the tournament, which not only includes head-to-head odds, but also try-scorer, top players, handicap betting and basically anything else you can possibly want.
The top RWC betting sites will also generally have bookie apps available to their customers, with these generally including downloads for iOS and Android smartphones and tablets. These Rugby World Cup betting apps will give you some feature you won't find on desktop websites, including the ability to access live scores, streaming matches and even live, dynamic odds while matches running.
Via both betting sites and RWC betting apps you will be able to fund your accounts via a number of different methods. These bookie payment options range from credit and debit cards, right through to web wallets (Paypal, Neteller etc) and even payment processors like POLi, which allow you to transfer money from your bank account to your bookie account instantly.
---
Rugby World Cup betting apps
The most popular way Australians access Rugby World Cup betting sites is via betting apps, with most having these downloadable software offerings in 2023. These RWC betting apps allow you to wager on everything from the outright winner of the tournament, right through to individual matches.
Rugby World Cup betting apps have some advantages over wagering via a bookmaker website, with things like automatically being logged in when you open the app, the ability to quickly check bets and just the all-round convenience of not having to type in a website and login each time you want to access your account.
The two main types of Rugby World Cup betting apps Australians use are iOS and Android, with these very common right across the country.
Android Rugby World Cup betting apps can be downloaded directly from an online bookmaker or via the Google Play store, but we recommend creating an account first, so you get all the advantages of signing up via an affiliate website.
Same goes with iOS RWC betting apps, we recommend creating an account with your chosen brand, then downloading their app via the App Store, which is the Apple equivalent to Google Play.
---
How to bet on the Rugby World Cup
Every sport around the world has specific methods on how you can place a bet. The game of rugby union has its own unique quirks, but most of the generic sports betting markets still apply.
---
Match betting

The best rugby bookmakers run dozens of betting markets for each RWC game. These can range from straight bets on the match result to the most exotic of proposition wagers. Popular options include:

Match winner
Match handicap
Winning margin
Over/under lines

First half result
Second half result
First tryscorer
Anytime tryscorer

Futures betting

If you plan on targeting the bigger picture, Rugby World Cup futures bets are the type for you. Rugby union betting sites open their tournament markets many months in advance, allowing punters to get great odds on outright winner bets, top tryscorer options, and all sorts of wagers for how far a team will progress. Common RWC futures bets include:

Outright winner
Name the finalists
Pool winners
Winning hemisphere

Winning continent
Top tournament tryscorer
Top team tryscorer
---
Rugby World Cup history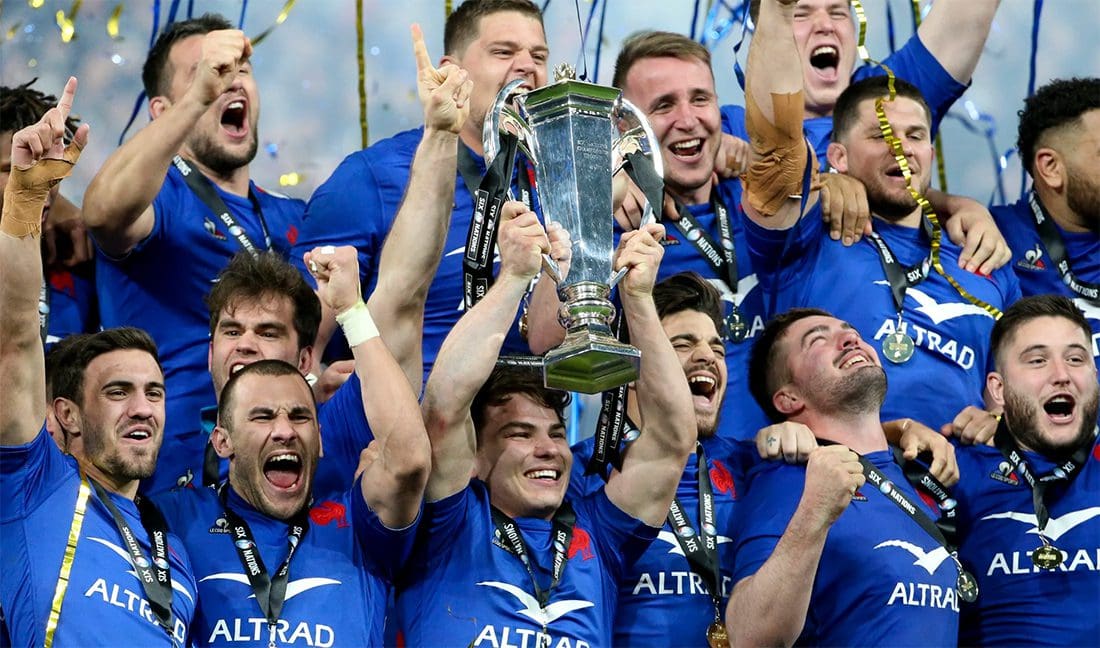 New Zealand & South Africa reigns supreme when it comes to success on the world stage, with both team winning three out of nine championships since 1987. Before the 2019 World Cup New Zealand did sat on top after dominating the 2011 & 2015 world cup, however which the impressive efforts of South Africa in 2019 both teams will be looking settle it this year in France.
Getting through the group stages can be a challenge for many teams, but there are some that are yet to fall short in that department. Since 1987, three teams have made the quarter-finals each year: New Zealand, Australia and France.
Australia currently dropped to third position in the championship tally with a total of two victories. The Wallabies, however, have also finished runners-up twice.
England is the only other nation to have tasted glory on the big stage, which occurred back in 2003 when the Brits defeated Australia in an epic final in Sydney. England was the first country from the Northern Hemisphere to win a Rugby World Cup.
South Africa is the reigning champion after winning RWC19, defeating England 32-12 in the final at Yokohama, Japan. New Zealand defeated Wales 40-17 in the third-placed playoff, with this tournament marking the end of the All Blacks dominance in the Rugby World Cup, after winning the 2015 and 2011 instalments.
---
Australia at the Rugby World Cup
Australia has always fought hard in the sporting universe and the Rugby World Cup is no different. As one of the more established countries competing, the Australians have built a tough reputation, placing them in the top echelon within the rugby food chain.
As one of the only three countries to always progress through the first stage, Australia has a long list of accolades, starting with the obvious two victories in 1991 and 1999. Both of those tournaments were played across five Northern Hemisphere countries, England, France, Ireland, Scotland and Wales. The Wallabies played their group games in Wales in 1991 and beat England in the final, while in 1999 they spent the majority of the tournament in Ireland before downing France in the decider.
Australia has not tasted glory since '99 and will have to put together a big performance to win this year. The Wallabies have never been deterred in the past and should push through with gusto, as they have for the last nine Rugby World Cups.
The Wallabies went close in 2003 when they lost 20-17 in thrilling circumstances to England, with Jonny Wilkinson putting the home team to the sword in the final.
The Australians again went close in 2015 when they lost to the All Blacks in the final 34-17, with this match played at Twickenham in England and playing out much as experts had predicted.
---
List of previous Rugby World Cup winners
| | |
| --- | --- |
| Host | New Zealand and Australia |
| Winner | New Zealand |
| Runner-up | France |

The inaugural Rugby Union World Cup was completely one-sided in favour of New Zealand, who did not lose a single match on its way to the championship. The final three matches en route to the championship game were won by incredible margins, with no opponent able to score more than nine points against the All Blacks. The final was eventually won against the France with a scary 29-9 score line.

| | |
| --- | --- |
| Host | England, Wales, France, Ireland, Scotland |
| Winner | Australia |
| Runner-up | England |

The 1991 World Cup was much more balanced than the 1987 iteration, with stronger teams in the tournament and better-quality matches throughout. Australia beat Ireland by a single point in the first match of the knockout round, allowing it to progress onto New Zealand. The Wallabies knocked off the reigning champs and just got over the line against England to win the World Cup.

| | |
| --- | --- |
| Host | South Africa |
| Winner | South Africa |
| Runner-up | New Zealand |

The RWC debuted outside of Europe and Oceania in 1995, with the proud nation of South Africa hosting and winning the cup. This cup is famous for Nelson Mandela's involvement with his team, wearing a national guernsey whilst presenting the Springboks with the Webb Ellis Cup.

| | |
| --- | --- |
| Host | Wales |
| Winner | Australia |
| Runner-up | France |

This World Cup would be the first time that the 16-team competition expanded to 20 teams. Not only was the competition expanded, it was the first time that the game would be played under the newest professionalism rules, which removed all prior restrictions on payments and benefits. Australia won its most recent championship in this year against France by 23-points, 35-12.

| | |
| --- | --- |
| Host | Australia |
| Winner | England |
| Runner-up | Australia |

Australia independently hosted the 2003 World Cup and nearly secured the victory, falling short against England in a dramatic final at Stadium Australia. Nothing could separate the two old rivals at full time, and it took a famous drop goal from Jonny Wilkinson in extra time to clinch a three-point win for the Brits.

| | |
| --- | --- |
| Host | France |
| Winner | South Africa |
| Runner-up | England |

France was finally granted the honour to host the Rugby World Cup, hoping to finally win the championship after losing two previous finals. It was not to be for the French as they blew out in the Semi-Finals and eventually lost to Argentina in the battle for bronze. South Africa were too strong, having both the top scorer and top tryscorer.

| | |
| --- | --- |
| Host | New Zealand |
| Winner | New Zealand |
| Runner-up | France |

The 2011 Rugby World Cup was the largest sporting event ever held in New Zealand, which supplied countless unbelievable matches. The final game was won by New Zealand by a single point, making it the closest ever final margin for a World Cup Final. Once New Zealand were given the rights to host, you could pencil them in to at least finish with a medal.

| | |
| --- | --- |
| Host | England |
| Winner | New Zealand |
| Runner-up | Australia |

New Zealand completed what had never been achieved before at the 2015 Rugby World Cup, winning back-to-back titles. The All Blacks were simply unstoppable in their run towards their third championship, beating the Runner's up 34-17 in the final. New Zealand is in prime position to win three consecutive World Cups.


| | |
| --- | --- |
| Host | Japan |
| Winner | South Africa |
| Runner-up | England |

South Africa beat England 32−12 in the final to claim their third title, equalling New Zealand's record. In doing so, South Africa became the first team to win the title after losing a match in the pool stage. The defending champions, New Zealand, finished third after defeating Wales in the bronze final.

---
Best online bookmakers for RWC betting
There are dozens of online bookmakers around these days, but which are the best for Rugby World Cup odds? The licensed bookies below all run hundreds of RWC betting markets and offer great odds, secure banking and superior customer service. We recommend signing up at all of them so you always get the best price available.

This is my table