Rousey a short-priced favourite to make a winning UFC return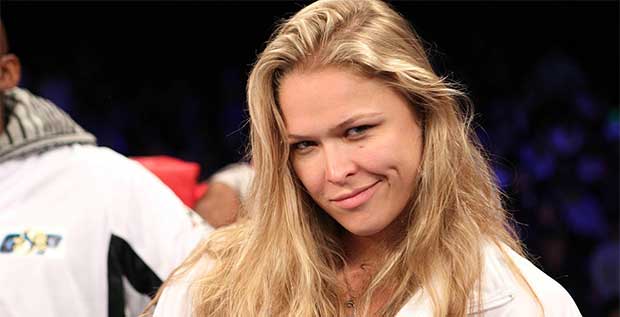 AFTER months of speculation and hearsay, Ronda Rousey has made her UFC comeback official.
The woman they call "Rowdy Ronda" will fight Amanda Nunes at UFC 207.
Rousey will be more than 12 months removed from her last professional fight when she steps into the octagon on December 30, but that has not stopped Sportsbet.com.au from installing her as the -250 favourite to reclaim the bantamweight gold.
Current champion Amanda Nunes faces the daunting prospect of facing arguably the most dominant figure in the sport's history in her inaugural title defence and is at $2.98 to retain her belt.
UFC president Dana White did the media rounds in the wake of the Rousey announcement, saying the superstar's absence from the sport was more about a full body and mind recharge, rather than a 'psychological problem'.
"Everybody wins or loses, it happens." White said.
"I don't think anybody saw that coming, Ronda losing any time soon, which is what made it so shocking when it happened. It was never really about a psychological problem with Ronda,

"The thing with Ronda was she wanted time off. She said 'I want to go away, I want to relax' but this girl worked hard for us for three years, non-stop, fight after fight, promotion after promotion and she wanted time off."
White said MMA, like no other sport in the world requires complete mental focus and nothing short of 100 per cent complete motivation is enough to cut it at the top.
"In this sport, I say it all the time — if you even hint that I want to retire, or I want time off, you need to do it in this sport. You've got to be all in, in this sport. You've got to be all in, you've got to be a killer, you've got to want it, you've got to want to be a world champion."
The fight many impartial fans wanted to see was a bout between wrecking ball Cris 'Cyborg' and Ronda Rousey, which plenty of pundits mooted would happen upon her return to the UFC, but White stated the returning star is intent on winning back her UFC title first and foremost.
White said a battle between the two wrecking balls is bound to occur at some stage, but Rousey had earned the right to ask for another shot at the bantamweight gold.
"I know that Cyborg wants that fight. Ronda wants that fight, too. Ronda's plan right now is to come back and try to win her title back and if that happens, the Cyborg fight will definitely happen."
The bantamweight title fight between Amanda Nunes and Ronda Rousey is set to take place at UFC 207 in the MGM Grand Arena, Las Vegas on December 30.
UFC 207 Main Event – Amanda Nunes vs. Ronda Rousey
Odds provided by Sportsbet.com.au
Amanda Nunes – $2.98
More News

Deprecated: WP_Query was called with an argument that is deprecated since version 3.1.0! caller_get_posts is deprecated. Use ignore_sticky_posts instead. in /home/bettingsite/public_html/wp-includes/functions.php on line 5145

All Recent News