Refreshed Foran pushing Warriors up NRL premiership betting table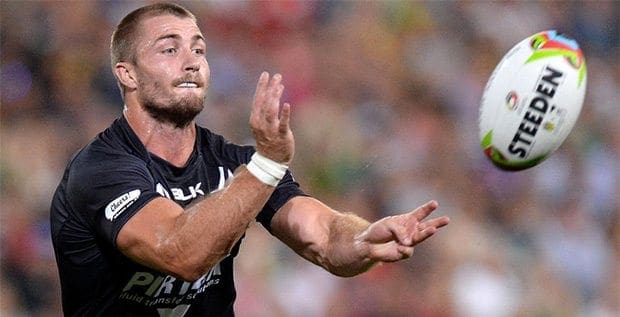 KIWI representative Kieran Foran has had his fair share of personal issues during his NRL career, but the new Warriors recruit was is confident he's about to turn a new leaf.
Foran missed part of the season with the Parramatta Eels due to personal issues relating to his relationship with partner Rebecca Pope and also his connection to brothel owner Eddie Hayson, but his new life in Auckland has been a welcome sight.
"It's been great. It's a breath of fresh air really, I needed it," Foran said.
"It's great to get out of Sydney and come home around extended family. Just to get back to my roots be around big love and start fresh at a new club."
Foran has spent time with some of his teammates who also play for the Kiwis, and has been welcomed as if he's one of the family.
"It's been brilliant. The boys have made me feel welcome from the get go," Foran said.
"This is one big family. The moment I walked through the place I got to know everyone really quick and (I'm) really enjoying my time so far."

Foran won't make his debut for the Warriors until round three as he is still working with mental health professionals. NRL boss Todd Greenberg said that rugby league is playing an important role in Foran's rehabilitation.
"I have always said that my priority is ensuring Kieran's wellbeing – and his football career is secondary," Greenberg said.
"But the expert advice we recently received indicates that Kieran's recovery has reached the point where he is physically and mentally fit to return to rugby league."
Many NRL experts are predicting a good season for the Warriors, with some even saying the franchise can win the competition, but the Warriors perform horribly when expected to win so we're predicting another disappointing season.
Take the Warriors under 13.5 (-133.33 at Sportsbet) for total season wins. If they do make the playoffs, they will likely just sneak into the eight.
Trbojevic mended and ready to fire for Manly
Talented fullback Tom Trbojevic could take the NRL by storm this season after recovering from an ankle injury which hampered him last season.
The Sea Eagles star has declared himself 100 per cent fit heading towards the start of the season after recovering from off-season surgery.
Trbojevic fought through the pain in 2016 as Manly's injury toll continued to build, but he's back and ready to give Manly ($29 at Ladbrokes.com.au) a much-needed shot in the arm.
"I don't think it hindered me too much last year. It was just that I'd pull up sore after games and I wouldn't be able to train because of that reason. That's the only negative that came out of it," Trbojevic said.
"I had the ankle all fixed up and I've come back to training and I've tried to put a bit of weight on. I lost a lot of weight from the surgery, so I'm weighing about 105 (kilograms) now which is a couple of kilos up from last year.
"It stabilised my ankle up so I do feel a lot fitter. I've been working hard with the strength and conditioning coach, Dan (Ferris) and the rehab staff to get that all better. I've been training really hard on the field so I feel a lot fitter and a lot stronger so hopefully that helps me out this year."

Trbojevic played two pre-season games without fault this season and is ready to take on the Eels on March 5 at home.
"It feels 100 per cent. Obviously playing in the two trials gave me a lot of confidence because I had no problems with it. I'm just hoping it stays that way throughout the year and I can have an injury-free year," Trbojevic said.
He replaces the now retired Brett Stewart at the back for the Sea Eagles, but he knows just how much of an impact he had on the game for Manly.
"Brett Stewart is probably one of the best fullbacks to have played for this club. If I can do half the things he did in his game then I'd be very happy. They are obviously very big shoes to fill, but I'll just be looking to do the best that I can," Trbojevic said.
"I just try to keep a level head. I know that I've got to do a role in this team and that's all I'm focussing on. I just try to do the best I can week in week out and don't try to get mixed up in all that (hype)."
Are the Knights really that bad?
The Newcastle Knights are predicted to finish last for consecutive seasons this year, but after an impressive pre-season outing, are they as bad as we think they are?
The Knights put the Raiders to the sword with a 44-0 victory at Queanbeyan last weekend, and despite being a lowly pre-season game, the signs were good from the battling franchise.
Knights coach Nathan Brown was happy with the result, but he knows taking on the premiership-quality sides will be the real test.
"I was happy with what everybody did collectively," Brown said.
"We had new players at the club that all contributed well and had some blokes who played last year that we saw some really good signs of improvement in.
"But the proof will be when the competition starts and we're playing full-strength sides."
Newcastle did pick up two injuries from the game in what has already been a tough pre-season for the squad. The Knights will be without Jarrod Mullen, English recruit Joe Wardle, Rory Kostjaysn, Pauli Pauli and two promising development players which suffered injuries in the Canberra win.
The Knights take on the Warriors in New Zealand to start their season where they are currently $5.50 at Sportsbet to cause an upset.
Updated 2017 NRL Premiership market
Panthers – $7.50
Storm – $7.50 @ Sportsbet.com.au
Cowboys – $9
Raiders – $9
Roosters – $10
Broncos – $12
Warriors – $12
Sharks – $15
Rabbitohs – $15
Eels – $17
Titans – $17
Bulldogs – $23
Tigers – $29
Manly – $29
Dragons – $101
Knights – $151