Punting tips and bookie specials for the 2016 Australian F1 GP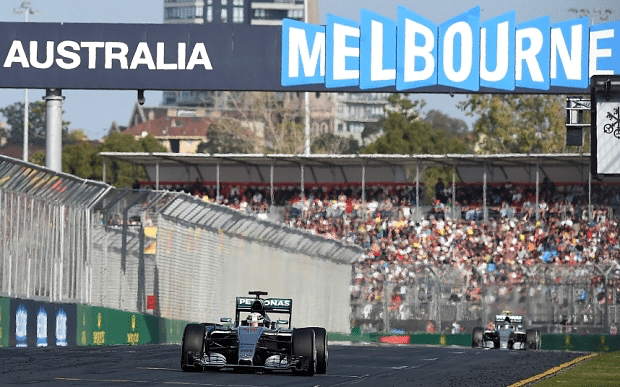 4:00pm local time on Sunday, March 20, 2016 at Albert Park, Melbourne
THE bookmakers are backing Lewis Hamilton to kick start his Formula One title defence with victory at the 2016 Australian Grand Prix.
CrownBet.com has the Englishman pegged at $1.91 to take out the title, ahead of his Mercedes teammate Nico Rosberg ($2.75) and the Ferrari duo of Sebastian Vettel ($7.50) and Kimi Raikkonen ($21).
William Hill has Valtteri Bottas next in line at $51, before Australia's own Daniel Ricciardo at $67 and Felipe Massa of Williams on $81.
Way down the list in the outright betting are Fernando Alonso and Jenson Button, both paying $126 at Hills.
McLaren failed to register a single podium finish in 2015 after ending their long-running partnership with Mercedez-Benz, placing second-last in the Constructors' Championship.
Alonso finished 17th out of 21 drivers, one spot behind Button, after what turned out to be a disastrous move from Ferrari.
And while the two-time F1 champion believes things are looking up this year for McLaren-Honda, he isn't expecting to push for the podium at Albert Park.
"I joined the project to fight for the world championship. I definitely think we made a step forward compared to last year," Alonso told the press on Thursday.
"But we are only happy when we can win. And we are not in that position yet."
Mercedes dominated in 2015, winning 16 out of 19 races as Hamilton (381 points) and Rosberg (322 points) claimed an uncontested quinella in the Drivers' Championship.
They set the tone straight away with a one-two finish in Australia last March, and their strong pre-season testing suggests a repeat could be on the cards.
But Damon Hill, the inaugural winner of the Melbourne Grand Prix back in 1996, has tipped Sebastian Vettel and his rejuvenated Ferrari to make a good fight of it.
"There have definitely been some doubts that Mercedes has quite the big advantage that they might have had," Hill said in an interview this week.
"So I think Ferrari has definitely turned the wick up, which is good. Could be a surprise in Melbourne."
The 1996 Formula One champion was less optimistic about the chances of Ricciardo and his Renault-powered Red Bull.
"I think it's going to be hard for him this year, I really do," Hill said.
"I can't see Red Bull winning any races. They just haven't got the grunt in their power unit.
"Something's going to have to change radically for them to be at the front this season because there are too many good Mercedes and Ferrari-engined cars in front of them."
Practice sessions start on Friday, with qualifying scheduled for Saturday evening and the main race to get underway on Sunday at 4:00pm AEST.
Daniel Ricciardo betting specials
It would be nice to see an Aussie on the podium for the 20th anniversary of the Melbourne Grand Prix, but the odds are stacked against Ricciardo this year.
WilliamHill.com has the West Australian at $67 to win, $81 to claim pole position and $23 to record the fastest lap, while Red Bull is paying $41 to have the quickest car in qualifying.
It's all down to a lack of power. The RBR chassis might be the envy of the competition with its superior handling and nimble cornering, but the Renault V6 (branded as TAG Hauer for F1 2016) is no match for the Mercedes and Ferrari engines down the straights.
Nevertheless, CrownBet is running a number of Australian GP betting specials just for Danny:
To finish second or third (exact) – $9
To finish 13th or lower (exact) – $26
To lead at the end of any lap – $3.25
To make the first pit stop of the race – $13
To be the last driver into the pits – $13
To be penalised for speeding in the pit lane – $26
To retire on the first lap – $17
Sportsbet's Australian Grand Prix Money Back promotion
With Hamilton the hot favourite to back up his 2015 win at Albert Park, online bookmaker Sportsbet.com is offering a cash-back deal for anyone who bets against the Englishman in the big race.
Place an outright wager on any other driver in the 2016 Australian F1 Grand Prix, and Sportsbet will refund your bet up to $50 if your pick finishes second to the reigning world champion.
For example, let's say we bet $20 on Danny Ricciardo to win. If Hamilton takes first place but Ricciardo runs second, we will get our $20 stake back in full.
For more details, sign in at www.Sportsbet.com and head to the 'Promotions' page.