Nunes vs Spencer UFC 250 betting tips, odds & predictions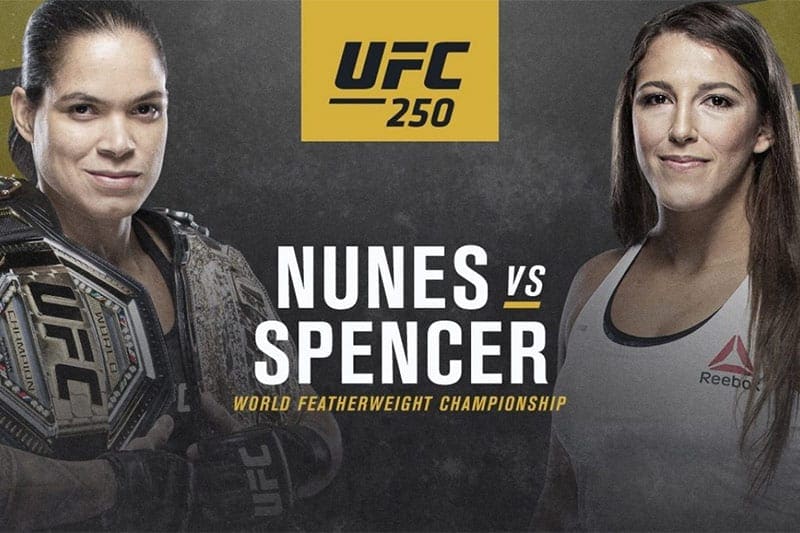 UFC 250: Nunes vs Spencer

MMA Betting Odds and Game Info

Main Event odds
Nunes $1.12 at BetOnline | Spencer $6 at BetOnline
When
Sunday, June 7 from 12:00pm AEST
Where
UFC APEX – Las Vegas, Nevada
Watch live
UFC Fight Pass, UFC.com
UFC 250 main card preview
The Ultimate Fighting Championship makes a stunning return to Las Vegas this weekend with a women's featherweight title fight and three brilliant bantamweight bouts on the main card at UFC 250.
Originally scheduled to take place in Brazil with the likes of Jose Aldo and Henry Cejudo, the event has undergone some dramatic changes due to the COVID-19 pandemic.
Double division champion Amanda Nunes will look to defend her featherweight belt against Felicia Spencer, a former Invicta FC champion in the same division.
There will not be any heavyweight fights on the main card this time around, but fans of the bantamweights will be treated to three bout that could change the division.
Here, we look at the main card and pick out the best bets on offer at Australia's top UFC betting sites.
UFC 250 main card fights
Main Event women's featherweight title – Amanda Nunes vs Felicia Spencer
Bantamweight – Raphael Assuncao vs Cody Garbrandt
Bantamweight – Aljamain Sterling vs Cory Sandhagen
Welterweight – Neil Magny vs Anthony Rocco Martin
Bantamweight – Eddie Wineland vs Sean O'Malley
Amanda Nunes vs Felicia Spencer UFC 250 betting tips
There is obvious excitement for this title bout between two of the best women's fighters in the world, but it seems online bookmakers do not see it as a fair fight.
Amanda Nunes is a red-hot favourite, but you could argue she deserves the hype due to her dual titles in the featherweight and bantamweight divisions.
Felicia Spencer is a very capable fighter in her own right, but the sheer power and variability of Nunes makes this a lopsided contest.
We side with the bookmakers on this occasion, as we cannot see the champ going down to a fighter that has never seen the fifth round.
Raphael Assuncao vs Cody Garbrandt UFC 250 betting tips
Although neither fighter has won a bout in years, this battle is one to follow.
The last time Cody Garbrandt won a fight was his 2016 victory over Dominik Cruz, which was the bantamweight title fight at the time.
Garbrandt swiftly lost the title to T.J. Dillashaw and failed to win it back in a rematch, but the 28-year-old American has pulled himself back together and looks ready to rumble.
Boasting 27 wins from his 34 bouts, Raphael Assuncao is no pushover, but he has not won a fight since 2018 and needs to claw back some momentum.
Both fighters are keen to re-enter the title run following the retirement of current champion Henry Cejudo, which has put extra importance on every bantamweight fight.
After overcoming major kidney issues to make this bout, we believe Garbrandt is ready to retake the throne as a top competitor in the bantamweight division.
Aljamain Sterling vs Cory Sandhagen UFC 250 betting tips
When second and fourth in the divisional rankings face off, there is no telling what will happen.
Aljamain Sterling sits just ahead of Cory Sandhagen in the bantamweight standings, but that could change if he fails to win on Sunday.
Two very different styles will come together here; Sterling plays the long game in most of his fights, whereas Sandhagen is a loose cannon that fires away more blows than any fighter he faces.
Sandhagen is yet to prove he can consistently last until the final rounds, which leans us in the direction of the more experienced Sterling.
Although many will see this fight as a coin toss, Sterling's defensive mindset should get him through the early onslaught and set up a chance to win by decision.
Neil Magny vs Anthony Rocco Martin UFC 250 betting tips
These two kickboxing experts will be tough to split before the bout begins, but only one welterweight prospect can win this fight.
Neil Magny has been through the ups and downs of a fighter's career, but he is coming off a great win against Chinese star Li Jingliang that has boosted his confidence tremendously.
Anthony Rocco Martin has built a solid platform with five wins in six bouts since entering the welterweight division, but a weakness in punching power could prove costly.
Whoever leads from the first bell will be the winner of this fight, which means Magny will need to change his style to compete here.
Rocco Martin is our pick, as he can counter kick if pressured and apply excellent pressure of his own.
Eddie Wineland vs Sean O'Malley UFC 250 betting tips
The first fight on the main card is going to be one of the best – not because it will be a tight contest, but because Sean O'Malley is the future of the bantamweight division.
Eddie Wineland is in big trouble going up against the extremely hard-to-hit O'Malley, who enters the octagon with a sixth sense that most fighters only dream of having.
If you have not yet seen what O'Malley can produce, you will be in for a huge surprise as the young Arizona native pulls off moves some fighters would not even dare to attempt.
With his ability to hit and defend while surprising opponents with ridiculous hand speed, O'Malley is the obvious choice in the opening bout of the main card.