How to watch NRL games live
As one of Australia's premier sporting codes, the National Rugby League draws viewers from all over the country and from abroad.
There a number of different ways to follow the action in real-time, from good, old-fashioned radio coverage to live digital streams on smartphone and tablet devices.
Find out how you can watch NRL games live and free on TV, desktop, mobile and other media devices.
Best bookmakers for NRL betting

This is my table
Nine Network free-to-air NRL coverage
Channel Nine is synonymous with Australian rugby league. The network first aired the sport way back in 1961 and has broadcast every season of the NRL since the competition's inception in 1998.
There once was a time when Nine enjoyed a monopoly on live rugby league coverage, but the rise of Foxtel and the subsequent inflation of TV broadcast rights has changed all that. Nowadays, Nine's Wide World of Sports holds the rights to three NRL fixtures each week: the Thursday night game, the second Friday night match and the Sunday afternoon clash. All are broadcast live and free-to-air around Australia.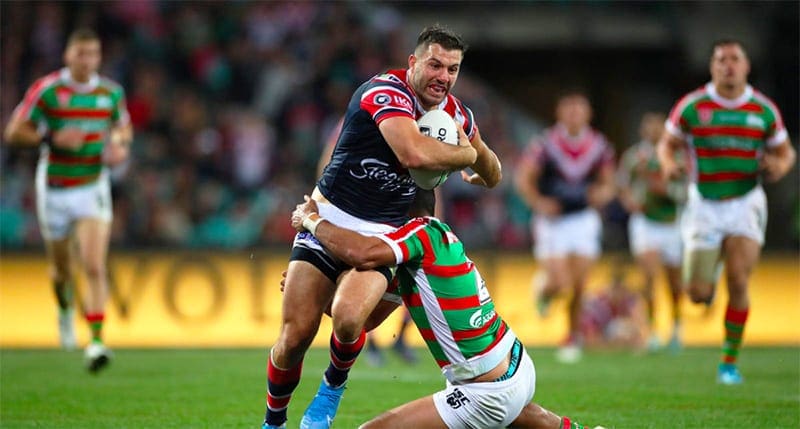 While Foxtel and live streaming may be eating away at Nine's market share year by year, the network has yet to surrender two of its biggest drawcards. One is the NRL finals series, every game of which is live and free on Wide World of Sports. The other is the annual State of Origin series between New South Wales and Queensland – essential viewing for any Australian sports fan, let alone the rugby league fanatics.
As all the commercial networks now boast several digital channels, NRL games may be shown on different stations depending on where you are. Viewers in the ACT, NSW, the Northern Territory and Queensland will find live matches on the flagship Nine HD (90) and standard definition (91) channels, while those in South Australia, Tasmania, Victoria and Western Australia can watch on GEM (92).
Fox League on pay TV
For complete NRL coverage all year round, Foxtel is your best bet. In 2017, the pay TV provider launched Fox League – a dedicated rugby league network that broadcasts live games, full replays, footy news and exclusive NRL content 24 hours a day, seven days a week.
Foxtel has the rights to the other five weekly games that are not shown live on the Nine Network. These include the Friday night feature game and all Saturday fixtures, while Nine's Thursday, Friday and Sunday matches are simulcast on the other Fox Sports channels.
Fox League comes standard with Foxtel's sports package, which will set you set you back AUD $45 per month at the time of writing (installation not included). Not only does that give you exclusive access to 24/7 rugby league programming, but also the Fox Footy AFL network, the full suite of Fox Sports channels, ESPN, Eurosport and much more.
Recommended!
NRL live streams on Foxtel Play and Foxtel Go
Cable TV is not everybody's cup of tea. If you are searching for a more flexible viewing experience without the hassle and commitment of installation, Foxtel also offers its exclusive sports content in a convenient online streaming service.
Rather than tying you down to a TV screen and a set-top box, Foxtel Play allows you to watch live NRL anywhere, anytime, on any device. Smart TV, Blu-Ray, Mac, PC, XBox, Playstation – you can stream to and from a wide variety of WiFi-enabled media players. With the Foxtel Go app for iOS and Android systems, you can also watch Fox League live broadcasts and match replays on your smartphone or tablet.
The Foxtel Play sports package comes in a number of bespoke configurations, the cheapest of which cost $39 per month. There are no lock-in contracts, so you can cancel at any time. New customers have the option to sign up for a free two-week trial, which gives you access to every Foxtel Play pack with no obligation to pay if you cancel before the end of the trial period.
NRL Live Pass for PC, Mac and mobile
If all you want is live rugby league without unwanted channels, add-on packages and all those other bells and whistles, check out the official NRL Live Pass. It gives you:
Live streams of every NRL game, as well as the finals series and all representative clashes.
Full replays of every match, including finals and rep games, available 12 hours after the final whistle.
On-demand access to more than 400 NRL games from current and past seasons.
Post-match press conferences from captains and coaches, live and exclusive.
Access on multiple devices from a single account.
After a free one-week trial, you can opt either for $3.99 monthly payments or a $99 annual subscription. Telstra customers can watch live and data-free with any mobile plan and prepaid recharges of $30 or more. Compatible devices include iPhone, iPad, Android mobile phones and tablets, Windows Phone and laptop computers.
Watch NRL live on Kayo
Kayo is a revolutionary live sports streaming service that launched in November 2018. For $25 per month, you can watch every game of the NRL season live in HD on up to two devices at once. Compatible platforms include PC, Mac, iOS, Android, Apple TV, Chromecast and Telstra TV. Besides rugby league, you also get live AFL, cricket, soccer, basketball, golf, tennis, F1, MotoGP, UFC and dozens more sports from all over the world.