NRL: CNK praises Croker after Raiders smash Eels in NSW Cup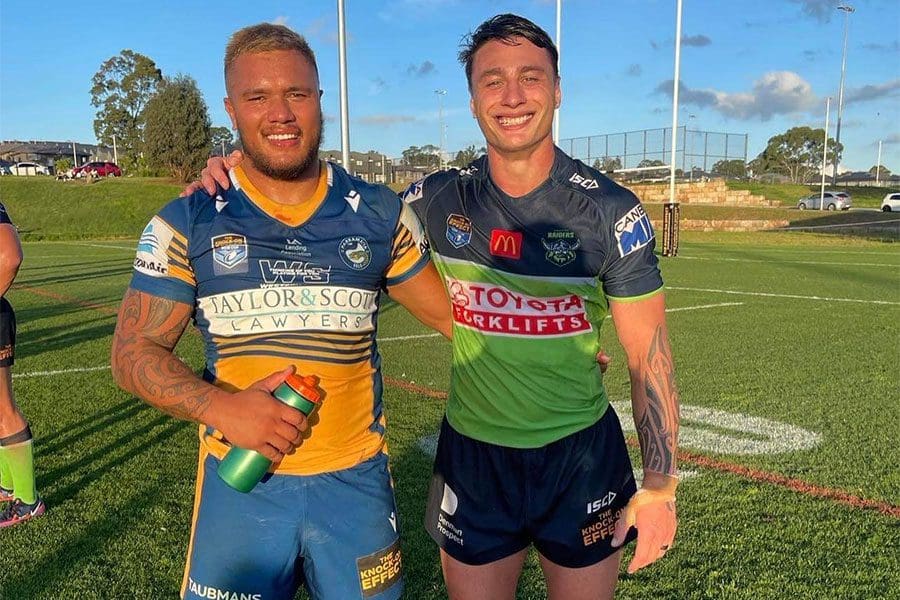 Charnze Nicoll-Klokstad has no doubt Raiders co-captain Jarrod Croker belongs back in the NRL.
The New Zealand representative was glowing in his praise of the veteran centre after he helped the Green Machine to a comfortable 28-4 win over Parramatta in Round 8 NSW Cup action at Kellyville on Sunday.
Croker – who has played 291 NRL games – scored a try and set up another, while also kicking four from five conversions.
The 31-year-old now has four tries and two try assists from six games in reserve grade.
After Sunday's outing, Croker told BettingSite.com.au that he was back to full fitness after undergoing revolutionary stem-cell surgery on his knee in the off-season.
And Nicoll-Klokstad was unequivocal in his summation – Croker's class and experience can definitely help Canberra's struggling NRL team at the moment.
The Raiders fell to a 2-6 record with their 21-20 loss to the Warriors at Redcliffe on Saturday, after holding a 20-12 lead.
"You go through his resume and he (Croker) should be there, in my opinion," Nicoll-Klokstad, who produced two try assists while running for 141m against the blue-and-golds, told BettingSite.com.au.
"He (Croker) brings more than just playing well as he did (on Sunday). He's a 291-gamer.
"He also brings experience and leadership. You can't give that man any bigger wraps. His accolades speak for themselves.
"He's been such a good example and a really good leader down here.
"He leads by example and he doesn't drop his lip at training. He's here ready to go, and he's there to lift up the boys come training day.
"Any NRL players coming down to reserve grade like myself can look up to someone like him."
Nicoll-Klokstad is facing his own battle to play NRL at the moment.
A star of the game at fullback, the 26-year-old has 30 tries from 70 games.
But he did not play any minutes from the bench against the Warriors, with Raiders coach Ricky Stuart instead playing Jordan Rapana in the No.1 jersey as he looked to shake-up a losing team.
There has also been no shortage of calls for Stuart to move young gun Xavier Savage to fullback, the Queenslander making a couple of impressive runs from the wing against New Zealand in the Round 8 clash.
Competition for first-grade places is certainly not an issue at the Raiders.
Recommended!
"There's a lot of competition everywhere throughout the team. You've got Jordan there as well," Nicoll-Klokstad said when asked about the custodian position.
"And there are a few other boys who can play there.
"There's a lot of competition left, right and centre. So I'm just worried about what I can control.
"I've just got to focus on my game and hopefully get another crack soon.
"It (Canberra losing in the NRL) is disappointing. There's a lot of effort and a lot of heart which goes into the first-grade games.
"I saw that first-hand sitting on the bench (on Saturday).
"It's just really unfortunate that we're not getting the chocolates at the moment, but as a club we've got to stay strong."
Indeed, Croker has a high opinion of Savage, but did not want to say if he could play fullback in the Raiders' NRL outfit.
"That's not my call. I'm not a coach and I'll never be a coach to be honest," he said.
"He's a good, exciting young kid. Whether he's playing or not he's got a lot to learn.
"But that's just common knowledge as a kid – everyone learns at that age. I'm still learning.
"Xavier is a player who'll play good footy wherever he is.
"He's got raw speed."
Savage is just one of many impressive young and developing players in Canberra's system.
Despite the team's struggles at NRL level, Nicoll-Klokstad believes the future for the Green Machine is a bright one.
He said a big reason for the Raiders' big win over the Eels in the NSW Cup on Sunday was the astute kicking game of halves Matt Frawley and Josh James.
James – a five-eighth from Souths Logan in Queensland's Hostplus Cup and the former Maroons under-18 captain – often challenged the Parramatta defensive line with 16 runs for 114m, and a linebreak and linebreak assist.
He also came up with eight kicks for 266m.
"Josh has a really good future. The club has big wraps on him – that was why they brought him here, so he can get that experience with the boys," Nicoll-Klokstad said.
"He showed why he loves training alongside us."
And western Sydney product Trey Mooney stood out in the second-row, running for 167m, making 42 tackles and scoring a try in 67 minutes.
"He's such a big unit. He's only 20. He's got another couple of years to go," Nicoll-Klokstad said.
"He's only going to get better. We've got a lot of good, young players coming through and games like this will really benefit them in the future."