Could the return of Croker be the answer to struggling Raiders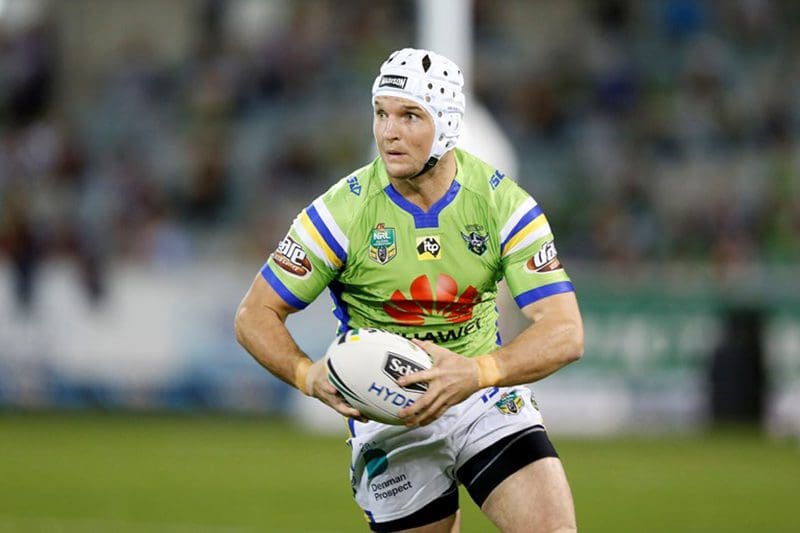 There is no doubt Jarrod Croker is playing good enough football to be picked in Canberra's struggling NRL team.
But you won't hear any complaining from the veteran who has registered 291 games at the top level, and who is the third-highest pointscorer in the elite competition.
Croker has been a study of consistency in the NSW Cup, and again he was impressive in the seventh-placed Raiders' 28-4 win over Parramatta at Kellyville on Sunday, scoring a try and setting up another with a beautiful flick pass.
He also kicked four from five conversions.
But for reasons that appear unclear, Croker is yet to play in the NRL this year, despite being back to full fitness and remaining the Raiders' co-captain alongside Elliott Whitehead.
However, he is just happy to be playing after undergoing revolutionary stem-cell surgery on his knee in the off-season in a bid to save his rugby league career.
"I want to be playing NRL, and everyone here (in the NSW Cup team) wants to be playing NRL," Croker told bettingsite.com.au.
"No one likes playing reserve grade – I don't know any bloke who does.
"But we've got a good crew back here and a good squad, and we enjoy ourselves.
"I'd love to be playing NRL, but so would everyone else who plays footy."
Croker admits frustration has crept in to the Raiders' first-grade side after yet another defeat which should have been a win, being overrun 21-20 by the Warriors after being up 20-12 at Redcliffe on Saturday.
The Green Machine now sits second-last with two wins and six losses, their last triumph a 24-22 victory over Gold Coast Titans in Round 3, coming back from a 22-0 deficit.
"It's frustrating for the whole club at the moment," Croker said.
"No one like losing, so we've just got to hang tight and stick together as a whole club.
"It was good to see Jersey Flegg get a win (on Sunday) as well – they were really strong (beating Parramatta 30-6).
"That's all we can keep doing. We've got a good crew, and that's from the top to player No.30.
"We're all good mates, we get along really well. There's nothing internal to worry about.
"The boys are really strong together. We've got good mateship and played a lot of footy together.
"And once you get a win you build momentum. We've just got to turn it all around and keep chipping away."
Crocker believes his body is now up to the rigours of playing NRL again.
"The body feels good. It's good to be out there and playing footy, and moving well and feeling well. Winning helps," he said.
"It's way better than what it was the past 18 months.
"If it wasn't I probably wouldn't be playing – that's how much better it is.
"It's going really well and the knee is good. My body's holding up really well and I'm enjoying my footy.
"Just being able to train and play and move freely and enjoy myself is the main thing."
Despite the Raiders' current struggles at NRL level, Croker was delighted with the NSW Cup outfit's comprehensive win over the Eels on Sunday.
"It was a pretty good effort," he said.
"We had some pretty experienced players, especially in the backs. It was good to put in a dominant performance.
"(Second-rower) Trey Mooney and (prop) Emre Guler were good. He played big minutes – we only had two forwards on the bench.
"They stood up really well."