Nick Riewoldt goal-scoring bets for AFL Sunday, Saints vs Bombers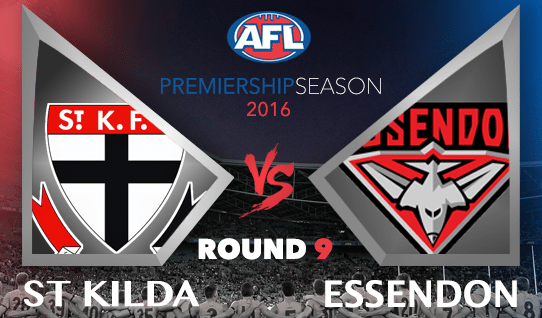 2016 Round 9: St Kilda Saints vs. Essendon Bombers, Sunday, May 22, 2016, 4.40PM, Etihad Stadium.
Ladder position
St Kilda Saints: 14th
Essendon Bombers: 17th
Season record
St Kilda Saints: 2-6
Essendon Bombers: 1-7
Last five match results
St Kilda Saints: LLWLL
Essendon Bombers: LLLLL
Head-to-head odds
St Kilda Saints: $1.20 with WilliamHill.com.au
Essendon Bombers: $4.80 with CrownBet.com.au
Line betting odds
St Kilda Saints -31.5 ($1.92 with CrownBet.com.au)
Essendon Bombers +31.5 ($1.92 with CrownBet.com.au)
WHAT a man Nick Riewoldt is.
At 33 and with more than 300 games in the bag, the towering St Kilda captain still sets the standard for the Saints.
After 16 years and more than his fair share of injuries Riewoldt might be having a wonderful mid-life crisis. The towering Saint is leading his young team with aplomb.
Moved further up the ground to give more opportunities to the Saints' younger brigade, Riewoldt has relished his role on the wing.
And it hasn't impacted on his ability to hit the scoreboard.
Aside from the very forgettable weekend match against the West Coast Eagles, Riewoldt has kicked at least two goals in every game, with bags of four, three and three in the three matches before his goal less weekend effort.
The Saints only kicked three for the day in what was a dirty effort in every sense of the word.
He has had 22 or more disposals in six of eight games this season and his marking numbers are off the charts.
He has a ridiculous 89 marks from eight games, exceeding double figures in six of eight, including a 16 mark monster in the nfailbiting defeat at the hands of North Melbourne two weeks ago.
What it all adds up to is a supreme effort from one of the game's most revered characters.
Coach Alan Richardson says Riewoldt's rejuvenation has come on the back of him being free of the knee problems that have dogged him in recent years.
"He's had the last three or four years where if not weekly, then bi-weekly he's had to get his knee drained. He's struggled with a sore knee," Richardson said on Fox Footy's On The Couch.
"That hasn't been the case now for the last 12-14 games. It's almost as if whatever it was has worn out.
"He's up and running, he's lost a little bit of weight, so there's not as much weight going through the joints, and that could be part of it.
"But certainly he's playing really strong footy.
"Our want, when Paddy's (McCartin) in the team and Brucey's (Josh Bruce) in the team and certainly Tim Membrey's playing in the front half, we want those guys and we need those guys to get significant looks and be the mean, if you like, in front of the ball.
"He's embraced that, Rooey.
"You can imagine being the sort of player that he's been for such a long time and being asked to play a different role for the betterment of the team and the betterment of others, and he's been sensational.
"It's worked for him, it's worked for us, it's certainly been beneficial."
It might be beneficial for punters too, because he is hitting the scoreboard so often and, with his set shot kicking somehow becoming reliable, he is every chance of booting the first goal of the game as an $8 chance with Sportsbet.com.au.
If you're not a fan of the Saints and think the Bombers might get it out of the guts and slam home the first goal, spearhead Joe Daniher is quoted at $12. We feel that is slightly over the odds, aided by the Saints
While he is still learning his craft, he is without doubt the Bombers's best forward and the man the midfielders tend to kick it to when the look up for options.

First goal-scorer market:
Josh Bruce ($8)
Tim Membrey ($10)
Joe Daniher ($12)
Jack Lonie ($14)
Maverick Weller ($14)
Mitch Brown ($14)
Orazio Fantasia ($16)
Mason Redman ($16)
James Polkinghorne ($17)
Jack Billings ($17)
Jack Sinclair ($17)
Blake Acres ($21)
Kyle Langford ($21)
Adam Cooney ($21)
Odds provided by Sportsbet.com.au
Match predictions
Match result: St Kilda wins ($1.20 with WilliamHill.com.au)
Line betting: Essendon Bombers +31.5 ($1.92 with CrownBet.com.au)
Make no mistake, the Bombers are a massive chance in this game.
Both side's churned out horrid first half efforts on the weekend, but one of them simply laid down and died, while the other showed some inspiring fight.
The Saints, on football's toughest trip to Western Australia, were absolutely humbled and embarrassed by the Eagles by 103 points, 20.12 (132) to 3.11 (29). You didn't read that wrong. The Saints were 1.9 to half time and only Leigh Montagna (33 touches), the come from he clouds Seb Ross (31) and Jack Steven (29) showed any sort of fight.
The Bombers, too, looked like they would be humbled and embarrassed by North Melbourne, failing to kick a goal before half time in registering their lowest score at a main break for more than 100 years. But it was like two different teams came out of the rooms in the second half, the Kangaroos playing for preservation, the Bombers for pride. And Pride they produced, winding back a 50 point deficit to close within 14 points in the 10.14 (74) to 8.12 (60) loss.
Captain Brendon Goddard and young star Zach Merrett ran amok, collecting 38 and 36 disposals a piece, while Adam Cooney wound back the clock with 33. Daniher, Orazio Fantasia and Kyle Langford booted two goals each.
The Saints have had to make the long trek back with their tails between their legs thanks the the Eagles shellacking. It doesn't make it easy for them to get back up for this one against a side they are expected to beat.
The Bombers will be buzzing after their loyal supporter base paid tribute to their fightback on the weekend. This game could go either way, but we feel the Saints just have the edge on paper and are backing them to bounce back in a tight one against the Bombers.