Next Collingwood President odds: Who will replace Eddie McGuire?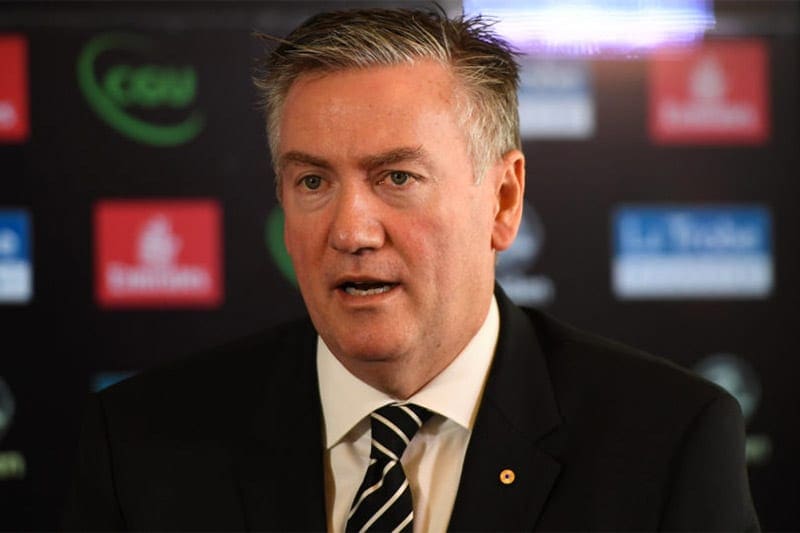 Several prominent businessmen and two former players are at the top of the betting to replace outgoing Collingwood President Eddie McGuire at the conclusion of the 2021 season.
After 23 years of service for the Magpies, McGuire announced he will step down as the club's President at the end of the 2021 season.
McGuire's fan-first attitude made him a popular figure in the Aussie Rules community, on top of working for multiple broadcasting networks as a commentator and host, making him the most recognisable president in the AFL.
The Pies managed to play in six grand finals during Eddie's tenure, but they only won a single premiership in 2010 after drawing with St Kilda, while losing four others.
More: AFL betting
An extremely passionate and devoted clubman, McGuire will be missed by Collingwood fans, leaving big shoes to fill for whoever takes his place.
Sportsbet, a top Australian bookmaker, has not missed a beat in creating a market for this very occasion, with multiple choices and odds for who will be the next Collingwood President.
In true Sportsbet style, they have also included a handful of ridiculous, mug punter options, with these including ex-Magpies larrikin Dane Swan, premiership coach and sometimes McGuire sparring partner Mick Malthouse, giant American forward Mason Cox and even Peter Helliar's alter-ego Strauchanie.
We're also willing to put a line through ex-Australian Post CEO Christine Holgate, who is a Magpies board member, with the club almost certain to avoid a controversial figure after McGuire's role as president was often blurred with his day job. Holgate stood down as Australian Post boss after her decision to award four employees Cartier watches failed the "pub test".
With 15 candidates to choose from and healthy odds for every one of them, we will go through the most likely and help you make an educated decision on who will replace Eddie McGuire as Magpies' president.
Mark Korda: $3
An entrepreneur and businessman, Mark Korda specialises in restructuring and is currently one of two Vice-Presidents at Collingwood.
The Magpies appear to be entering a new era given their recent trade period choices and draft direction, meaning a restructuring specialist would drive this change well, putting Korda at the top of the market.
This upcoming AFL season will be Korda's 14th consecutive year on the Collingwood board, more than enough experience to take over as President. He is paying $3 with Sportsbet Australia.
Alex Waislitz: $4.50
If the Collingwood Magpies want the next president to specialise in finance and business, Alex Waislitz is the best choice.
Waislitz has been a member of the Collingwood board since 1998 and was elected ice president in 2009, giving him more than enough experience with the club.
Currently ranked as the 65th wealthiest person in Australia, Waislitz has a net worth of $1.49 Billion, which would suite the Magpies given they are one of the biggest AFL clubs.
Craig Kelly: $13
Former Collingwood premiership player and current AFL player manager, Craig Kelly is one of the few contenders not currently on the club's board.
Craig's son Will made an impressive debut in 2020 against the Hawks, joining the famous first-kick first-goal club, but an elbow injury ruled him out for the rest of the season.
Kelly is currently unlikely to become the next Collingwood president given he's currently working externally, but the Pies are known for favouring past players, which would be Kelly's selling point.
James Clement: $21
Former Collingwood and Fremantle Dockers player, Clement was a fan favourite that gave up his playing career early to care for his wife and her autoimmune kidney failure.
Many fans expected Clement to captain the Magpies after Buckley stepped down in 2007, but his surprise retirement saw Scott Burns given the job instead.
Currently seated on the Fremantle Dockers' board, Clement is well and truly indulged in the business side of football and could return to the club who loved him dearly.
Paul Licuria: $21
Another former Collingwood player, Paul Licuria stands out from his fellow clubmen because he is currently seated on the Magpies' board.
Post football life has been very kind to Licuria, who has worked for the Magpies' VFL team as a manager and was inducted into the Collingwood Hall of Fame in 2011.
Given Licuria is 20 years younger than the market's frontrunners, there's still plenty of time for him if he aims to become club president, and we wouldn't rule it out in the future.
Next Collingwood President full market – 
$3 Mark Korda
, $4.50 – Alex Waislitz
, $13 Craig Kelly
, $21 James Clement, Paul Licuria, John Brumby, 
$26 Jodie Sizer, Peter Murphy, Christine Holgate, 
$41 Strauchanie, Dane Swan, Ned Guy, Mason Cox, Joffa, Mick Malthouse