Multi bet tips for 2016 Wimbledon quarter finals, July 5-6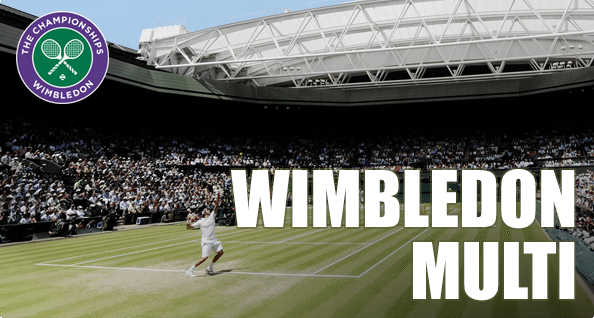 THE quarter finals are upon us at Wimbledon 2016 and the great man Roger Federer ($3.75 for the title at Sportsbet) headlines the Wednesday matches.
He has a tough task ahead in Marin Cilic as he aims to claim yet another Wimbledon title and break his grand slam drought that stems back to 2012.
Jo-Wilfried Tsonga's easy path out of the fourth round will be tested when he faces gun Brit Andy Murray, while giant killer Sam Querrey will have to do it all again up against big serving Canadian Milos Raonic.
In the women's draw, both Serena and Venus are in action – could they be headed for a sister vs. sister clash?
Dominika Cibulkova might have to cancel her planned wedding if she gets past Elena Vesnina, while Simona Halep up against Angelique Kerber is shaping as one of the tightest matches in the women's draw so far.
We've run the rule across all the Wednesday match-ups and come up with a mega multi that will hopefully help you clean up on the punt.

Roger Federer to beat Marin Cilic at $1.34
Is Roger Federer on the way to writing yet another chapter in perhaps the most storied career in modern tennis? The Swiss master has not won a major title since Wimbledon 2012, but, with Novak Djokovic out of the equation, he has a date with destiny.
The Fed Express has booked his spot in the quarters at Wimbledon for a remarkable 14th time, breaking records along the way. His straight sets win over Steve Johnson equalled the most number of quarter finals in Wimbledon history with the great Jimmy Connors and gave him 306 grand slam match wins – equal with Martina Navratilova for the all-time mark.
Croatian Cilic has only ever beaten Federer once, but will be well rested after fifth seed Kei Nishikori retired from their fourth round match with a rib injury during the second set. That win over Federer by Cilic did come in a US Open, when he went on to win the title in 2014.
The Fed says he wants revenge: "He blew me off the court and I hope to get him back." Federer has had a rails run into the quarters and will have his eyes fixed on an eighth Wimbledon title.
Milos Raonic to beat Sam Querrey at $1.35
How well is American Sam Querrey going?
He put himself in the last eight by knocking over French gun Nicolas Mahut in straight sets, becoming the first American to make it into the quarters at Wimbledon since 2011. The win over the Frenchman was good, but he will be hanging his hat on a remarkable defeat of world number one Novak Djokovic in the third round.
Querrey, seeded 28th, will again have his work cut out for him against the monster serve of Milos Raonic, who had to fight hard to come back from two sets down to defeat Belgium's David Goffin. Some say the sixth seed is just a big serve, but there is so much more to Raonic; the power hitting takes the attention off his vast talent.
While Querrey holds a 2-1 overall lead in the head-to-head stakes, the pair have not met since 2013 when Raonic was the victor. While Querrey has shown he can be a huge danger to the high seeds, his run can only last so long and we think it ends here.
Andy Murray to beat Jo-Wilfried Tsonga at $1.11
The match of the night pits world number two Andy Murray up against 12th seed Jo-Wilfried Tsonga, who went from the toughest game of Wimbledon – a four-and-a-half hour, five-set marathon in the third round to see off John Isner 19-17 in the last – to playing just six games before countryman Richard Gasquet retired through injury.
He will have needed the rest, especially considering Murray blasted Nick Kyrgios off the court in straight sets in his quarter clash.
Murray is yet to drop a set at Wimbledon and, while Tsonga will be his stiffest challenge, if you watched his performance against Kyrgios, you'd be hard pressed to back anyone to beat him in this tournament.
The Scot holds a 12-3 advantage against Tsonga and it's about to be 13-3.
Venus Williams to beat Yaroslava Shvedova at $1.57
Remember Venus Williams?
The big sister to perhaps the greatest female tennis player of all time has faded from the limelight, but that did not top her becoming the oldest Wimbledon women's quarter-finalist for 22 years, knocking over Spaniard Carla Suarez Navarro.
It feels like she is over the odds at $1.57 against Kazakhstan's Yaroslava Shvedova, who also won her way through in straight sets over Czech Lucie Safarova.
These two have never played each other, but it is hard to see Venus letting this one slip in her first trip to the Wimbledon quarters since 2010.
Serena Williams to beat Anastasia Pavlyuchenkova at $1.08
Who'd be a women's tennis player? It feels like you're always playing for second with Serena Williams around.
Russian 13th seed Svetlana Kuznetsova may as well have been ranked number 500 in the world as she was hammered in straight sets, failing to win a game in the second set.
Williams won the last nine games of the match to cruise into the quarters against another Russian, Anastasia Pavlyuchenkova.
She is seeded 21. Good luck, Anastasia.
Dominika Cibulkova to beat Elena Vesnina at $1.37
Another big Wimbledon story comes in the form of Slovakian Dominika Cibulkova. She is set to get married on Saturday, but, if she makes it through to the semis by knocking off Elena Vesnina, that could throw her plans into turmoil.
If her performance against world number three Agnieszka Radwanska is anything to go by, she might want to make the decision now.
Vesnina won her way through against another Elena – Makarova – in a tough three setter that went to 9-7 in the last.
We think Cibulkova might have to leave her hubby at the alter.
2016 Wimbledon quarterfinal multi bet
Roger Federer to beat Marin Cilic at $1.34
Milos Raonic to beat Sam Querrey at $1.35
Andy Murray to beat Jo-Wilfried Tsonga at $1.11
Venus Williams to beat Yaroslava Shvedova at $1.57
Serena Williams to beat Anastasia Pavlyuchenkova at $1.08
Dominika Cibulkova to beat Elena Vesnina at $1.37
Multi pays $4.66 with Sportsbet.com.au – one of Australia's best Wimbledon betting sites.