Melbourne City favourite for A-League crown after Cahill coup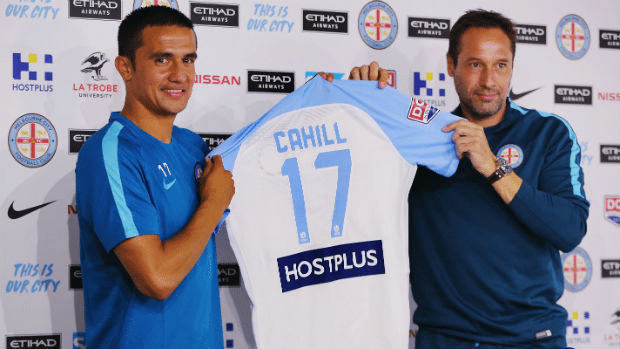 MELBOURNE'S City's odds to win a maiden A-League title have been slashed to $5.50 at Sportsbet.com.au after confirmation Socceroos star Tim Cahill will be among its playing ranks next season.
City moved alongside the former standalone favourites the Perth Glory at that quote, coming in from the $6.50 mark that was set prior to his arrival.
Speaking at his first press conference after his first training session as a member of the City squad, Cahill said the next phase in his career is less about money and more about the next 'challenge'.

"It feels good." Cahill said.
"I know it's the right decision, I knew it was the right decision months ago … I think overall for myself personally (it is) the right decision as a footballer as well."
"I'm looking forward to it because I think as a footballer I could probably stay in China and coast through (until the end of my career), but I think this is going to be a good challenge as well personally."
Cahill believes he will be able to hit the ground running as an A-League player, and the former Everton man was impressed by the professionalism of the City setup.
"I've had all the run down on every single player, I've watched a lot of video I've had to learn the way they play."
"The culture's good here, the professionalism I have to say is on a different level.
"Some clubs in Europe, some clubs in England don't have this setup and don't have the opportunity."
Although Cahill said the clubs in China 'threw everything' to keep him in Asia, in the end there was only one factor that mattered in his decision – family.
"My little boy just said to me 'Dad, it's not the right move for my football if we stay in China'
"That was it… I rang my wife and said 'it's over'."
City's next competitive game is against NPL team the Brisbane Strikers on the 24th of August, but Cahill is unsure if he will be ready to take to the pitch after a spell on the sidelines.
"I don't have a clue to be honest, you'll have to ask the doctors," Cahill said.
"I've still got a bit of work to do. I've had a month off and we'll see how we go, but I've had some good family time now but also I've played half a season in China already, and we'll see how it goes."
2016/17 A-League title odds
Odds provided by Sportsbet.com.au
Perth Glory $5.50
Melbourne Victory $6.50
Western Sydney Wanderers $7
Adelaide United $7
Sydney FC $8.50
Brisbane Roar $9
Wellington Phoenix $13
Newcastle Jets $26
Central Coast Mariners $34.00
Tim Cahill specials for the 2016/17 A-League season
It is not often a player who has the star power – who is still somewhat close to peak form – of Tim Cahill graces the A-League.
As such, WilliamHill.com.au have duly provided punters with no less than 11 different Cahill markets for not only the upcoming A-League season, but also for his international career.
Punters who think the great man can score ten or more goals in this debut A-League season can get a $2.40 return, while the likelihood of Cahill scoring five or more headed goals has a $2.75 price.
Punters can get the same $2.75 price for Cahill to score on debut.
Can Cahill's Australian return be an auspicious one individually?
Punters can get a $21 return on the Socceroo to win the Johnny Warren Medal in his debut season, while his odds to be the league's top scorer are a little bit leaner at the $13 price.
For Cahill to win the golden boot and City to win the title, ambitious punters can get $51, and if they believe he can guide Melbourne to the Grand Final investors can get an $8 return for him to score on the big day.
As for Cahill's international career, William Hill is unsure that the former Toffee will make it through to 2018.
The odds are split $1.67 for no and $2.15 for yes that Cahill will play in the 2018 World Cup in Russia, and punters can get a $5 return if they believe he can make it through AND score.
Tim Cahill Specials
Markets provided by WilliamHill.com.au
To score 10+ A-League Goals
No – $1.53
To Win the Johnny Warren Medal
Tim Cahill to win the Johnny Warren Medal – $21
2016/17 A-League Top Goalscorer
Tim Cahill to top score in the A-League – $13
To Score 5+ Headers
No – $1.42
Yes – $2.75
To Score On Debut
No – $1.40
Yes – $2.75
To Win the A-League Title
To Win the A-League Grand Final – $6
2016/17 A-League Winner/Top Goalscorer Double
Tim Cahill to win the A-League title and Golden Boot in his debut season – $51
To Score In the Grand Final
Tim Cahill to score in the A-League Grand Final – $8
To Play For Australia In The 2016 Confederations Cup
No – $5
Yes – $1.15
To Play For Australia In The 2018 World Cup Finals
No – $1.65
Yes – $2.15