Floyd Mayweather Jr vs. Conor McGregor betting
IT'S not quite the greatest fight ever, but it has the potential to be one of the biggest ever and the hype is almost palpable.
UFC lightweight champion Conor McGregor once declared he would "kill" undefeated boxer Floyd Mayweather Jr in "less than 30 seconds".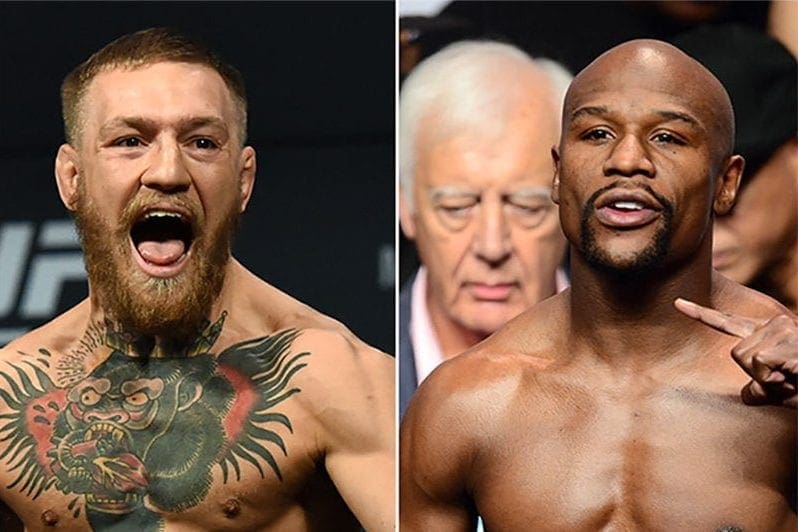 Now, he gets his chance.
The two superstars of their respective sports announced their fight in the way most things happen these days – on Twitter.
"THE FIGHT IS ON." McGregor Tweeted with a picture of himself looking dapper and Mayweather looking like he's about 70-years-old.
THE FIGHT IS ON. pic.twitter.com/KhW0u3jRft

— Conor McGregor (@TheNotoriousMMA) June 14, 2017
"IT'S OFFICIAL" Mayweather followed, with a video of he and McGregor.
IT'S OFFICIAL!!! https://t.co/ND07Ixugs2 pic.twitter.com/JpqFW5WbcB

— Floyd Mayweather (@FloydMayweather) June 14, 2017
This fight is two years in the making and Mayweather has come out of retirement to make sure it happens.
It hasn't been easy to get to, but they've agreed the fight will be conducted under boxing rules – Mayweather's standard – rather than McGregor's preferred Mixed Martial Arts.
He has never lost a professional fight in the boxing ring – a perfect 49-0 – leaving McGregor on a hiding to nothing – apart from a massive purse at the end.
Both men are reportedly set to earn as much as $100 million from the fight – with some estimates as high as $400 million for Mayweather – and many believe it could break the record for pay-per-view purchases.
The fight has been criticised as just a massive publicity – and that may just be so – but just about anyone would put their bodies on the line for $100 million.
How to bet on the Mayweather vs. McGregor fight
Before you even think about laying a bet, the best thing for you to do is make sure you can actually afford it. If you can't pay your bills, feed your kids and pay the mortgage, then forget about the punt and just watch the fight.
That being said, if you have enough disposable income to have a flutter on the fight, then by all means, let's have a red hot crack.
And if you're going to do that, then you need a good bookie to take your bet.
You want an online bookmaker with a strong reputation in the industry that provides a wide variety of markets on the fight and the knowledge that your money and your bets are going to be safe and secure.
You could trawl the internet for hours hunting the best promotions and sifting through the fine print on the bookies' websites, or you could just trust that we have done the work for you and pick one -or more than one – of these very handy betting houses:

This is my table
What are the betting odds for the Mayweather vs. McGregor fight?
Given he's never lost and the fight is set for his discipline, Mayweather is the unbackable favourite in this fight.
But that has not stopped punters at Sportsbet.com.au from piling into the Irish UFC superstar.
The bookie's Will Byrne reports McGregor has been backed almost 10 to one against Mayweather in the early betting.
"This is the biggest fight in history with the two superstars of both sports finally settling their scores in the ring," Byrne said.
"Mayweather has the obvious advantage and is the rightful favourite in our eyes but the punters are predicting notorious Conor McGregor is going to shock the world once again."
Head-to-head odds

Mayweather (-370.37)
McGregor (+300)

Method of victory

Mayweather KO/TKO (-138.89)
Mayweather Points or Decision (+275)
McGregor KO/TKO (+325)
McGregor Points or Decision (+2000)
Draw (+3300)
Odds provided by Sportsbet.com.au
When is Mayweather vs. McGregor?
The two men are set to go head to head in the ring on August 27 AEST (August 26 US).
Where will the McGregor vs. Mayweather fight be held?
The plan is to hold the fight at the T-Mobile Arena in Las Vegas, Nevada – but there's a little spanner in the works.
You see, the venue is already booked – by Ice Cube for his highly anticipated Big 3 Three on Three competition.
That issue appears to have been resolved, as one would expect with Mayweather, McGregor and master promotor Dana White throwing their considerable weight around.
How much are tickets to the Mayweather vs. McGregor fight?
The cheapest tickets to the fight will set you back a lazy three grand. Want a ringside seat? Be prepared to pay $100,000.
Nope, that's not a typo.
There will be some seriously rich mugs at this fight.
Despite the dispute mentioned above, it hasn't stopped the ticket agencies from selling the tickets already.
How can I watch the Mayweather vs. McGregor fight?
If you can't make it to Vegas, or can't afford $100,000 for a ticket if you're there, you can watch the fight on Pay Per View.
Showtime Pay Per View is the rights holder, and you should be able to watch it on Foxtel's Main Event.
But it won't be cheap with some predicting the cost will outweigh the Mayweather Pacquiao fight.
That fight cost those who wanted watch it $100 US.
Mayweather vs. McGregor: By the numbers
Floyd Mayweather Jr
Born:
February 24, 1977
Age:
40
Country:
USA
Nickname:
Money
Stance:
Orthodox
Reach:
72 inches
Career wins:
49
Career losses:
0
Conor McGregor
Born:
July 14, 1988
Age:
28
Country:
Ireland
Nickname:
The Notorious
Stance:
Southpaw
Reach:
74 inches
Career wins:
21
Career losses:
3
Who will win the Mayweather vs. McGregor fight?
Mayweather is the overwhelming favourite in this bout, but you can never write off the kid who came from nothing.
McGregor has been proving people wrong since day dot and, while it would be one of the biggest upsets in boxing history, it is not outside the realm of possibility.
McGregor at 28 is younger and you would have to think fitter, while Mayweather has been in retirement and you'd think it will take a power of work, at age 40, to get back to some semblance of his former self – he hasn't fought for two years.
But he has the discipline on his side, with McGregor having never fought with fists only.
It's hard not to love the brash McGregor, but we have to take Mayweather in this one.
The carrot of 50-0 and the chance to shut down his loudmouthed opponent, coupled with the fact it's his game, should prove too much.
What the fighters say
FLOYD MAYWEATHER
"McGregor is a tough competitor. People all around the world demanded this fight so I had to give them what they wanted to see.
"They asked for this fight. I was in retirement, but they wanted me back and I'm back.
"You're supposed to stand behind your man. Stand behind the fighter that you believe. He's a hell of a competitor.
"Both parties are very happy.
"He's very happy, I'm very happy and I can't wait."
CONOR MCGREGOR
"No one in this boxing game knows what's coming. Trust me on that!
"When I step in there, I'll shock the whole —ing world. Trust me on that. Look me in the eyes — 28 years of age. Confident as a mother****er. Long, rangy, dangerous with every hand.
"Trust me, I'm going to stop Floyd. You're all going to eat your words. The whole world is going to eat their words."