Los Angeles bid pushes eSports events for 2024 Olympics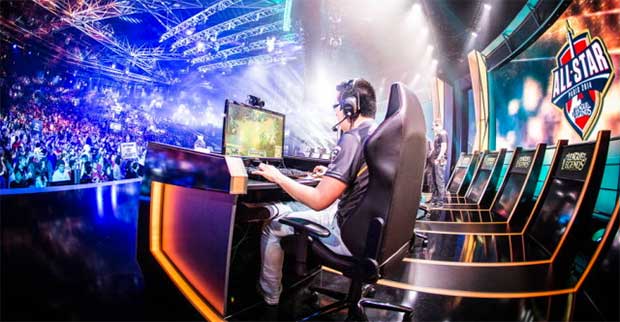 THE booming eSports scene could be set for an unprecedented boost if Los Angeles wins the rights to host the 2024 Summer Olympics.
The LA 2024 committee has revealed that, if successful, it will push for the inclusion of live video gaming events.
Recent changes to the International Olympic Committee (IOC) rules have alleviated many of the roadblocks that once impeded the addition of new sports to the Summer Games.
It used to be that a sport's international federation had to lobby the IOC for approval, but a new policy instituted in 2014 has given the host city powers to push new events on a local basis.
The chairman of the Los Angeles Olympic bid, Casey Wesserman, made it clear that the addition of eSports was part of a move to stir renewed interest in the Games among young adults and youths.

"LA 2024 fully supports the IOC's mission to get young people all over the world leading active, healthy lifestyles," Wesserman said in a statement.
"We view eSports' immense global popularity and continued advances in digital technologies as tremendous tools for reconnecting Millennials with the Olympic Movement.
"The 2024 Olympic and Paralympic Games in Los Angeles – a city always imagining what's next, where sport, entertainment and technology mix like nowhere else – would enable the IOC to stay at the cutting-edge of digital youth engagement."
The push for eSports is just the latest in a string of moves designed to rejuvenate the Olympics and heighten its appeal to modern audiences.
Golf and rugby returned from the wilderness for Rio 2016, while the Tokyo 2020 Olympics will see karate, skateboarding, surfing and sports climbing contested for the very first time.
Delegates from Paris and Budapest were also in Qatar last week stating their respective cases to the Association of National Olympic Committees (ANOC).
A successful bid for Los Angeles – second favourite behind the French capital – would make it only the second city, after London, to host the Summer Olympic Games on three occasions.
Our thoughts on eSports at the Olympics
If rhythmic gymnastics is considered an Olympics-worthy event, then online video games should be in the running without any question whatsoever.
We are already seeing eSports betting at Australian online bookmakers blossom into something much more than a mere novelty market.
Should the Los Angeles 2024 dream become a reality, it would be a wonderful opportunity for one of the world's fastest-growing sports to extend its reach to a mainstream global audience.
Over 21,000 people attended the 2016 League of Legends World Championship Finals at the Staples Center, so there is no doubt LA already has the essential infrastructure in place for an Olympic eSports event.
You wouldn't get that many punters at a synchronised swimming event if you paid them all, bought them a drink and shouted a taxi home.
Despite the proliferation of iffy disciplines at the Summer Games, it was reported that over 3.6 billion people watched at least a minute of the 2016 Olympics in Rio de Janeiro.
That kind of exposure is platinum-coated, diamond-encrusted gold dust to any new sport looking to find its feet on the world stage.
You can punt on a wide range of online betting markets for CS:GO, DOTA2, LoL and more at Sportsbet – Australia's top bookie for eSports gaming.