Line bets & first goal betting tips for Power vs Tigers AFL Rd 15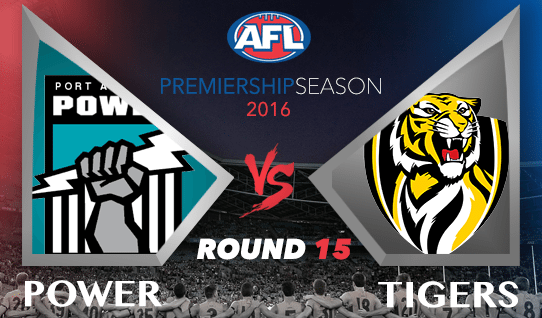 Friday, July 1, from 7.50pm at Adelaide Oval
Ladder position:
Port Adelaide Power: 9th
Richmond Tigers: 11th
Season record:
Port Adelaide Power: 6-7
Richmond Tigers: 6-7
Last five match results:
Port Adelaide Power: LWWLL
Richmond Tigers: WWLWW
Head-to-head odds:
Port Adelaide Power: $1.40 with CrownBet.com.au
Richmond Tigers: $2.95 with CrownBet.com.au
Line betting:
Port Adelaide Power: -16.5 ($1.92 with Sportsbet.com.au)
Richmond Tigers: +16.5 ($1.92 with Sportsbet.com.au)
RICHMOND hits the road for Adelaide in search of its third win in a row and six from their last seven as they attempt to mount a finals push.
While both teams sit 6-7, the Port Adelaide has fallen off the perch, attempting to avoid its third straight loss.
It does have the confines of home and will be buoyed by the fact it has already beaten the Tigers this year – and that game was in Melbourne.
With the cauldron of Adelaide Oval behind them, the Power will fancy their chances.
Two men, more than any others for the Tigers, have been the driving force behind their resurgence.
Dustin Martin has been an absolute tank for them this season and has finally paired his supreme skills with a maniacal running capacity that has made him a challenger in the Brownlow betting market to Patrick Dangerfield.
In four of his last five games, he has had 30 or more disposals. Two of those were a gaudy 38 touches and, in the loss earlier this year against the Power, he was the Tigers's best with 31.
He is $1.65 with sportsbet.com.au to have 30 or more disposals, but if you think he can dine out, he is $3.80 for 35 or more. He had 35 against Brisbane last week and looks primed again to feast on leather.
His mate Cotchin has overcome some stinging criticism easier this season to put together yet another Brownlow-challenging season.
While Martin has been getting the headlines, Cotchin has quietly put together a body of work any elite midfielder would be proud of.
It will be fresh in his memory that he only had 19 disposals against the Power earlier this season and he will be seeking atonement.
He bounced back the next week with a monster 39 possession game against Fremantle and, coming off a down match, with only 23 against Brisbane, we expect him to do similar against the Power.
He is better than bank interest at $1.12 for 25 or more disposals, but we really like the 35 or more line at $4.30.
For the Power, they had few winners last week, with only Brad Ebert and Justin Westhoff holding their heads high, but that leaves plenty of improvement for the likes of Travis Boak and Robbie Gray.
Gray was taken to the cleaners by born again tagger Michael Barlow, who held him to just 18 touches, while racking up a ridiculous 43 of his own.
If you're talking about atonement, this one is important for Gray.

He had 32 against the Dogs a fortnight before the bye and looked like he was ready to go on one of his big runs.
But Barlow stopped him and he has now had a week to think about how he will bounce back. We think he will do it with a vengeance and top the 30 disposal mark at even money with Sportsbet.com.au
What on earth is wrong with Travis Boak?
This is a guy with a career high of 41 disposals and who regularly busted the 30 possession mark in previous seasons.
But he has done it just once in 2016 and produced a 12 possession stinker against Carlton.
He might be living on reputation this season, but surely something has to give?
He is far too good to continue producing at such a low rate.
At this point, even the $1.75 for him to exceed 25 disposals isn't a moxy.
Let's give the hard nosed captain a chance though. The $4.70 about him to get more than 30 disposals against the Tigers might not be a lock, but it does represent some good value for a guy that is certainly capable of it.
To Get 30 or More Disposals market:
Robbie Gray ($2)
Travis Boak ($4.70)
Ollie Wines ($4.70)
Jasper Pittard ($5.40)
Dustin Martin ($1.65)
Trent Cotchin ($1.76)
Shaun Grigg ($2.90)
Brandon Ellis ($3.70)
Odds provided by Sportsbet.com.au
Match predictions
Match result: Richmond to win ($2.95 with CrownBet.com.au)
Line betting: Richmond +16.5 ($1.92 with Sportsbet.com.au)
Can Richmond's reputation as killers on the road continue in Adelaide? The Tigers certainly do not hate Adelaide Oval and they don't mind playing Port either, having beaten them four times in their past seven encounters, which also includes a draw. Richmond virtually had the bye against Brisbane, winning easily by 49 points, , taking the foot off the pedal in the last quarter to give themselves even more rest. Aside from Martin's 35, the Tigers had plenty of big performers, none better than Jack Riewoldt, who had 21 disposals and booted four goals, while Brandon Ellis had it 28 times and Shaun Grigg 27. Port had the bye, so will be fresh and will definitely welcome back key defender Jack Hombsch to bolster the backline against the Tigers. He could be the man to stand Riewoldt. They may have another bookend to call upon, with Jay Schulz also a chance to line up in the forward line after making a successful return in the SANFL from a back injury. The Power need to do something after their poor showing against Fremantle and, even though they are at home, we feel like this is two teams with vastly different aspirations and the result will show, with the Tigers pulling off a huge win on the road and propelling themselves into finals contention.