How the Twitter world reacted to AFL ANZAC weekend, Round 5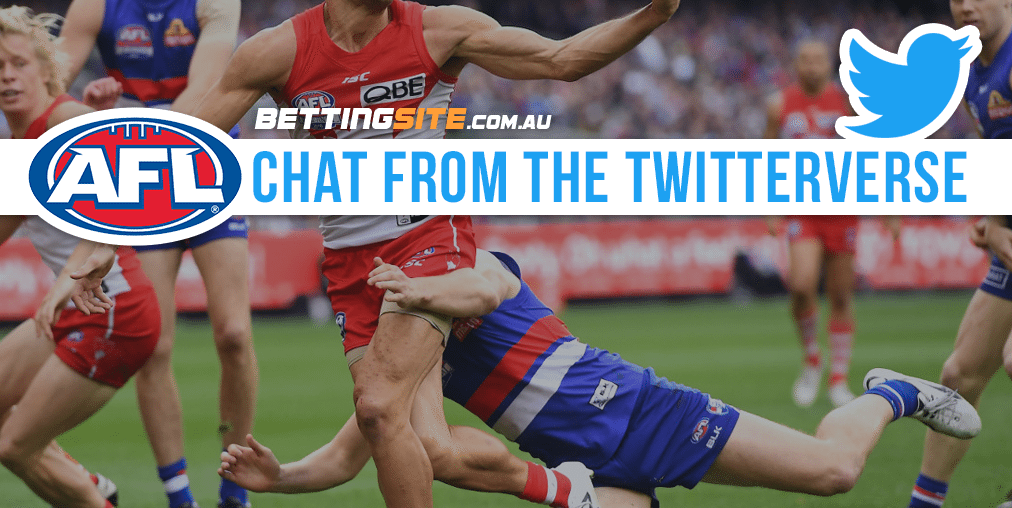 THE ANZAC round of matches have come and gone, but seemingly the only teams AFL fans want to talk about are the Tigers and the Bombers.
The Tigers are 5-0 and dreaming of September, while the Dons won their first ANZAC Day match since 2013 in a special match at the MCG.
As always, social media had their say on all the issues and we have collated the best responses after the completion of round five.
All aboard the Tiger train
In case you needed reminding Richmond fans, your team is one of only three undefeated teams left in the AFL after storming home against the Demons on Monday night at the MCG.
Never a group of supporters to get ahead of themselves, the Tigers were relatively subdued following their brilliant come-from-behind win against the Demons on ANZAC Day eve.
when your entire train carriage bursts into 'we're from tigerland' ❤️ #gotiges #afltigersdees

— Kylie Maslen (@kyliemaslen) April 24, 2017

The Tigers fans are never your true die-hard supporters who stick on through thick-and-thin, so the cheeky tweets about the bandwagon hoppers were always bound to come following a 5-0 start.
Richmond train station right now. #AFLTigersDees pic.twitter.com/RVRAJHtfkN

— theoutersanctum (@outersanctum01) April 24, 2017

On the opposite side of the field, fans took a chance to poke fun at returning Demon Jesse Hogan, who booted three goals on the night.
Hogan had been caught smoking a cigarette on his AFL-imposed suspension, and one Twitter was right on top of the burly forward.
Fair bump, play on. #AFLTigersDees #9AFLFootyShow pic.twitter.com/RUuCZ9djAC

— Alex Zourkas (@ThemAgain1) April 20, 2017

Whether it is through good play, circumstance or a great draw, it is hard to deny Richmond at this point, but the jokers are already out in force that a pathway to familiar position is still on the cards.
Richmond now needs to win only 6 of its next 17 games to finish 9th on the ladder #afltigersdees #AFL

— AFL Rumours (@AFLRumours) April 24, 2017

Hard to imagine Demons fans will be complaining about his preparation however if the man they call "Hulk" comes back and performs like that every week.
Bombers turn the tables on the Pies in epic ANZAC Day encounter
It was the ANZAC Day many impartial fans hoped for as Essendon and Collingwood put on a show for their fans and the impartial observer.
Even the stars of other codes chimed in to give their opinion on the showpiece event.
Awesome game of footy ???? well done @EssendonFC well deserved #AFLDonsPies @AFL

— Archie Thompson (@10Archie) April 25, 2017

The match was threatened to be overshadowed by dubious umpiring decisions.
Collingwood were potentially robbed of a goal after Mason Cox snapped what looked like a fantastic major only for it to be ruled a behind, while Essendon seemed to have two clear holding the ball decisions that were not paid in their favour.
Like clockwork, the fans came out in force to voice their displeasure.
First, at the goal review system.
Stevie Wonder goal umpiring today?#afldonspies

— Chris Van Unen (@Ritchie78) April 25, 2017

Then at the field umpires.
if I were a Bombers fan I would be *that* close to stroking out right now. Absolutely atrocious umpiring. #AFLDonsPies

— Dicko Wolf (@tasfromtas) April 25, 2017

Even the impartial fans were getting involved.
This umpiring is so terrible that the Richmond supporter beside me is actually on her feet #afldonspies

— Christine W (@imaginaryvigil) April 25, 2017

In the end it did not matter as the Dons ran away with the match in the last quarter to record their third win of the season.
The social media action did not stop there however.
One Twitter user was quick to joke about the post-match interview between Essendon star Jobe Watson and his father, former Bomber Tim.
"Can we get Maccas on the way home?" #afldonspies pic.twitter.com/chRb4WIany

— Hammy Goodman (@HandsomeHammyG) April 25, 2017