Hopper & Atkins disposal betting specials – GWS vs. Crows odds & tips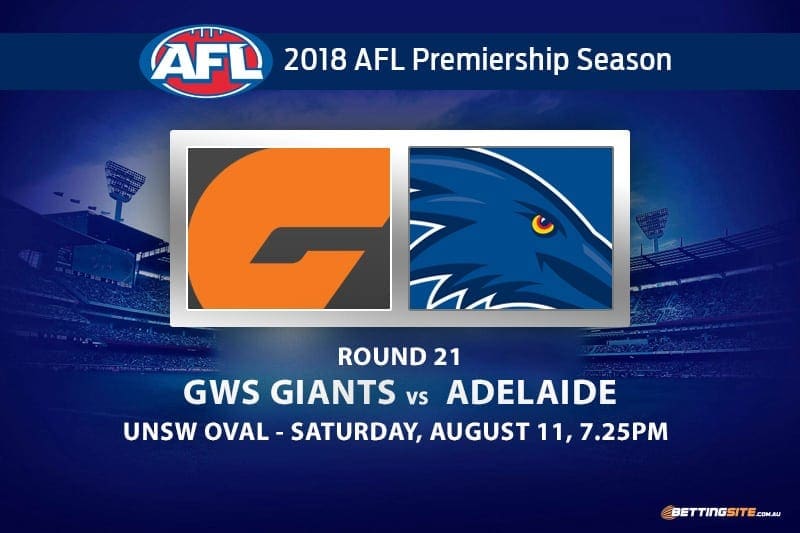 Ladder Position:
Greater Western Sydney Giants: 3rd
Adelaide Crows: 12th
Premiership Odds:
Greater Western Sydney Giants: $8.00
Adelaide Crows: $101.00
Form Guide:
Greater Western Sydney Giants: LWWWW
Adelaide Crows: LWWLW
Round 20 Result:
Greater Western Sydney Giants: Win over Carlton, 46 – 151
Adelaide Crows: Win over Port Adelaide, 96 – 93
THE Greater Western Sydney Giants and Adelaide Crows will do battle in the nation's capital with crucial finals positions on the line.
After enduring an injury-riddled season up until this point, the Giants will need to bring in even more cover for their ongoing troubles. In a cake walk against the lowly Blues last week, GWS copped another four crucial injuries, putting a huge dent in the side's growing premiership hopes.
Adelaide has finally overcome its injury curse, enjoying far greater continuity over the past month. Brodie Smith was happy to play in his first game back since falling to an ACL back in 2017 while Rory Sloane is also back to his best since overcoming his ongoing foot issues.
The Giants lost Brett Deledio, Toby Greene, Dawson Simpson and rookie Sam Taylor in their match last week. They join the likes of Dylan Shiel and Tom Scully, who are in the best 22 of any team in the league.
Earlier in the season when these sides faced off, the Giants pulled off one of the great wins in the club's history. They now have the opportunity to put the Crows finals hopes into the ground with another win.
Here are our tips for this high octane clash between the Giants and the Crows.
Greater Western Sydney Giants vs. Adelaide Crows Round 21 – Total Match Goals and Behinds Tips
Total Goals 22.5 Over/Under
Under @ $1.78
Last round, the Giants would have topped this total without the help of Carlton, but this week is going to be different. Firstly, both sides have excellent backlines, matching up well on each other. Secondly, it is going to be a wet night, with possible showers throughout the entire match, which obviously lowers the skills of the players, thus lowering the goals kicked. Finally, the high scores were kicked last week by both teams, which is unlikely to happen for two consecutive weeks.
Total Behinds in the first half
10 – 12 @ $2.63
If last week's match is reliable precedent for what could happen again, then the 10 – 12 range is about right for this match. When high-scoring games were played last round, the combined total of behinds kicked was around the 11 mark between the two matches, with the Adelaide game having 13 behinds kicked and the Giants game 9. With this in mind, it can be estimated that the amount of behinds kicked in this match will be around the supplied range.
Greater Western Sydney Giants vs. Adelaide Crows Round 21 – Disposals Tips
Jacob Hopper to get 25 Disposals @ $2.30
After 31 touches last week, Jacob Hopper looks like he's approaching career-best form and on a wet and congested match, will be at his best in Canberra. If Jacob Hopper can follow up on his brilliant form, he will be able to get 25 touches with ease against the Crows.
Rory Atkins to get 25 Disposals @ $3.00
This is another player that has been picked based off last week's form. Atkins was able to find the footy 29 times in his match against the Power last week, making him the second best accumulator on the field for that match. Atkins is surprisingly tough and enjoys getting a hard ball when the time comes, which is going to come in handy if this match ends up being as wet as the experts have predicted. 25 touches is not a whole lot for a player with Atkins' nose for the footy.
Greater Western Sydney Giants vs. Adelaide Crows Round 21 – Wire to Wire Tip
GWS lead at Every Quarter @ $2.20
The Giants may have lost a few good players, but if Dylan Shiel and others can make a return, it is going to spell real trouble for the Crows. GWS has far more to play for. If the Crows win their finals hopes will still rely on other teams dropping easy games. The Giants are in a real position to swoop their way into a home final with a second chance. They will play harder and win the match emphatically.
Giants vs. Crows Match Predictions
Match Result: Greater Western Sydney Giants to win @ $1.44
Line Betting: Greater Western Sydney Giants – 15.5 @ $1.92
There's a big win coming up for the Giants on their home turf this week. The Crows aren't looking fierce enough to win a tough game on the road at the business end of the season. Giants by over four goals.