Gary Ayres Medal odds & tips – AFL 2017 best finals player award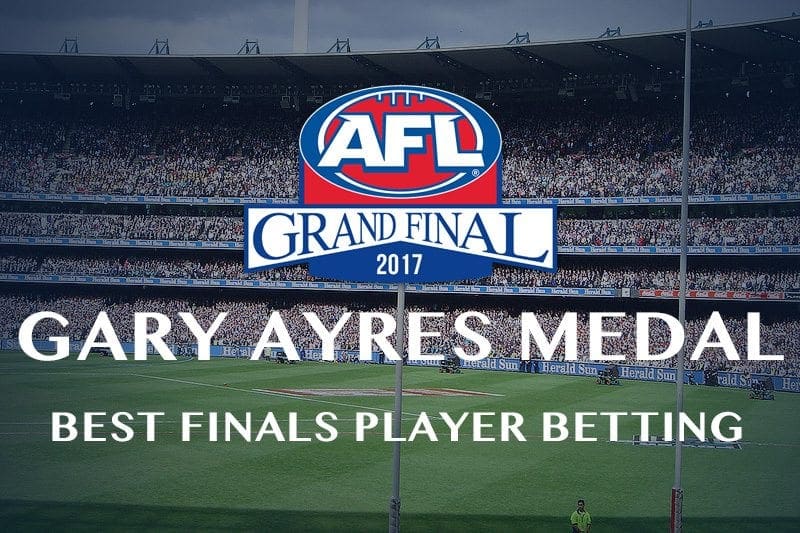 THE Brownlow Medal is done and dusted – or is that Dusty? – which means we can finally get back to the on-field stuff.
Hold on though, there is still two more medals to be decided before the season concludes.
We all know about the Norm Smith Medal, but introduced last year was the Gary Ayres Medal, which will also be decided on that last Saturday in September.
Established to determine who the best player of the finals series is, the Gary Ayres Medal is voted upon by the coaches of each match on a 5-4-3-2-1 basis in the same way the AFLCA Award is tallied.
Players not competing in the AFL Grand Final are eligible to win the award, but combatants in the big dance are obviously favoured by the additional game to poll in.
Let's take a look at the candidates left in the market and assess their chances of taking out the Gary Ayres Medal.


Dustin Martin – 17 votes
The Brownlow Medallist could potentially do an individual award sweep on Saturday if he puts together a best on ground performance.
Martin, who is one vote shy of Josh Kennedy's 18 vote winning threshold from last season, is by far and away the most dynamic player in the grand final. While Richmond has a number of capable players that can make a sizable impact on the game Martin is the only man on the field for the Tigers that can single-handedly take the game away from the Crows.
The odds suggest that Dusty only needs to get himself into the votes to win the medal and we agree. Martin is in the form of his life and barring injury he should poll enough votes to be right in contention by the final whistle.
Dustin Martin is $1.30 at Sportsbet.com.au to win the Gary Ayres Medal
Trent Cotchin – 15 votes
Hot on the heels of his star subordinate is Tiger captain Trent Cotchin, who may or may not be lucky to play this weekend.
Irrespective of the MRP's decision to allow Cotchin to play, his influence on Richmond cannot be denied. A best on ground performance inserted him right in the Gary Ayres Medal mix, and given he is just two votes behind Dusty he has to be considered a genuine threat.
Will Cotchin put in another captain's performance to drag his team across the line? If he does there is every chance he could snatch the award from Martin's grasp and reward the punters' faith
Trent Cotchin is $3.50 at Sportsbet.com.au to win the Gary Ayres Medal
Brad Crouch – 11 votes
Adelaide needed the young guys to step up after Patrick Dangerfield departed to Geelong, and the Crouch brothers have both stepped up since their star player cut ranks.
A much-maligned player in his formative years due to injury, Brad Crouch has put together a finals series that should be lauded. Averaging 28 disposals and nine tackles across both finals so far, Crouch has been the standout performer for his side in the 2017 post season.
Is six votes behind Dusty too many to overcome? It could be, but a best on ground performance in a winning grand final could see Crouch propel himself up the Gary Ayres Medal leaderboard and into the annals of Adelaide folklore.
Brad Crouch is $9 at Sportsbet.com.au to win the Gary Ayres Medal
Eddie Betts – 8 votes
It would take an absolute miracle from Betts to claim the Gary Ayres Medal given he is nine votes in arrears of Martin, but if there is anyone in the league that can produce a special level of magic its Eddie.
Eddie was at his selfless best in Friday's preliminary final win over Geelong, handing out goals left, right and centre whilst booting two of his own. The brilliant goal sneak is more than capable of booting a bag of five on the biggest stage, and if he gets off the chain there is no clear match up in the Tigers outfit who can stop him.
It would take a Norm Smith Medal winning performance and average games across the board for Betts to find a second medal draped around his neck but if we have learnt anything up until this point it is that it's foolish to doubt Eddie.
Eddie Betts is $41 at Sportsbet.com.au to win the Gary Ayres Medal