Exotics and betting tips for the A-League top of the table clash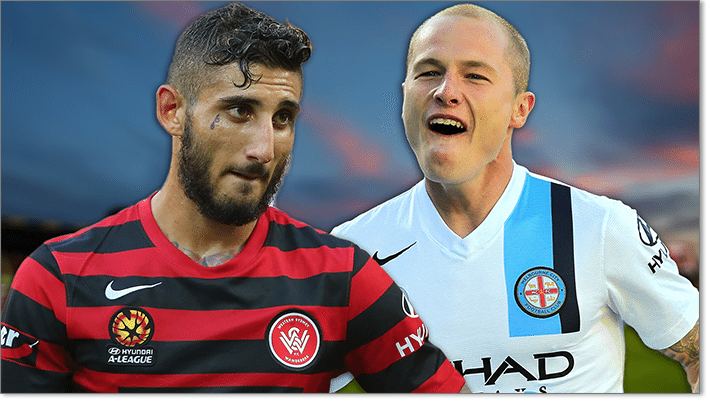 Pirtek Stadium, Sydney, Friday, 29th of January, 7:40pm, Free-to-air on SBS 2, Live on Fox Sports
THE Western Sydney Wanderers host Melbourne City in a match that will determine who will sit at the top of the A-League tree.
The Wanderers survived a scare last week to topple the cellar-dwelling Mariners 2-1 in a controversial clash last week.
Western Sydney led within the opening 15 minutes when Mark Bridge pounced on an errant defensive pass and coolly slotted it home to open the scoring.
The Mariners were able to equalise just after the hour mark Fabio Ferreira, but a rough challenge late in the piece left the home side down a man after captain Nick Mongtomery was shown a straight red.
Two minutes before time was up Brendan Santalab put the Wanderers back in front and into first position on the ladder.
Wanderers' manager Tony Popovic believes his team has earnt top spot on the ladder through their hard work and perseverance.
"I'm pleased for the players that they're there and on merit," Popovic said.
"I think their football has shown throughout the year that they deserve to be close to the top. For now, we're on top, but we've seen there's a long way to go. It's a position we'd love to retain but there's a lot of hard work ahead."
Melbourne City's fantastic ability to find the back of the net with regularity continued after they recorded a comfortable 3-1 win over the Wellington Phoenix.
City talisman Bruno Fornaroli opened the scoring on the 11th minute mark after his fabulous strike was able to find the bottom corner.
Furnaroli's teammate Harry Novillo tripled the lead after finding the back of the net twice in 20 minutes to give City a lead that never looked like being threatened.
City manager John Van't Schip believes his team can have an impact this season if his players continue to keep their focus for the full 90 minutes of the matches they play.
"We know we have enough quality, it's not always the quality. We have to make sure the mental process and team performance stays at a very high level."
The Wanderers have dominated City since entering the A-League in 2012, losing just two games from 11 meetings between the two sides.
Match preview
Odds provided by Sportsbet.com.au
Winner: Western Sydney Wanderers – $1.91
First goal scorer: Brendan Santalab – $7.50
Both teams are flying after recording important wins last weekend and will be fit and firing heading into what could potentially dictate who will win the premier's plate.
Despite having a poor overall record against the Western Sydney, City defeated the Wanderers 3-2 in their last meeting at the start of the year.
A win would see City record their first ever back-to-back wins over the Asian Champions.
City have been prolific in front of goal.
Three of their players – Bruno Furnaroli, Harry Novillo and Aaron Mooy – have scored seven or more goals this season.
The Wanderers' standalone goal scoring leader is Mitch Nicholls who has beaten the keeper seven times this season.
One deficiency City do have is on the defensive end.
John Van't Schip's men have conceded seven goals from their last four games and have only managed to keep a clean sheet once this season.
Western Sydney have a terrific record against City at home, having never lost to the Melbournians at Pirtek Stadium and have won seven of their last 11 meetings between the two.
Expect their dominance to continue as the Wanderers look to sure up a top-two berth heading into the finals series.
Western Sydney should be too strong for City at home and will retain top spot heading into the tail end of one of the most exciting A-League seasons in recent memory.