Australians playing in the EPL
There once was a time you could switch on the English Premier League on a Saturday night and be sure of seeing a few Australian players in action.
The days of Cahill, Emerton, Kewell, Viduka and Schwarzer are long gone now, but there remain one or two Socceroos stars running around in England's top flight.
Following the deaprture of Aaron Mooy to the CSL in the transfer window before the start of the 2020/21 season, it has left Aussies cheering just two Socceroos in the EPL.
Recommended!
---
Mathew Ryan – Arsenal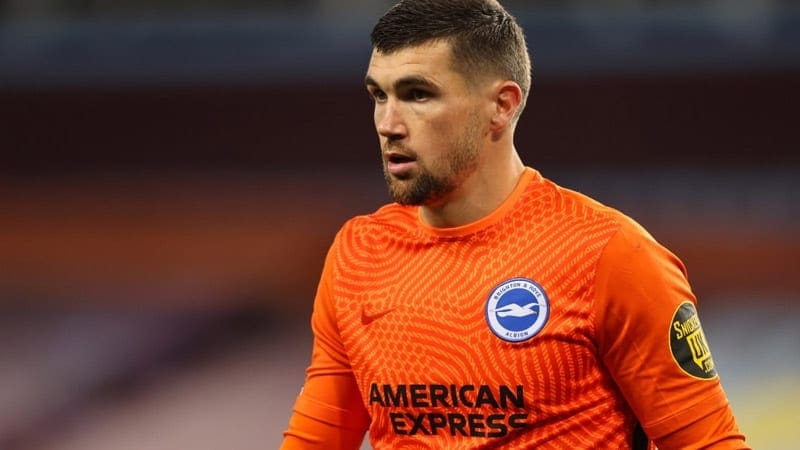 Born: April 8, 1992 in Plumpton, NSW
Position: Goalkeeper
Premier League Appearances: 164
Previous clubs: Blacktown City, Central Coast Mariners, Club Brugge, Valencia, Genk, Brighton Hove Albion
Ryan burst onto the scene with Central Coast Mariners in 2010 after first-choice keeper Jess Vanstrattan went down with a ruptured ACL. After some early jitters, he made the spot his own and helped steer the Mariners to the 2011 A-League Grand Final, where he won the Joe Marston Medal for best on ground despite a penalty shootout defeat to Brisbane Roar.
Two more impressive seasons in Gosford earned Ryan a trade to Belgian side Club Brugge in 2013. Two years later, he became only the third Australian to play in La Liga when Valencia signed him on a six-year deal. An ill-timed injury ruined his chances of nailing down a starting place, however, and he was loaned to Racing Genk before penning a five-year deal with Brighton & Hove Albion in 2017.
The Seagulls were newly promoted to the Premier League when Ryan joined them. He proved his worth from the off, making 124 saves – third in league – as Brighton secured their top-flight status for another season.
Having been a main-stay throughout the last three years for Brighton, Ryan was loaned out during the winter transfer window to powerhouse club Arsenal after falling out of favour with the Brighton management during the first half of the 2020/21 premier league season.
---
Australian's that have played in the Premier League
There have been 52 Australians to have played in the English top flight, but only a select few have made more than 50 appearances.
Mark Schwarzer

514 Premier League Appearances

Did you know that Mark Schwarzer was the first player born outside of England to appear in 500 or more Premier League games?

He notched that milestone at age 40 in 2013, during one of his 172 games for Fulham. The New South Welshman also made 325 EPL appearances for Middlesbrough and finished his career with stints at Chelsea and Leicester City.

While not as controversial as Mark Bosnich, nor as recognisable as Harry Kewell or Tim Cahill, Schwarzer has been a constant for the Socceroos since he made his debut against Canada in a World Cup qualifier way back in 1993. He retired from internationals in 2013 after two FIFA World Cup finals and a record 109 caps.

Lucas Neill

279 Premier League Appearances | 6 Goals

The rumble is former Socceroos' captain Lucas Neill could be returning to Australia – in the New South Wales National Premier League. Not the sort of place you'd expect a guy who spent 10 years in the English Premier League to bob up, but we guess that's what happens when you're 37.

Neill was known as one of our toughest players and captained the country for a long period after Mark Viduka passed on the job in 2006. He has given great service as a defender with Blackburn Rovers, West Ham and Everton in the English Premier League.

Neill spent the 2014 season with Watford, which had just made it back in the top flight.

Harry Kewell

274 Premier League Appearances | 57 Goals

Many felt he was our greatest international representative before Cahill came along and stole the show. That's probably why he left the Everton great out of his best Socceroo team of all time.

But, while his judgement might have been affected, there's no arguing with his ability. Kewell was a superstar, both in international and Premier League play.

The leader of Australia's 'Golden Generation' Kewell debuted for Leeds as a teen and is still the only Australian who owns a UEFA Champions League title. He won the FA Cup after he moved to Liverpool when Leeds struck money troubles and, despite always seeming to battle injury, he was considered the most naturally talented player ever to step on the pitch for Australia.

He struck 45 times in 181 appearances for Leeds, making him one of the club's best attacking midfielders ever.

Brett Emerton

247 Premier League Appearances | 13 Goals

Australia's fourth most capped international player enjoyed a long Premier League stint with Blackburn Rovers.

He made 247 appearances with Rovers after crossing from Feyenoord in 2003 and scored 13 goals for the club.

The AIS product was so loved at Ewood Park that the club let him out of the last year of his contract without financial penalty so he could return home and play for Sydney FC in the twilight of his career.

Mark Viduka

240 Premier League Appearances | 92 Goals

The gun centre forward was known for his ability to control the ball and set up play up front in 240 Premier League appearances with Leeds, Middlesbrough and Newcastle United.

The big fella banged in 92 goals in that time, with some serious highlights to boot. None of those were greater than the day he fired in all four goals in Leeds 4-3 win over Liverpool. It's always good when Liverpool loses, especially at the hands (or feet) of an Australian. Viduka scored 11 goals in 43 appearances for the Socceroos.

Big Duke retired from professional football in 2009.

Tim Cahill

226 Premier League Appearances | 56 Goals

For some bizarre reason, the Socceroos' greatest goal scorer isn't in Harry Kewell's best ever Australian team. Jewell has either lost the plot or has taken some sort of umbrage with the star striker.

Regardless of his standing in the international realm, Cahill was a hero at his beloved club Everton. He spent eight years Merseyside scoring 56 goals in 210 appearances and is known as one of the club's best players of the Premier League era and its second top scorer ever. Purchased by then manager David Moyes for the tiny sum of 1.5 million pounds, Cahill proved to be one of the Premier League's best ever bargains.

Cahill spent time in the American MLS with New York Red Bulls, but now plies his trade in China with Shanghai Shenhua, where he has become a cult figure of epic proportions in the soccer mad Asian country. The evergreen Cahill, at 35, is still turning out for Australia and still scoring goals, including one of the best you will ever see during the World Cup against the Dutch.

Mark Bosnich

206 Premier League Appearances

Bozza is now better known as the friendly face on Fox Sports' English Premier League coverage nowadays, but did you know he was once one of the most controversial figures in the Premier League?

You don't get signed as the number one goal keeper for power house Manchester United if you don't have talent oozing out of you. And Bosnich was arguably the best Australian goal keeper ever.

He had two stints at United as well as a lengthy stay at Aston Villa, where he made 179 appearances. His time at Chelsea was cut short when he failed a drug test and was banned for nine months.

He won the Premier League title with United, but was later called a "terrible professional" by none other than legendary manager Sir Alex Ferguson. Bozza, always quick witted, retorted: "The fact remains that I was the only player he signed twice at Manchester United. I'm honoured to be mentioned. He's entitled to his view and I'm entitled to mine."

Stan Lazaridis

166 Premier League Appearances | 7 Goals

In the late 1990's and early 2000's Stan Lazaridis was a mainstay in both West Ham's and Birmingham City's midfields.

It was at Birmingham City where Stan made his biggest impact, apearing 191 times in all comeptitions for the club up until the end of the 2005-06 season where he was released and made his way back home to join the Perth Glory.

Lazaridis, who appeared 60 times for the Socceroos would not grace a field again post 2008 after testing positive to an illicit drug and thus curtailing his career.

Aaron Mooy

96 Premier League Appearances | 9 Goals

Aaron Mooy had a largely successful stint in the premier league with Huddersfield Town in the 2017-18 season and managed to help the Terriers stay in the Premier League until the end of the 2018-19 season where they were relegated back to the Championship. Many experts expected Mooy to remain in the Premier League despite Huddersfield being relegated, and he did when signing for Brighton for the 2019-20 Premier League season.

Mooy has since jetted off to the Chinese Super League, but many predict the Socceroos midfielder to be back in the Premier League sooner rather than later.

Mile Jedinak

90 Premier League Appearances | 6 Goals

Former socceroo captain Mile Jedinak was a crucial element to the Crystal Palace midfield from 2013-2016 as the club continually battled relegation.

Jedinak played just 100 matches in the top flight of English football and was always a dominant force in defence for Palace, as well as causing trouble for opposition defences at set pieces.

The former socceroo announced his retirement in 2019 after spending a couple of years at Aston Villa plying his trade in the EFL Championship.

Robbie Slater

84 Premier League Appearances | 4 Goals

Bozza's partner in crime on the Fox Sports commentary team, Robbie Slater was actually born in the UK but played for the Socceroos.

Slater hopped to four teams in England, spending time with Blackburn Rovers, West Ham United, Southampton and Woverhampton Wanderers. But his finest moment in football will forever be his English Premier League title with Blackburn Rovers.

"Looking back, it's unbelievable! If you play for long enough in the Premier League but don't win it of course you've had a a great career — look at Timmy Cahill, a Premier League legend, Harry as well. But it's a great thing that I can look back on, and Bozza as well. It's special. I was lucky to move at the right time and right circumstances. OK I didn't play every game but we only used 17 players. I was an integral part of it, finished with six or seven assists and hit the post four or five bloody times!"

John Filan

74 Premier League Appearances

The former Socceroo goalkeeper managed to represent three top flight teams throughout his career. He first made an appearance in the Premier League representing Coventry City, before heading to Blackburn Rovers in the late 90's.

Filan then made a further 25 appearances for Wigan Athletic in the mid 2000's, who Filan represented 184 times throughout all competitions between 2001 and 2007.

Danny Tiatto

51 Premier League Appearances | 2 Goals

Before Manchester City were the powerhouse club they are today, Danny Tiatto was key staple at left back throughout the early 2000's.

Manchester City were promoted to the top flight for the 2000-01 season, before inevitably getting relegated for the following season. When City were promoted for the 2002-03 season, Tiatto would only represent City a further 18 times in the next two seasons before leaving the club in 2004.
---
Remaining Australians who have played in the Premier League
Danny Allsopp, John Aloisi, Con Blatsis, Vlado Bozinovski, Jacob Burns, David Carney, Chris Coyne, Jason Davidson, Ahmad Elrich, Adam Federici, Hayden Foxe, Richard Garcia, Vince Grella, Chris Herd, Brett Holman, Richard Johnson, Brad Jones, Jason Kearton, Neil Kilkenny, Jordan Lyden, Steve Mautone, Scott McDonald, Jamie McMaster, Craig Moore, Kevin Muscat, Paul Okon, Aiden O'Neill, Andy Patterson, Tony Popovic, Adem Poric, Josip Skoko, Brad Smith, Mile Sterjovski, Carl Veart, Tony Vidmar, Caleb Watts (yet to debut), Luke Wilkshire & Ned Zelic.
---
Best bookmakers for Premier League odds

This is my table