English Premier League betting tips & best odds | Matchweek 28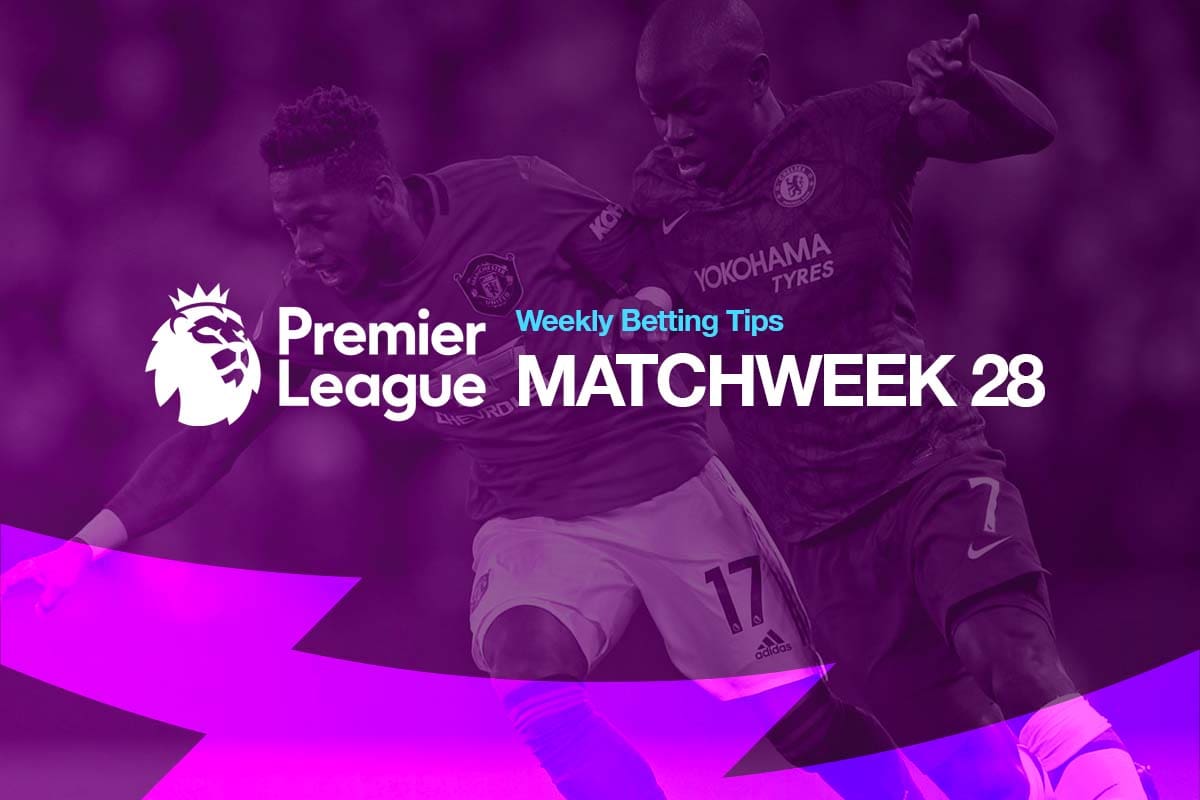 The title race in the English Premier League has shaped itself into a two horse race between Liverpool and Manchester City. This will be a big weekend for both of those teams but this slate also holds some interesting fixtures between mid table squads. The season is starting to wind down and the games are as important as ever. The main match this weekend will be on Sunday as viewers are treated to a Manchester derby. It's a perfect weekend to unwind and watch some soccer; here are the top tips to enhance your viewing pleasure.
Leeds United vs Leicester City betting preview
Leeds United have drastically underperformed this year and their recent form has resulted in the sacking of coach Marcelo Bielsa. Bielsa had some good moments with Leeds but their recent play has been dreadful and no one can fault the Leeds brass for making the change. Ultimately, though, this Leeds squad just isn't very talented and their injuries have been tough to deal with. Whether their new coach makes a difference remains to be seen but this will be a tough test for them.
Leicester has also underachieved this season and are firmly in the mid table. A team with top 7 aspirations, Leicester sits in 12th place with 30 points through 24 games. However, they are more talented than that and have had injuries to key players. Star striker Jaime Vardy should be ready to go in this game and Leicester's home field advantage makes them a good pick in this game. While it may not be a comfortable win, Leicester shouldn't have too much of an issue and should get past a reeling Leeds squad.
---
Chelsea FC vs Burnley FC betting tips
Chelsea is dealing with a lot right now. They have a congested fixture list as a result of playing in European competitions. Their Russian oligarch owner is being forced to sell the team and their big money striker Romelu Lukaku is vocally unhappy. There is a high chance that Chelsea just have too much going on to play their best soccer. While they are a better team than Burnley, the value of the draw is there and it could be a great time to capitalize on the bad energy surrounding Chelsea.
Burnley have had a bit of rejuvenation in recent weeks. They are still in the relegation zone with 21 points through 25 matches but have seven points in their last four matches. Their signing of Wout Weghorst from the German club Wolfsburg has been a resounding success and it has revitalized their season. They are building some momentum and they will return home with real hopes of pulling off a shock upset. While it is a fairytale that Burnley would win this game, the value of the draw is evident and it wouldn't be a surprise to see Burnley pull off a good result in this fixture.
---
Manchester United vs Manchester City tips
This game will be a thrilling contest to end the weekend. While the two perennial powerhouses have had completely different seasons, whenever these teams line up, anything can happen. For that reason, United is a strong bet. While it is unlikely, throwing some beer money on them could pay out in a big way. United are in fourth place as things stand and while they would have hoped for better, they are having a fine season. Bookies are underestimating the talent of this United team and that talent can show up at any moment and help United pull off this upset.
Betting against City is not a good way to make money. They have 66 points through 27 matches and are the betting favourites to win the title. It wouldn't be unfair to consider City the best team in the world. However, anything can happen in one game and the lines aren't representative of that fact. United can beat City, and while it isn't likely, the line should not be this high. Take United at these exorbitant odds and watch what should be an awesome game.
---