Cavs v Spurs, Friday multi tips & odds, game 3 of NBA playoffs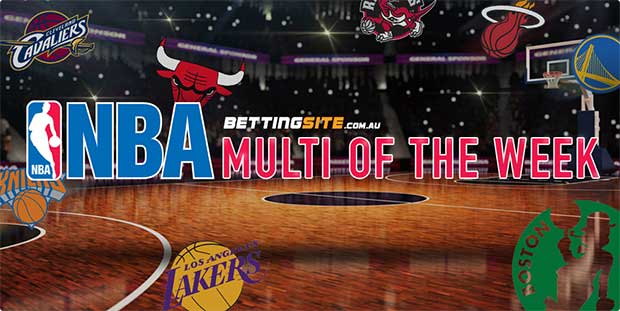 Game three action from 9am AEST, Friday, April 21, 2017
FRIDAY'S NBA first round playoff action switches scenes as the Cleveland Cavaliers and San Antonio Spurs hit the road each with 2-0 series leads.
The action kicks off at 9am AEDT in Indiana, with the Pacers hosting the Cavs in the hope that they can somehow ride home court advantage and peg one back against their easter conference rivals.
Later that morning at 10am, the Milwaukee Bucks head home to Wisconsin to take on the Toronto Raptors, before the Spurs giddy up to Memphis in a bid to take another step toward a 4-0 whitewash against the Grizzlies at 11.30am.
We've picked out two legs which we think are big chances to get up. We want to multi them up into something to give us – and our readers – a little extra bang for their buck.
Let's hope we're on target.

Suggested Multi
Indiana Pacers at the line +2.5 vs. Cleveland Cavaliers ($1.95 with Sportsbet.com.au)
San Antonio Spurs to win by 1-10 points vs. Memphis Grizzlies ($2.43 with Sportsbet.com.au)
Leg 1: Cleveland Cavaliers at Indiana Pacers
Head to head odds
Cleveland Cavaliers: $1.70 with Sportsbet.com.au
Indiana Pacers: $2.21 with Sportsbet.com.au
Alright, maybe this series is a lot closer than any of us imagined. And maybe the Cavs are vulnerable?
They closed the season on a woeful five game losing streak and, while they have won both game one and game two at the Q, the Pacers have pushed them all the way in those contests and would feel they are a genuine chance back home in Indiana.
Admittedly, we thought the heartbreaking one point loss in game one was about as close as the Pacers would get, as CJ Miles missed a buzzer beater that probably would have been launched by superstar Paul George if Indi had its time over again.
Never the less, the Pacers had to front up for game two and it looked like it could get really ugly, with the Cavs opening up an 18 point lead at the final break and looking like they would streak away.
But the Pacers regrouped and, led by George, pegged the margin back to just four points with 20 seconds left, before attrition took over and the Cavs held their nerve at the charity stripe to end up with a 117-111 win.
It was star point guard Kyrie Irving who took the scoring spoils in this one, leading the way with 37 points, shooting 14 from 24 from the field, while running mate Kevin Love had 27 points and 11 rebounds – including 12 for 12 from the charity stripe.
Still, they didn't shade the King, LeBron James, who added 10 rebounds, seven assists, four steals and four blocks to his 25 point night.
George poured in 32 points with eight boards and seven dimes to again be the Pacers' best player, but they also got 23 points out of Jeff Teague and 16 from dependable forward Thaddeus Young.
The Pacers were beaten in nearly every statistical category, and yet the result ended close enough to think they have a glimmer of hope going into their own house.
We thought this one was going to be a sweep, given the Cavs have done so in their past two opening round clashes in the postseason, but there's enough there for us to think the Pacers can keep it close and at least nick one game on their home floor.
We're hoping the 2.5 point head start is enough.
Leg 2: San Antonio Spurs at Memphis Grizzlies
Head to head odds
San Antonio Spurs: $1.56 with Sportsbet.com.au
Memphis Grizzlies: $2.51 with Sportsbet.com.au
The San Antonio Spurs take their methodically marvellous brand of basketball on the road to Memphis for another lopsided clash with their Western Conference little brothers.
You see, the Grizzlies just wish they could be as good as the Spurs. They play a similar brand of share the ball around and knuckle down defensively, using good fundamentals to pound their opponents into submission.
The problem is, they are the silver medallists up against the gold standard that is the Spurs.
And that gold standard was firing on all cylinders again in Game Two, putting together another double digit win, 96-82.
And just like in Game One, Kawhi Leonard set the pace for the Spurs with 37 points, shooting a ridiculous nine of 14, to go with a perfect 19 of 19 from the free throw line, he also added 11 rebounds to round out his superb game.
Leonard now has 69 points from just 28 shots in his two outings and is a perfect 28-28 from the free throw line.
And he was backed up by another solid performance from veteran former finals MVP Tony Parker, who scored 15 points in 24 minutes – including three triples. Many thought Parker might be cooked, but he has shown in this series he still has plenty of tricks.
Memphis got an improved performance from point guard Mike Conley, who had 24 with eight assists, but Game One destroyer Marc Gasol went just one of nine in the first half and could only muster a dozen as the Spurs switched up the defensive intensity.
The $1.56 for the Spurs to win feels like absolute highway robbery. We know the Grizz will believe this is their best chance to defeat the Spurs, but we just don't think it is going to happen.
You could load up and have them straight out, but we think the extra juice in the margin could be the go, given the Grizz were able to keep it a little closer in Game 2. They should be able to stick it out on their home floor, but ultimately have their hearts broken for a third time in this series.