2017 A-League Finals Week 1 finals betting and multi tips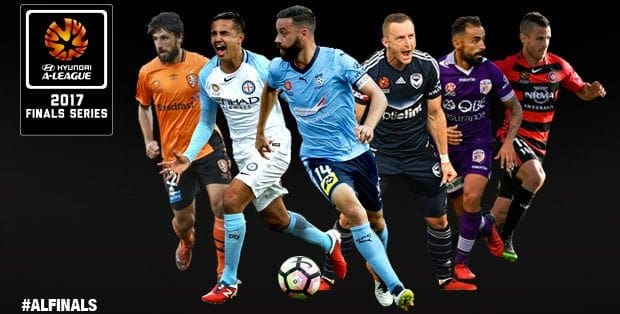 A-LEAGUE FINALS: WEEK ONE
Friday, April 21 – Brisbane (3rd) vs. Western Sydney (6th) at Suncorp Stadium – 7:50pm (AEST)
Sunday, April 23 – Melbourne City (4th) vs. Perth (5th) at AAMI Park – 7:00pm (AEST)
SYDNEY FC might be the team to beat this season, but the first week of the A-League finals looks a seriously-even affair.
A pair of cut throat elimination finals pit Brisbane Roar against the Western Sydney Wanderers and Melbourne City against Perth Glory for the second time in a week.
Both clashes are mouth watering propositions for very different reasons.
Either way, only two teams will advance, with the losers gone fishing.
We've perused the two match ups and come up with a few tips and a multi that we hope will help you clean up a little cash from the bookies.
Good luck.

Suggested A-League finals multi:
Brisbane Roar or draw ($1.30 with Sportsbet.com.au)
Perth Glory or draw ($1.83 with Sportsbet.com.au)
Two leg multi pays +134 with Sportsbet.com.au
Brisbane Roar vs. Western Sydney Wanderers
Ladder position:
Brisbane Roar: Third
Western Sydney Wanderers: Sixth
Season record:
Brisbane Roar: 11-9-7
Western Sydney Wanderers: 8-12-7
Last five games:
Brisbane Roar: WLWWL
Western Sydney Wanderers: DDWWW
Win Draw Win odds:
Brisbane Roar: $2.10 with Sportsbet.com.au
Draw: $3.50 with Sportsbet.com.au
Western Sydney Wanderers: $3.20 with Sportsbet.com.au
Our tip: Brisbane Roar or draw ($1.30 with Sportsbet.com.au)
What we think will happen: Draw (+250 with Sportsbet.com.au)
Total match goals tip: Under 2.5 goals ($1.99 with Sportsbet.com.au)
THE kings of the draw will take their talents to Brisbane to take on a Roar side eager to build on a 2-1 win the last time these two teams met.
But, despite possessing some solid talent up front, these two teams pride themselves on being dour defensive units and you'd expect both to be tough nuts to crack.
In three meetings this season, just seven goals have been scored, with a pair of 1-1 draws preceding the Roar's most recent win.
Unbeaten in their past six matches, the Wanderers are riding a wave and it hasn't really mattered if they have been at home or away.
This match could come down to which star striker has the better day, with A-League golden boot joint winner Jamie MacLaren leading the line for Brisbane up against Western Sydney Wanderers player of the year Brendan Santalab.
MacLaren banged in 19 goals – equal best with Melbourne Victory superstar Besart Berisha – and he could have had it outright, had he not missed a penalty in the dying stages of last week's 4-3 win over Wellington Phoenix.
And it will be up to Santalab – who fired in 14 of his own this season – to try and penetrate the Roar's defence.
The Wanderers, who haven't lost in their past six games, conceding just four goals in the process, will hold some hope, especially given the seven goals scored in the Roar's last outing, but We think this is one of those games where neither side will be giving any quarter and a 0-0 or 1-1 result looks on the cards.
Melbourne City vs. Perth Glory
Ladder position:
Melbourne City: Fourth
Perth Glory: Fifth
Season record:
Melbourne City: 11-6-10
Perth Glory: 10-9-8
Last five games:
Melbourne City: LWLLW
Perth Glory: WWDLL
Win Draw Win odds:
Melbourne City: $1.90 with Sportsbet.com.au
Draw: $3.75 with Sportsbet.com.au
Perth Glory: $3.60 with Sportsbet.com.au
Our tip: Perth Glory or draw ($1.83 with Sportsbet.com.au)
What we think will happen: Draw (+250 with Sportsbet.com.au)
Total match goals tip: Over 2.5 goals ($1.45 with Sportsbet.com.au)
Bruno Fornaroli might have warned of a more dour affair, but the fact is, finals or not, the goals are about to flow, because this match involves two high powered teams that simply don't know how to defend.
Melbourne City and Perth Glory met just a week ago and provided perhaps the game of the season, a record-equalling nine goal thriller that ended in the Glory claiming a 5-4 victory.
It was a game that had everything. Goals, cards, keeper blunders, and plenty of argy bargy.
These two teams have played each other three times this year and each of those have been huge goal fests.
Five goals in the first, six in the second and nine in the third gives them a ridiculous 20 goals across three meetings.
And, guess what, City has not won any of them.
The Glory came to Melbourne and stole a 3-2 win in October last year, and then almost did it again in December, eventually splitting the points in a 3-3 result.
And then, of course, the weekend's unmissable clash ended in the 5-4 result, leaving City in fourth spot.
Socceroos legend Tim Cahill fired in twice for City, but five separate scorers displayed Glory's plethora of attacking weapons.
That's something that will worry City, who, despite being known as an all out attack side, have really only received strong forward line contributions from Fornaroli (17 goals) and Cahill (11).
The next best is Nicolas Colazo, with just four.
Conversely, Glory has three players with 12 goals apiece, Andy Keogh, Diego Castro and Adam Taggert, along with six from Nebojsa Marinkovic – all four of whom scored against City on the weekend.
Problems there.
With City unable to overcome Glory during the regular season, we can't really see what's changed for the finals and therefore we think this will be another high scoring affair, with either a draw at the end of 90 minutes, or a win to the Perth Glory.
The $1.45 about the over 2.5 is money for jam. Load up!

What happens if the A-League finals games are drawn at 90 minutes?
If, at the conclusion of the Hyundai A-League 2016 Elimination Finals, Semi Finals or Grand Final, the scores between the two clubs are tied, then extra time of two equal periods of 15 minutes will be played. If scores remain equal at the conclusion of both periods of extra time, penalty kicks will be taken to determine the winner of the match.