Can the Golden State Warriors break more NBA records in 2016/17?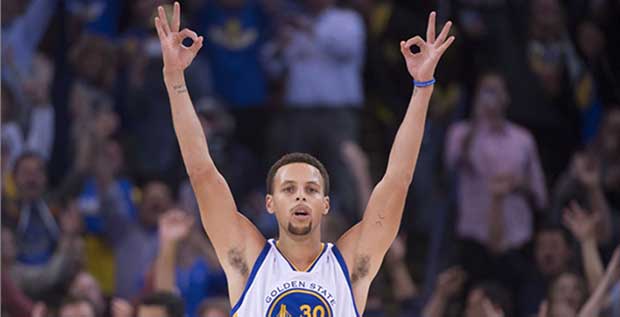 WE'RE just over a week out from the most highly anticipated NBA season in the league's history.
The Golden State Warriors' remarkable off season has many wondering if they can better their record-breaking effort of 2015-16 and smash through the 73-win barrier.
And our trusted list of online bookmakers are lapping it up, offering a suite of markets on the Warriors success or failure this season.
The Warriors, winners of the 2015 NBA title, became the first team to win 73 games last season, but unbelievable also became the first team to surrender a 3-1 lead in the NBA finals.

They looked like they would coast to the title, but Lebron James had other ideas, throwing the Cleveland Cavaliers on his back to produce one of the greatest NBA Finals performances in its history.
It left he Warriors hurting and seething and intent on reloading.
And boy, have they done that.
Not content to sit on their hands, the Warriors went hunting and, in one of the biggest free agency moves ever, managed to convince Kevin Durant to make the switch from Oklahoma City to the Bay Area.
Make no mistake, this is a massive move and, quite rightly, the Warriors are odds on title favourites at $1.80 with most online bookmakers to win the 2017 NBA title.
It is hard to believe that they could claim Durant, while really only losing Aussie centre Andrew Bogut from their core.
Bogut's passing and defensive skill will be sorely missed by the Warriors, but you feel that they have gained far more than they lost.
This team has the potential to be among the highest scoring in history.
It has two of the best scorers in the NBA in reigning two-time Most Valuable Player Stephen Curry – the deadliest outside shooter in the game's history – the Slim Reaper Durant – himself a scoring title winner – and sharpshooter Klay Thompson, who is going to get that may open looks he might break the record for three-point field goal percentage.
Add to that heart and soul everyman Draymond Green and the acquisition of savvy veteran Zaza Pachulia and you have the recipe for perhaps the best starting five the game has ever seen. Oh, and they managed to keep former finals MVP and Sixth Man of the Year Andre Iguodala too, along with towering point guard Shaun Livingstone, while signing a former 20-10 guy in David West who will provide plenty of bench experience.
Nuts, right?
Have you noticed We've been talking about history a lot?
History is just that, history, but, if you believe the bookmakers, this Warriors team is going to make it in a very big way.
Golden State Warriors markets
Golden State Warriors to break regular season wins record (over 73.5) (+350 with WilliamHill.com.au)
Golden State Warriors to win NBA title ($1.80 with WilliamHill.com.au)
Any other team to win NBA title ($2 with WilliamHill.com.au)
Golden State Warriors to go undefeated in 2016-17 season – 82-0 ($151 with sporstbet.com.au)
Golden State to go 20-0 in first 20 games of the 2016-17 regular season (+800 with Sportsbet.com.au)