BetEasy's Multi Express takes all the hassle out of combining single wagers when betting online. But what is it, and how does it work? Let us show you how to get the most out of this nifty BetEasy feature for PC, Mac and mobile betting.
ALSO READ: BETEASY REVIEW
What is Multi Express?
Multi Express is but one among many features online bookmakers have instituted to make it easier for punters to place multiple bets.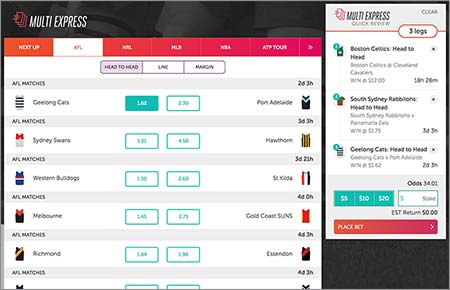 As most multi betting products are designed especially for smartphone and tablet devices, quite often they can only be used if you download a bookie's mobile app. This is not the case at BetEasy, as the Multi Express feature is available straight through the firm's standard desktop website for Windows PC and Apple Mac computers.
Even so, the BetEasy version offers much the same service as the Multi Builder and Fast Multi features. Punters can scroll effortlessly through thousands of sports betting markets and dozens of different codes without having to navigate through any additional menus, thus streamlining the entire process and saving you precious time.
How to place Multi Express bets
Multi bets are simple if you stick to one sport and only pick head-to-head results. When you stray away from those boundaries, however, it can become a time-consuming chore that requires a lot of menu surfing, page hopping and market browsing.
Multi Express eliminates all that noise. Log in at BetEasy.com.au and click on the 'Multi Express' tab to view all sports markets that are eligible for parlay wagers. The top menu allows you to switch between sports in an instant and view upcoming clashes from popular leagues such as the AFL, NRL, NBA, NFL and EPL. You can then toggle between head-to-head odds, margins, lines and other common bets without having to search through the full market list for each game.
To make a selection, simply tap the odds to add them to your virtual bet slip. You need at least two legs to make a multi bet. When you are happy with your choices, enter your stake at the bottom of the betting slip by either tapping one of the present options ($5, $10, or $20) or typing the desired amount into the box. You will now be able to see both the multi odds and the complete cash return. All you have to do from here is hit 'Place Bet' and back your choices home.
Sports betting options on Multi Express
Multi Express betting covers a wide variety of popular codes from Australia and all over the globe. Aussie footy fans can mix up legs from the AFL, NRL, State of Origin and Super Rugby at their pleasure. All the major soccer leagues are accounted for, including A-League, Premier League, Serie A, La Liga, Bundesliga and the UEFA cup comps, as well as men's, women's and junior internationals. US sports are well covered with complete MLB, NBA, NFL and NHL markets, while cricket, tennis and the booming eSports betting scene are also on display.
Australian rules
Rugby league
Rugby union
American football
Baseball
Basketball
Cricket
eSports
Ice hockey
Soccer
Tennis
Multi Express on the BetEasy mobile app
Multi Express stands out from the crowd because it is optimised for standard web browsers on PC and Mac OS computers. However, that does not mean you cannot enjoy the same benefits when betting on your smartphone or tablet device.
Multi products are developed primarily to simplify navigation on the smaller interfaces of mobile phones and tablets, and this one is no different. Multi Express for mobile is straightforward and easy to use, offering the exact same service you get on the desktop site. Tap through the sports menus, choose your odds and confirm your bet in moments, no matter where you are.
BetEasy offers dedicated mobile betting apps for both Android and iOS devices, which are available here. If you use an alternative mobile operating system, or if you prefer browser-based betting, you can also access the Multi Express feature via the BetEasy.com.au mobile site.
Why use BetEasy Multi Express?
There is no real debate to be had here. If you want to place two or more bets on the same ticket, Multi Express makes it easier than ever to mix up selections from different leagues, different sports and different market types. It works on multiple platforms, it comes standard with the BetEasy app and it features dozens of the most popular sporting divisions from Australia and the rest of the world. If you have not already, sign up at BetEasy.com.au today and take all the legwork out of your weekly sports multi.