Australia vs. New Zealand 2nd Test top run scorer & wicket bets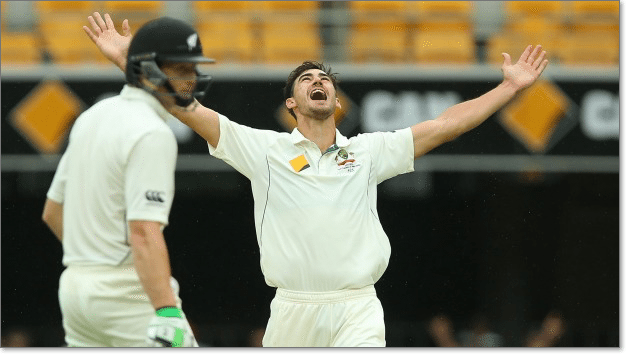 Friday, November 13, 2015, WACA, Perth, Watch on Nine Network
First Test: Australia won by 208 runs.
Third Test: Friday, November 27, 2015, Adelaide Oval
HE'S a harsh task master, that Darren Lehmann.
Fresh off a complete hammering of the New Zealanders ($7.50 with CrownBet.com.au) in the first Test, the Australian ($1.37 with CrownBet.com.au) (Draw is $5.25 with CrownBet.com.au) coach says he wants improvement out of his players – and has been smashing them on the training track in the lead up to Friday's second Test at the WACA.
A lazy 208 run win in the first Test at the Gabba that came with two sessions to spare despite the intervention of rain clearly was not enough.
Big Boof has put the heat on batting tyros Joe Burns and Usman Khawaja to lift their intensity in the field.
"(In the field we were) average at best," Lehmann said.
"Even our ground fielding, and we pride ourselves on that.
"So there's a bit of work coming up for the lads.
"We could have stopped a lot more balls that we didn't."
Burns copped a baptism of fire at short leg – one of the worst fielding positions you can ask for.
"He (Burns) just needs work," Lehmann said.
"We saw him out doing that (before play).
"He's just going to have to do more work, (spend) more time on his fielding and probably Uzzy (Khawaja) to be fair.
"They've got to move better and field at the level you'd expect of international cricketers."
Lehmann also wants his bowlers to be better.
"I don't think we bowled as well as we'd have liked," Lehmann said.
"I don't think we bowled with the new ball as well as we could have, and give New Zealand credit.
"They left (the ball) well and made us work for it.
"But we've certainly got to get better in that area.
"I think they (NZ) had to play at less than half the balls with the new ball in the first 20 overs, so that's something we'll look at there."
While Mitchell Starc (six), Mitchell Johnson (four) and Josh Hazlewood (three) were the best of the bowlers, the Aussie's batting was about as good as it gets.
They only lost eight wickets and hammered 820 runs across two innings, 4(declared)/556 in the first dig and the 4(declared)/264 in the second.
New opening partners David Warner and Joe Burns (71) put on 161 for the first wicket to open the series and it just got better from there.
Warner cracked 163, then Khawaja hammered 174, captain Steve Smith hit 48 and then Adam Voges smoked an unbeaten 83 to set up the massive total.
The openers followed that up with a 237 run stand that featured twin tons, Burns 129 and Warner 116 – the third time he had completed centuries in both innings of a test match.
New Zealand could only muster 317 and 295 in reply.
Kane Williamson can hold his head high, whacking a seriously classy 140 and then 59 in the second dig to go against the grain for the Kiwis. Captain McCullum copped a stinking decision in the second dig after he had raced to 80 of 80 balls.
Prediction
Match result: Australia wins ($1.37 with CrownBet.com.au)
Highest opening partnership: Australia ($1.67 with CrownBet.com.au)
If the Kiwi bats found it hard at the GABBA, it's going to be near-on impossible to weather the Aussie's pace attack storm on the WACA. The Aussies could go with a four pronged pace attack, with the addition of Peter Siddle a viable option – hell, they don't need the batting they way they are going. And the Kiwis are in all sorts, with spearhead Tim Southee racing against time to be fit and all rounder James Neesham ruled out of the series with a back injury. After what Warner and Burns produced in the the first Test, there is no way we can go past them for highest opening partnership in this one.
Top run scorer
Australia
Steve Smith ($3.50 with CrownBet.com.au)
It's hard to decide who is the better batsman, Warner or Smith. Both have impeccable records and both deserve consideration in this market. We've gone with Smith, only for the fact that Warner is in that rarified air that perhaps he is ready to come down from the clouds a little. Smith is a star and he scored under 50 in both innings in the first test – a failure for him. Look for him to bounce back.
New Zealand
Brendon McCullum ($5 with CrownBet.com.au)
Finally produced something of substance against the Aussies in a Test and probably deserved a ton after copping a stinking decision. Looks to have gathered some form and will be privately embarrassed by the performance of his country in the first Test. Look for the master blaster to tee off on the Aussies when he gets a chance. The quicker they are, the quicker it gets to the boundary.
Top wicket takers
Australia
Mitchell Johnson ($3.25 with CrownBet.com.au)
There's something about a WACA deck that brings the best out in Johnson. Perhaps it has something to do with the fact it's one of the quickest pitches in the world. The man with the tatts and the stache will be steaming in, breathing fire – We pity the New Zealand batting line up. Jump on.
New Zealand
Trent Boult ($3 with CrownBet.com.au)
Do they even have any bowlers left? Southee, Boult and Bracewell were all caricatures of themselves and Craig looked like a park cricketer. So the question is, who do we go with to bounce back? Southee's injured, so we are giving Boult the nod to step up and shoulder the load. By George, the Kiwis need him to, now more than ever. Good luck mate.