Five of the worst trade deals in AFL history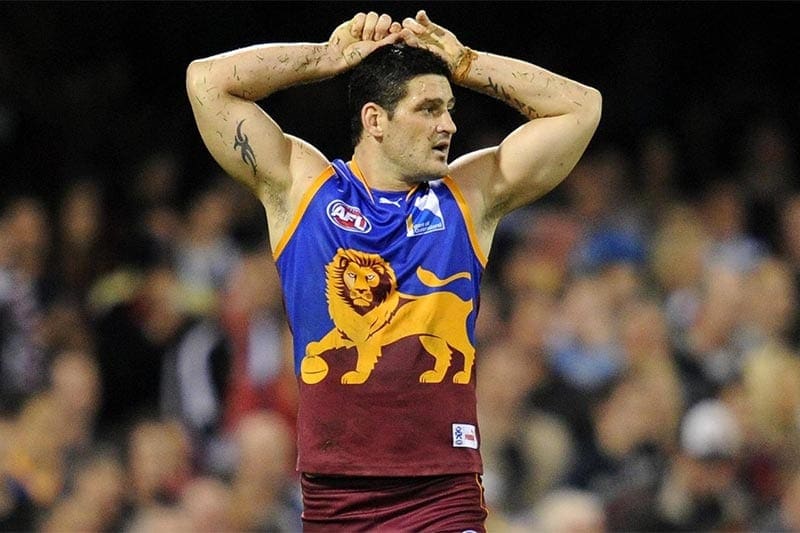 WHAT were they thinking?
The Gold Coast Suns and their bewildering business in the 2017 AFL trade period has left punters and pundits nationwide scratching their heads.
It will be several years yet before we realise the repercussions of giving up pick two for Lachie Weller, but it got us thinking about where this might fall in the grand scheme of footy trade blunders.
Here are five of the most lopsided swaps since the foundation of the AFL in 1990.
Ridley, Delaney & Kickett – Essendon to Fremantle – 1994
No matter which way you slice it, the Dockers made an absolute meal of their recruitment drive when they joined the AFL.
The tale of Andrew McLeod's defection to Adelaide is the stuff of legend, but perhaps just as significant was the infant club's decision to sign Essendon offcuts Todd Ridley, Tony Delaney and Dale Kickett.
In exchange for that trio of fringe players, the Bombers got pick four in the 1994 AFL Draft and an additional compensation pick.
They used those on Scott Lucas and Matthew Lloyd, who would go on to combine for 1397 goals, 540 games and a premiership.
Mitchell White – West Coast to Geelong – 2000
Even the greats cock up every now and then.
Early in his tenure at Geelong, CEO Brian Cook played a big part in luring Mitchell White over from the West Coast on a big-money deal.
It proved a very costly move indeed, as the 28-year-old forward's recurring knee problems limited him to only 23 games at the Cattery.
If the rumours about the scale of his three-year contract are true, White walked away with something in the vicinity of $43,000 per game.
Jordan McMahon – Western Bulldogs to Richmond – 2007
Richmond thought they had done a canny bit of business when they gave the Western Bulldogs pick 19 for Jordan McMahon.
The running backman went on to play only 34 games for the Tigers while the Doggies unearthed a midfield rock in Callan Ward, but football historians may yet move the deal into the 'best ever' column because of its long-ranging repercussions.
McMahon's winning goal against Melbourne at the end of the 2009 season saw the Demons vault ahead of the Tigers in the draft order that year.
The Dees used picks one and two on Tom Scully and Jack Trengove, leaving Richmond to settle for a rough diamond by the name of Dustin Martin – now a premiership player and Brownlow Medal winner at Tigerland.
Brendan Fevola – Carlton to Brisbane Lions – 2010
Brendan Fevola was already a known troublemaker when the struggling Lions threw the kitchen sink at what they thought was a marquee man who could launch them back into finals contention.
It was a disaster from the off, as Daniel Bradshaw and Michael Rischitelli – both long-serving stars of the club – sought trades after being offered to Carlton as bait.
Brisbane got the deal done by sending pick 12 and Lachie Henderson to the Blues, but it soon became apparent that Fevola would not work out in Queensland.
The two-time Coleman Medal winner lasted one controversy-riddled season before leaving AFL footy altogether.
Kristian Jaksch – GWS Giants to Carlton – 2014
One of several Melbourne clubs looking to benefit from Greater Western Sydney's need to trim their young squad, Carlton coughed up pick seven in the 2014 draft to secure the services of Kristian Jaksch.
Why did the Blues spend so big on an injury-prone defender who had managed only seven senior games since the Giants recruited him with pick 12 two years earlier?
The footy world is still waiting for an adequate response to that question.
Jaksch made only seven more appearances in three miserable seasons at Carlton, spending most of his time in the VFL before the Brendon Bolton regime delisted him in 2017.
Notable mentions
Carey and Longmire to North Melbourne (1987)
Both John Longmire and Wayne Carey were zoned to the Sydney Swans, but a speculative offer from Kangaroos CEO Greg Miller brought them both to Arden Street in the most flagrant case of highway robbery in VFL history.
Nathan Lonie to Port Adelaide (2005)
Pick 12 always looked a long way overs for Lonie, who lasted only three seasons and 40 games at Alberton. Hawthorn turned that selection into Grant Birchall – now a four-time AFL Grand Final winner at Glenferrie.
Fergus Watts to St Kilda (2005)
Watts managed only five games in two season at Adelaide, yet St Kilda deemed him worthy of the 17th selection in the national draft. He played one game for the Saints before injury and poor form led to his inevitable axing in 2007.
Richie Cole to Essendon (2005)
What the hell was everybody smoking in 2005? One decent season at Collingwood was enough for Essendon to part with pick 23 for Cole, whose lack of fitness, speed and all-round effort saw him delisted after seven games in the red and black.
Andrew Lovett to St Kilda (2009)
A top-shelf talent who was supposed to transform the Saints from also-rans into premiers, Lovett's career came to a sudden and permanent halt when a sexual assault charge saw him sacked before playing a single game.

Bet on the AFL all year round at Ladbrokes – Australia's best footy betting site.