AFL Round 19 odds and premiership betting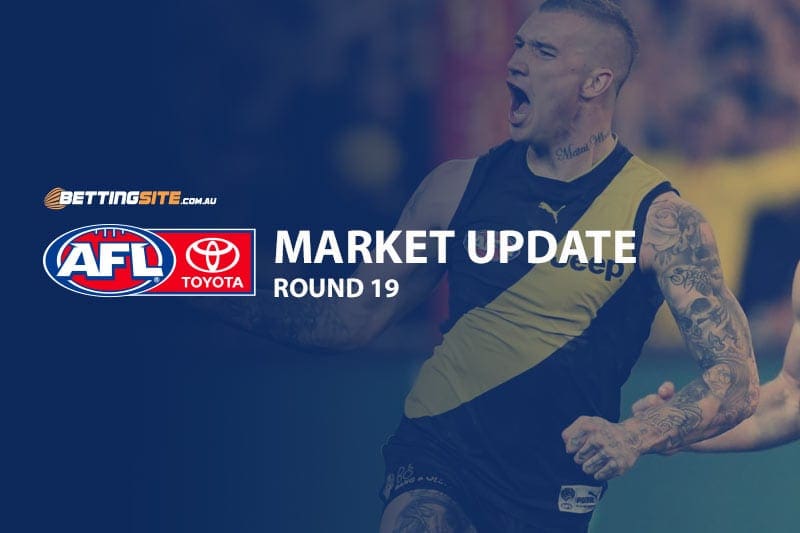 As another week passes in the AFL, more and more mouth-watering fixtures come into the frame.
This week is loaded with must-win matches for clubs in the race for finals.
Let's see how the odds for the upcoming round are looking at Sportsbet.com.au.
Collingwood Magpies vs Richmond Tigers
– Latest Collingwood Magpies odds
– Latest Richmond Tigers odds
One of the biggest Friday night games of the season will take place this week between the Magpies and Tigers. Collingwood has fallen to $2.45 in the match betting after losing again last week, leaving Richmond as $1.54 favourites. See our Collingwood vs Richmond preview here.
Hawthorn Hawks vs Brisbane Lions
– Latest Hawthorn Hawks odds
– Latest Brisbane Lions odds
A rivalry has brewed between the Hawks and Lions in recent times – especially since Luke Hodge's defection to Brisbane – and this match could blow the feud right open. With both sides in good form, the odds for Saturday's clash in Launceston are dead even. See our Hawthorn vs Brisbane preview here.
Carlton Blues vs Adelaide Crows
– Latest Carlton Blues odds
– Latest Adelaide Crows odds
This match-up looms as a tricky one for punters. The Blues have won four of their last six matches, while the Crows have only won a single game out of their last four. Adelaide will still enter as favourites at $1.50, giving the Blues a healthy $2.54 with the home field advantage.
West Coast Eagles vs North Melbourne Kangaroos
– Latest West Coast Eagles odds
– Latest North Melbourne Kangaroos odds
Despite a plethora of crucial injuries and sore players, the Eagles ($1.33) have shorter odds than the Roos ($3.25). North Melbourne has played with incredible physicality since Rhyce Shaw took over as head coach, so this should be a bruising encounter.
St Kilda Saints vs Melbourne Demons
– Latest St Kilda Saints odds
– Latest Melbourne Demons odds
With a new coach at the helm, the Saints look reinvigorated ahead of this weekend's holy war with the Melbourne Demons. Even while sitting 17th on the ladder, the Dees are $1.76 favourites against $2.05 St Kilda in one of the tighter markets of the round.
Port Adelaide Power vs Greater Western Sydney Giants
– Latest Port Adelaide Power odds
– Latest GWS Giants odds
This Saturday night match-up looms as a must-win for both sides. The Power are losing their grip on the top eight, while the Giants want to get back inside the top four. Port Adelaide is the $2.15 underdog despite home field advantage, leaving GWS at $1.68.
Western Bulldogs vs Fremantle Dockers
– Latest Western Bulldogs odds
– Latest Fremantle Dockers odds
Two teams that have to win most of their remaining matches to make finals will clash this week at Marvel Stadium. The Bulldogs ($1.57) were unlucky to face a club with a new head coach for the third time this season, while the Dockers ($2.37) are hanging in the race after another close victory.
Sydney Swans vs Geelong Cats
– Latest Sydney Swans odds
– Latest Geelong Cats odds
Another modern-day rivalry will come to the fore this week when Sydney hosts Geelong. The Swans sit very low on the ladder but will still give the Cats a run for their money. Sydney with home field advantage will enter at $2.59, giving the league leaders short odds of $1.48 on the road.
Gold Coast Suns vs Essendon Bombers
– Latest Gold Coast Suns odds
– Latest Essendon Bombers odds
The Bombers have won five of their last six matches and will happily travel north to take on the Suns. Once again, Gold Coast will have long odds at $6.50, the highest available this round. That gives Essendon the shortest price of the round at $1.10.
2019 AFL Premiership betting update
After three of the top six contenders lost their matches last week, the 2019 AFL Premiership betting market has shifted to a more even race. The Cats and Eagles sit only 50 cents apart, while the Giants have come into $12 from $17. Collingwood have fallen to $7 and could drop further after Friday's clash with the upwardly mobile Tigers. Incredibly, the Saints have gone from $1,001 into $151 after sacking their coach and beating the Bulldogs.
$4 – Geelong Cats
$4.50 – West Coast Eagles
$5 – Richmond Tigers
$7 – Collingwood Magpies
$9 – Brisbane Lions
$12 – Greater Western Sydney Giants
$19 – Essendon Bombers
$41 – Adelaide Crows
$67 – Hawthorn Hawks
$81 – Port Adelaide Power, Western Bulldogs
$101 – Fremantle Dockers
$151 – North Melbourne Kangaroos, St Kilda Saints
$501 – Sydney Swans