AFL concussion rules under fire after battered Power duo play on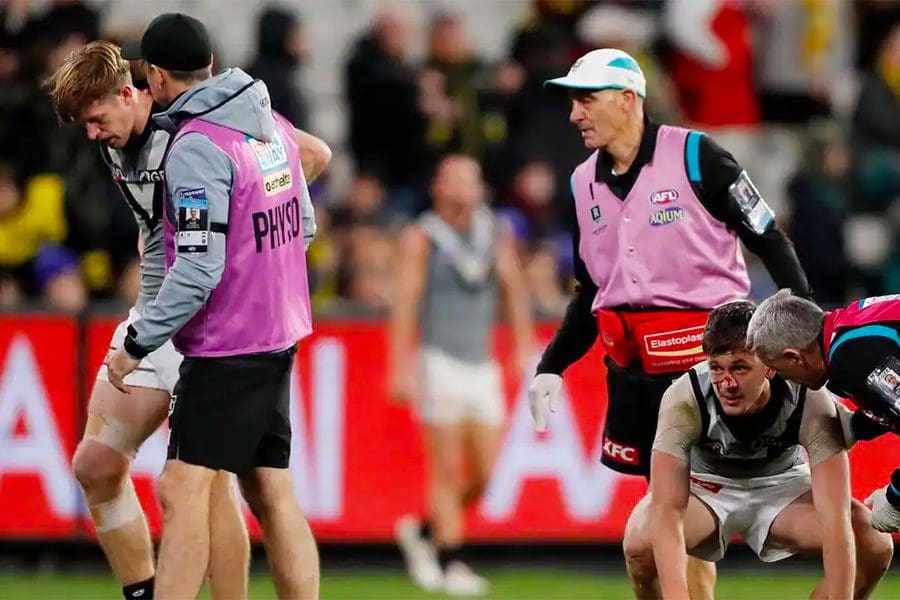 The AFL Review Centre (ARC) is under scrutiny after it did not direct two players to undergo concussion tests following a serious incident on Thursday night.
Port Adelaide teammates Zak Butters and Tom Jonas collided heads during the last quarter of the Power's 12-point loss against Richmond in a sickening clash which left spectators looking away.
Both players had blood streaming from their faces but were each suddenly back on the field within eight minutes, much to the shock of many AFL pundits.
Taped up and battered, Butters was sent back to the bench minutes later after his gash was re-opened in a tackle.
Shortly after the match, radio listeners were left frustrated with the non-decision by Port Adelaide and the AFL to send the two players for a concussion test.
The AFL has had a strong stance on concussion protocols over the last two years, so it is hard to fathom how such an obvious incident was overlooked by the ARC.
Port Adelaide coach Ken Hinkley, however, defended his club's doctor in making the decision to let the players back onto the field.
"The conversation between our doctor and our football manager during the game was that these boys have got no issue with concussion," he said.
The AFL's concussion protocol stance says, 'a player who shows signs and symptoms of concussion must be removed from the field and be tested'.
Both players were looked at by medical staff within five minutes of the clash and given the all-clear to return to the field, but given the severity of the incident, many feel they should have been tested.
Fox Footy commentator Abbey Holmes, in the moment, admitted she was surprised that the incident was not treated more seriously, while shortly after, her fellow commentators backed the AFL's protocol and club doctors.
But the average footy fan seemed to hold a different view.
"Those poor boys should not have come back on just six minutes after that type of incident," one radio listener said.
"A sickening incident while the match was on the line and the players are sent straight back onto the field to play… ridiculous," another said.
Less than 24 hours after the incident there were calls for the AFL to change its concussion protocols, while the league made a statement at 10:30am Friday backing Port Adelaide and its own response.
Expect more to play out regarding this issue in the coming days.