2017 western conference NBA Playoffs betting, tips and value odds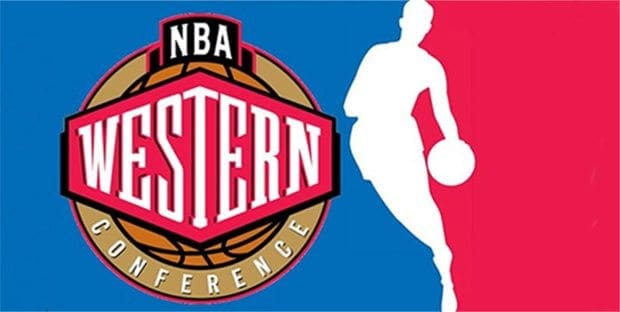 WILD, wild west.
The chase for the NBA title begins in the Western Conference with a quartet of series that we don't expect to throw up too many surprises.
Unlike the east, when the battle for a playoff spot went down to the final day of the season, the seedings were set much earlier in the west and that means we have had the chance to see what the potential title suitors have to show.
The Golden State Warriors are the obvious team to beat, with their mix of superstars and playoff experience, but the San Antonio Spurs are a well oiled machine and you can't discount James Harden's Houston Rockets.
Don't forget MVP favourite Russell Westbrook and his rag tag bunch of misfits. They may not make it out of the first round, but, if they do, expect fireworks.
Here's our take on the four match ups to open the NBA playoffs in the west.
Hopefully we can pick a winner.
Golden State Warriors vs. Portland Trailblazers
Record, Seed, Series Odds
Golden State Warriors: 67-15, first ($1.02 with CrownBet.com.au)
Portland Trailblazers: 41-41, eighth ($13 with CrownBet.com.au)
Our prediction: Golden State Warriors to win in four games, 4-0 (+135 with CrownBet.com.au)
You get the feeling that, despite going on a massive tear to close the season, the Warriors still have something in the tank. They are the sleeping giant in this year's playoffs and all roads to the title appear to go through them. With Kevin Durant, Stephen Curry and Klay Thompson all firing, the well oiled Warriors should be able to handle Damien Lillard, CJ McCollum and company fairly easily. Although, look for big man Jusuf Nurkic to cause havoc on the inside as the Blazers attempt to exploit their achilles heel in the hope of a win. Watch on as two potent offences go head to head in what might be the highest scoring series of the playoffs. We want to see Curry, Durant, Thompson, Lillard, McCollum and Nurkic all over 20 points per game.
San Antonio Spurs vs. Memphis Grizzlies
Record, Seed, Series Odds
San Antonio Spurs: 61-21, second ($1.08 with CrownBet.com.au)
Memphis Grizzlies: 43-39, seventh ($8 with CrownBet.com.au)
Our prediction: San Antonio Spurs to win in four games, 4-0 ($4 with CrownBet.com.au)
Gregg Popovic is a modern day marvel. Legendary big man Tim Duncan retires, Tony Parker and Manu Ginobili become corpses and yet the Spurs still sport the second best record in the entire NBA. He's had a little help from the likes of MVP candidate Kawhi Leonard and solid big guy LaMarcus Aldridge, but that's beside the point. The Spurs are on target for the title yet again. They'll have to first go through a Memphis Grizzlies side that has, at times, been a basket case, but still managed to peel off enough games to make it to the playoffs. Don't put your seatbelts on, because this series is going to be a borefest, with the Grizzlies slow it down offence run through talented big man Marc Gasol and the the Spurs share it around attack. Low scoring, lots of D and plenty of Spurs' wins, putting Pop through to the second round yet again.
Houston Rockets vs. Oklahoma City Thunder
Record, Seed, Series Odds
Houston Rockets: 55-27, third ($1.30 with CrownBet.com.au)
Oklahoma City Thunder: 47-35, sixth ($3.50 with CrownBet.com.au)
Our prediction: Houston Rockets to win in five games, 4-1 ($3.50 with CrownBet.com.au)
This series might just have the most intrigue in terms of individual talent, with the two MVP favourites James Harden and Russell Westbrook going head to head in what could be a battle of triple double proportions. Westbrook set the record for triple doubles in a season, with 42, while Harden finished second behind him, but led his Rockets to a far superior record. Westbrook has serious individual brilliance, but sacrifices making his teammates better, while Harden's rhythmic flow brings the other players on the floor into the game and takes them from role players to stars (Ryan Anderson, Clint Capela, Eric Gordon, etc). The Rockets could sweep this series, but we're backing Westbrook to have some sort of ridiculous 50-20-20 triple double and steel at least one game in OKC. Oh, did we say the Warriors vs. Blazers series would be the highest scoring? We might have to check that, with these two teams pushing the ball up and down the floor at breakneck speed.
Los Angeles Clippers vs. Utah Jazz
Record, Seed, Series Odds
Los Angeles Clippers: 51-31, fourth ($1.55 with CrownBet.com.au)
Utah Jazz: 51-31, fifth (+145 with CrownBet.com.au)
Our prediction: Los Angeles Clippers to win in six games, 4-2 ($6 with CrownBet.com.au)
Two teams with identical records battle out what could well be the best opening round series in the west. The Clippers have the superstar talent in Chris Paul, Blake Griffin and DeAndre Jordan, but the Jazz have the depth and underdog status. Step outside the Salt Lake City limits and you would be hard pressed to find a casual NBA fan who can name a Jazz player. And yet Gordon Hayward has quietly turned himself into a superstar, leading the likes of George Hill and the Stifle Tower Rudy Gobert into an enviable position. There's no doubting the Jazz can win this series, but, despite the Clippers' noted ability to choke, we think they should be able to account for Utah and set up a second round appearance, with the hope that Chris Paul can finally make it to the conference finals. We're a bit sick of the whole Clippers potential thing. It's time for them to deliver.
2017 NBA title market
Golden State Warriors ($1.75)
Cleveland Cavaliers ($5)
San Antonio Spurs (+700)
Boston Celtics ($15)
Houston Rockets ($18)
Los Angeles Clippers ($34)
Toronto Raptors ($34)
Washington Wizards ($36)
Utah Jazz ($56)
Oklahoma City Thunder ($81)
Atlanta Hawks ($126)
Milwaukee Bucks ($151)
Memphis Grizzlies ($151)
Indiana Pacers ($176)
Chicago Bulls ($226)
Portland Trail Blazers ($226)