2017 NBA playoffs eastern conference preview and betting tips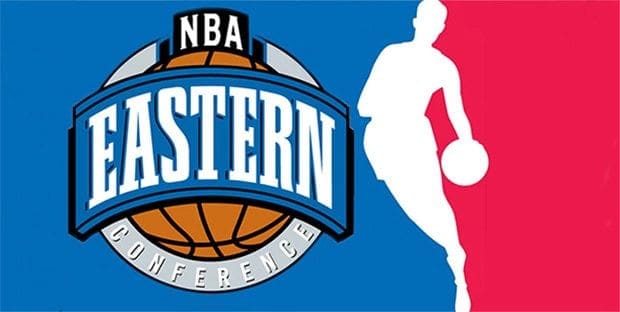 THE NBA playoffs are set to serve up a feast in the east.
In an unbelievable final day of action yesterday, the Boston Celtics somehow clinched the number one position, swooping in on the out of form Cleveland Cavaliers, who finished second.
And, at the bottom of the draw, the Chicago Bulls just snuck in ahead of the Miami Heat with a whopping 39 point win over the New Jersey Nets, who rested all their semi decent players in a decision that has ruled Heat fans – whether it would have made a difference or not is another story.
Any way, there are eight teams left in the eastern conference, with four juicy first round match ups set to tip off this weekend as they duel for best of seven games honours.
If you are as excited as us you will surely be having a flutter on the series'.
We have done the work for you and come up with some tips for each match up that we hope will end up giving you some extra dough in your punting accounts.
We've gone with a couple of hot favourites and a couple of outsiders in our split of the four series.
This is when the real stuff starts in the NBA. Enjoy it.
Boston Celtics vs. Chicago Bulls
Record, Seed, Series Odds
Boston Celtics: 53-29, first ($1.15 with CrownBet.com.au)
Chicago Bulls: 41-41, eighth ($5.50 with CrownBet.com.au)
Our prediction: Boston Celtics to win in five games 4-1 (+220 with CrownBet.com.au)
The last time these two teams met in the playoffs, it was one of the most epic series in NBA history. With names like Ray Allen, Paul Pierce, Derrick Rose and Ben Gordon trading blows, the two teams fought out a seven game beast that is still fondly remembered for its closeness and ridiculous clutch shooting. Fast forward eight years and there is less lustre about this series, but no less importance. A lot rests on the shoulders of the Celtics's MVP Isaiah Thomas in this one. He needs to fire, and guys like Al Horford need to elevate their games top another level in support of their little maestro. Otherwise, they might just get put to the sword by a guy who played for the Celtics in that series – a rejuvenated Rajon Rondo. Oh, and there's a guy in Chicago who has been the subject of much trade rumour involving the Celtics. Could Jimmy Butler lay the fatal blow? Maybe, but probably not. Celtics to get away with a hard fought, but in the end easy series win.
Cleveland Cavaliers vs. Indiana Pacers
Record, Seed, Series Odds
Cleveland Cavaliers: 51-31, second ($1.08 with CrownBet.com.au)
Indiana Pacers: 42-10, seventh ($7.50 with CrownBet.com.au)
Our prediction: Cleveland Cavaliers to win in five games 4-1 ($2.75 with CrownBet.com.au)
They say you can't just turn it on and off when you want to put effort in, but this is winning time and this is LeBron James' territory. The Cavs have lost five games in a row leading into the playoffs, in a worrying trend. Title winning trio James, Kevin Love and Kyrie Irving have just been a little out of synch, so they will be desperately hoping to fix that at some point before the playoffs start. Indiana's fortunes rest on how much Paul George actually gives a damn about playing basketball. And, fortunately for the Pacers, the switch has been well and truly flicked over the past month or two. The Pacers have an exciting young nucleus and George is good enough to win at least one game off his own bat, so we will give him one and then watch the Cavs cruise through.
Toronto Raptors vs. Milwaukee Bucks
Record, Seed, Series Odds
Toronto Raptors: 51-31, third ($1.25 with CrownBet.com.au)
Milwaukee Bucks: 42-40, sixth ($3.95 with CrownBet.com.au)
Our prediction: Milwaukee Bucks in six games 4-2 (+650 with CrownBet.com.au)
How good would it be if Giannis Antetokounmpo had one of those "I'm next" superstar performances to open the playoffs and lead his Bucks into the second round? He's already become the first player in NBA history to finish in the top five in the league in five major categories. Why couldn't they win? This is a Toronto Raptors outfit that still bears the same men who were wiped off the floor in last year's first round by the less fancied Washington Wizards. There are problems in Toronto and they don't call their all star shooting guard Demar DeFrozen in the playoffs for nothing. Bucks have had a bit of revolving door in their starting line up, with Aussies Matthew Dellavedova and Thon Maker getting good game time, but it remains to be seen what Jason Kidd does as the playoffs hit. We think the Bucks will usher in a new era here and continue the Raptors' horrible playoff woes.
Washington Wizards vs. Atlanta Hawks
Record, Seed, Series Odds
Washington Wizards: 49-33, fourth ($1.45 with CrownBet.com.au)
Atlanta Hawks: 43-29, fifth ($2.75 with CrownBet.com.au)
Our prediction: Washington Wizards to sweep, 4-0 ($10 with CrownBet.com.au)
One man wrecking crew John Wall will decide this series. These two divisional rivals played four times across the season, the Hawks claiming the first encounter as Washington struggled in the early going, before the Wizards won three straight. The scary thing for the Hawks is that Wall has not dominated in any of those encounters this season, meaning if he decides to turn it on in the playoffs, they are in a world of hurt. Atlanta lost 16 of its past 27 games and put in some thoroughly woeful performances. They made it all the way to the conference finals last year, only to be summarily dispatched by the Cleveland Cavaliers, and it would take some sort of miracle for them to get there again this year. Wizards to not only win, but win well and leave Atlanta searching for answers, with Bradley Beal and Otto Porter Jr to run rampant in support of their all star team mate Wall.
2017 NBA title market
Golden State Warriors ($1.75)
Cleveland Cavaliers (+400)
San Antonio Spurs ($8)
Boston Celtics ($15)
Houston Rockets ($18)
Los Angeles Clippers ($34)
Toronto Raptors ($34)
Washington Wizards ($36)
Utah Jazz ($56)
Oklahoma City Thunder ($81)
Atlanta Hawks ($126)
Milwaukee Bucks ($151)
Memphis Grizzlies ($151)
Indiana Pacers ($176)
Chicago Bulls ($226)
Portland Trail Blazers ($226)