Who will coach the Gold Coast Suns in 2018 and beyond?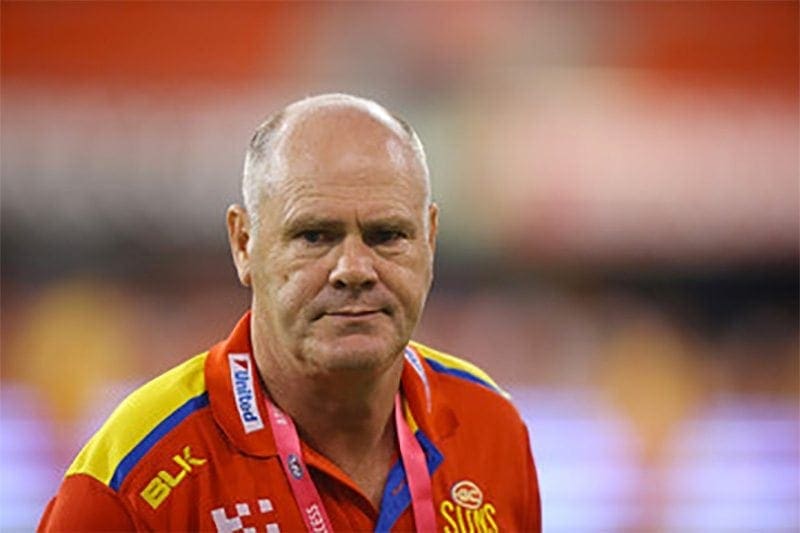 ONLINE bookmaker Sportsbet.com.au has not taken long to produce a market on the next senior coach of the Gold Coast Suns after Rodney Eade was sacked on Tuesday morning.
Eade was informed that his contract would not be renewed after another underwhelming season, and the 59-year-old elected to walk away from the club immediately rather than see out the three remaining games.
Carlton assistant John Barker is the -111.11 early favourite to replace the former Sydney and Western Bulldogs man, while current Hawthorn assistant Brett Ratten (+600) and the man that will replace Eade for the rest of the season Dean Solomon (+800) are the only other men in single figures.
The most unlikely scenario according to the market is Guy McKenna (+4000) replacing the man that ended his reign at the Suns.
Eade's tenure comes to a close in the sunshine state after three seasons in the bottom ten on the ladder. The veteran coach battled in-fighting, injuries and fleeing players throughout his brief stint in the role.
He managed just 16 wins from 63 matches and the Suns finished no higher than 15th during his almost three seasons in charge.
Was thinking who would sack a coach with 3 rounds to go? Oh wait.. never mind 🙄

— Mel (@Mel_Johnson_01) August 8, 2017
The Suns board informed Eade that he would not be offered a new contract at the conclusion of this year, and rather than tread water he decided to walk away immediately.
Suns chairman Tony Cochrane said the club's 2017 results dictated their next move.
"It's as simple as wins and losses," he said.
"At the start of the year we had a very strong belief around this club that we would challenge for the top eight and we simply have failed.
"We are simply in the same position to be really honest."
Good man, Rocket Eade. Never had a fair crack at it with the Suns. But probably not the man for a reset if thats what Mark Evans is after.

— Ashley Browne (@hashbrowne) August 7, 2017
While the decision to not renew Eade's contract was not a suprising one, the chairman said the club had not planned on sacking their coach early in the year and therefore do not have a replacement in mind.
"The first decision was to do with Rodney being extended or not extended," he said.
"You don't go hunting and making dozens of calls to coaches to see if they're interested until you get past the first bit."