Warriors CEO voices support for battling coach Nathan Brown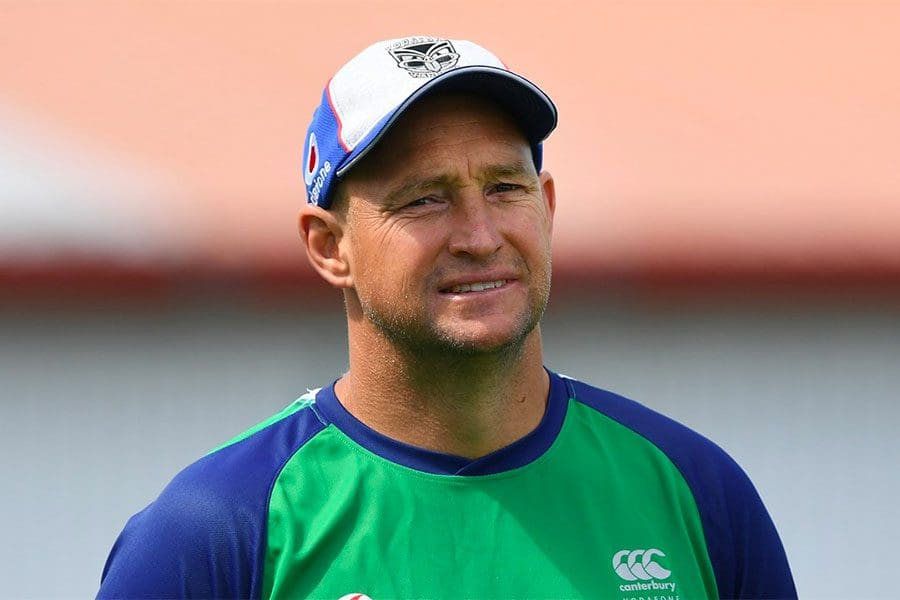 Warriors coach Nathan Brown copped a barrage of criticism after his team's 44-12 thrashing to Manly at Brookvale on Saturday night, but he still has the support of CEO Cameron George.
Journalists had some tough questions for Brown after his team's disappointing display against the Sea Eagles saw them finish Round 13 of the ongoing NRL campaign with a 4-9 record.
At one stage during his post-game press conference, the under-fire mentor hit back at the notion he lacked good ideas.
Rugby league legends Michael Ennis and Braith Anasta also observed Brown must now be under huge pressure to keep his job.
But while George admits he needs to start getting his team to string together some wins, he has also been impressed with Brown's man-management skills in tough circumstances.
The Warriors spent most of 2020 and then 2021 based on the Central Coast, and this season based at Redcliffe, due to the ongoing COVID pandemic.
George said Brown had done a fair job managing his players in these conditions, while the Warriors are now paying $501 with Ladbrokes to win the 2022 NRL Premiership.
"Browny's brought a lot to the club. Don't forget he's also managing us through a pretty difficult period and he's doing it really well," he told BettingSite.com.au.
"We haven't had a home ground and we haven't had a complete facility for some time. It's always been temporary and he's managed that quite well.
"At the end of the day, we need wins – he knows that and we know that. And we'll review where we are at the end of the year.
"Attitude isn't our problem – we just need to put it together.
"It's been tough with the challenges which exist for our footy club, but it is what it is. Every team has its own battles, and we've got our own."
George said a bright light in the Warriors' so-far dark season had been the continual development of Queensland hopeful and star fullback Reece Walsh.
READ: State of Origin Game 1 preview & best bets
"He's outstanding. He's a good kid and he brings a lot of energy. He's committed to the club, which is great," the club boss said.
"For sure (he can play for Queensland). He's got to work hard. He's got a fair bit of talent – that's not in question. But it's about making sure that at the end of the day he can live to that talent.
"Like any player, talent is one thing and effort is another thing. He's got spades of both.
"He's only 19. At the end of the day, while he's not in the Origin team for Game 1 he can work hard to get there for Game 2."
George said his players had plenty to look forward to in 2023 – most prominently, they will finally get to live, train and play from home.
"Our young kids are developing well through difficult circumstances, and we'll get home at some stage," he said.
"When we get home next year we'll have a reserve-grade team ourselves, so that'll be really helpful for us.
"Before COVID hit we had a NSW Cup team, an under-19 team, an NRLW team.
"When COVID hit we couldn't do anything. We had to marry up whatever we could (and form a partnership with Redcliffe in the Queensland Cup) in the meantime."
Meanwhile, George threw his support around Chanel Harris-Tavita, who will step away from the game at the end of this season.
The 23-year-old's interest in rugby league has dimmed and he wants to go travelling.
"He's a terrific kid and he's a guy who's very mature – you only have to look at the decision he's made," George said.
"He has our blessing, and whatever he decides to do in the future you never know.
"But he needs to step away and have a break. Whether he's with us or with someone else he was always going to do that."